Intel (INTC) up 7% on plans to take Mobileye public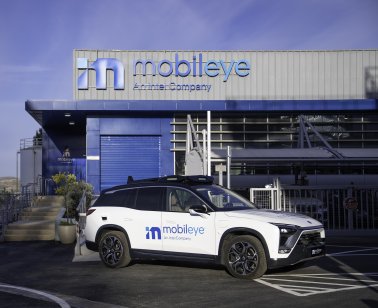 Semiconductor company Intel announced plans to publicly list its autonomous driving subsidiary Mobileye by mid-2022, sending its stock as much as 7% higher at Tuesday's open.
Following Monday's aftermarkets announcement, Intel shares traded as high as $55 per share up from the prior day's close of $50.99 per share.
Intel bought Mobileye for $15.3bn (£11.6bn) back in 2017, and some are now valuing the autonomous driving unit at around $50bn today, according to a report from investment firm Wedbush securities provided to Capital.com.
"If Mobileye can command close to a $50bn valuation, Intel in our view would be remiss not to explore a means of unlocking its value, with this proposed transaction effectively forcing investors to at least examine Intel on a sum-of-the-parts basis," Wedbush analyst Matt Bryson said.
Intel is the 100% owner of Mobileye and said it has no plans to spin off or otherwise divesting its majority ownership interest, according to the press release.
Valuations
Bryson, however, said he struggles to understand how others are arriving at a $50bn valuation given that its more than three times the value of what Intel paid for it in 2017.
Wedbush estimates Mobileye revenues will total $1.4bn this year and $1.6bn next year, which is a 36-times and 30-times multiple to get to the $50bn valuation.
More broadly, Intel acknowledged it has fallen behind its competition in the semiconductor space after it lost its contract to make chips for Apple's iPhones last year. The company is implementing a strategy to reclaim its seat as the No. 1 chipmaker that includes advancements in autonomous driving, but Bryson is skeptical Mobileye going public moves the needle.
"Net, while we believe the market is correct in interpreting this news positively for Intel, we also do not see this transaction as changing Intel's broader trajectory and its struggles to maintain share in its core operations as it looks to restore manufacturing and design competitiveness with its peers," Bryson wrote.
What is your sentiment on INTC?
Vote to see Traders sentiment!
Autonomous driving
Core to Mobileye's revenues right now is the production of its EyeQ system on a chip that powers more than 27 automaker's advanced driver assistance systems. This year Mobileye surpassed 100 million units shipped, according to the press release.
Mobileye also announced its autonomous taxi service will launch in Tel Aviv and Munich in 2022. Additionally, the company partners with lidar hardware company Luminar Technologies and Volvo on autonomous driving solutions.
Read more: Intel (INTC) stock forecast: Will the downtrend reverse?