Inflation concerns dampen UK retail outlooks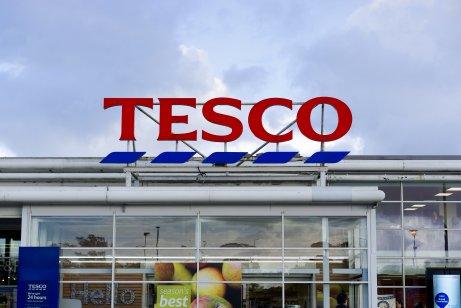 The stock price for UK retail chains Marks & Spencer and Tesco both fell Thursday, despite both groups raising their profit outlooks for the rest of the year, following positive Christmas sales.
Marks and Spencer dropped over 7% and Tesco was down almost 1.4% as at 15:40 GMT.
The declines in shares prices may reflect investor concerns about the risks of surging inflation shaking consumer confidence.
Tesco
Tesco reported retail Christmas sales increased 3.2% over last year on a like for like basis and were up 8.7% on a two-year comp. UK Christmas sales grew 0.3% and 8.8% respectively.
Like for like group retail sales for the 19 weeks ended 8 January rose 2.6% and were up 8.2% over the comparable one- and two-year periods.
The results prompted the multinational groceries and general merchandise retailer to raise its outlook. The group now expects retail operating profit slightly above the top-end of the previous £2.5bn to £2.6bn guidance range.
What is your sentiment on SBRY?
Vote to see Traders sentiment!
Marks and Spencer
Marks and Spencer announced record results over the Christmas period and is "now more confident" of reaching previous expectations of at least £500m in profits for the full year.
Group sales for the 13-weeks to 1 January rose 18.5% over the comparable 2020/21 quarter and were up 8.6% versus the 2019/20 quarter. UK sales rose 18.6% and 8.9%, respectively.
Sainsburys
J Sainsbury released its trading statement yesterday. Total retail sales, excluding fuel, fell 2.9% over the six-week Christmas period ended 8 January. However, sales rose 2.4% on a two-basis.
Total retail sales, excluding fuel, for the third quarter fell 16.5% year over year but were up 92% on a two-year comp.
The UK's second largest supermarket chain raised its full-year underlying operating profit guidance by £60m to £720m on better-than-expected grocery results. Third quarter grocery sales were slightly below last year's elevated levels, up 6.6% versus Q3 2019/20 and ahead of last year over the key Christmas weeks.
Shares were up less than 1%.
Christmas sales
In a report compiled by the London-based data analytics group, Kantar, consumer shopping went up during the Christmas period
Fraser McKevitt, head of retail and consumer insight at Kantar, said: "We can see how much spending grew in December versus earlier in the year by looking at the average trend during March to November when sales were down by 2.5% against 2020."
The report states that grocery sales totalled £31.7bn in the 12 weeks to 26 December, down 3% on 2020 but 8% higher than 2019.
Rising prices pushed up shopping budgets, with grocery price inflation reaching 3.5% in December, adding nearly £15 to shoppers' average monthly grocery bill.
Macro woes
Laura Hoy, Equity Analyst at Hargreaves and Lansdwon said: "Any excitement over M&S's strong third quarter sales is tempered, there's a chance this kind of sales growth won't be sustained in the coming year -particularly if inflation makes consumers wary."
Other experts share this view.
"There is much uncertainty about consumer spending, given the squeeze and its unlikely baskets will continue to be piled high with expensive treats," Susannah Streeter, senior investment markets analysts at Hargreaves and Lansdown said.
"Supermarkets are reporting good festive numbers, but the cost pressures and supply chain challenges are surely going to have an impact; customers have already started feeling the pinch, and going by the Bank of England's estimates, the consumer price inflation would hit 6% in April," Kunal Sawhney, CEO and analyst at Kalkine Group told Capital.com
"For retailers, remaining competitive would be a challenge in the face of rising operational costs when constrained consumer finance. The next quarter numbers would be the real decider of future for the retailers. If inflation remains in check, then only demand can sustain," Sawhney added.
Our goal is to keep our overall coffee prices stable, however, due to economic factors such as inflation, we have had to adjust and slightly increase the price of our coffee in UK & ROI from 11 January 2022. Many thanks. 2/2

— Nespresso UK&Ireland (@NespressoUK) 13 January 2022
Consumer spending Euphoria vs rising inflation
Kanter said grocery price inflation has reached 2.1% in the four weeks to 31 October 2021.
"Prices are rising fastest in markets such as savoury snacks, canned colas and crisps while falling in fresh bacon, vegetables and cat and dog treats," the report said.
In addition to this, energy prices have been increasing after the industry price cap was lifted in October of last year.
Unilever, the maker of well-known consumer products such as Marmite announced last year that it has raised prices by 4.1% in its third quarter due to price pressures.
Supermarkets, however, have emphasised competitive pricing thus far.
Ken Murphy, chief executive of Tesco, said: "Despite growing cost pressures and supply chain challenges in the industry, we continued to invest to protect availability, doubled down on our commitment to deliver great value and offered our strongest ever festive range."
"This put us in a strong position to meet customers' needs as, once again, Covid-19 led to a greater focus on celebrating at home. As a result, we outperformed the market, growing market share and strengthening our value position," Murphy added.
Tesco's has pushed discounts through its Clubcard scheme and launched a price match programme to compete with discount retailers such as Aldi and Lidl.
Richard Lim, chief executive of Retail Economics, said: "Tesco has focused on competitive pricing and driving loyalty through its Clubcard-only discounts, which has won over customers this festive season."
Meantime, Aldi announced this week that it would help shoppers save money after strong Christmas trading.
Giles Hurley, chief executive of Aldi UK, said: "2021 was a long and difficult year for many, our priority is families, and we will be offering the lowest prices, no matter what."
Neil Wilson, an analyst at Markets.com: "While supermarkets could "ill-afford" the effect on margins of a price war. The pressure on pricing is huge, especially as inflation takes hold."