Inditex profit surge: What makes Zara owner ITX a retail winner?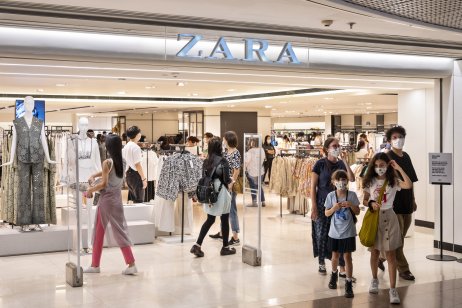 Despite a weakening demand globally for clothing, Inditex, (ITX) the global fashion group that owns Zara, has posted an 11% increase in quarterly sales and a 24% increase in net profit in the first nine months of its fiscal year.
Sales online and in stores for the nine-month period were up 19 % compared to a year ago, hitting €23.1bn. Inditex shares were up 2% in morning trading to €25.26.
Inditex share price chart
Given the inflationary background and the pressure on consumers right now, these are pretty good numbers. Especially as many in the sector are not in such good shape.
Only this week, fashion chain M&Co which has 170 stores across the UK became the latest high street retailer to enter administration, after being hit by rising costs and a drop-off in demand.
Inditex has also been impacted by higher costs. In its interim report today, the Spanish group said the cost of sourcing its clothing rose – up 13% from a year ago to €3.2bn.
Given that Inditex is facing the same pressures as other fashion retailers, what is it getting right that others are getting wrong?
Well it is true that Inditex took something of a gamble earlier this year when it increased its prices by around 5% - in an effort to combat inflationary input costs.
A gamble like this can only pay off if the fashion items you produce are in the 'must have' category. According to Inditex its autumn/winter collections were very well received by customers across the globe.
Inditex has also said it expects its online sales to exceed 30% of total sales by 2024 – so clearly there is good growth here.
The company stressed in its report that its control of operating expenses has been "rigorous".
It is also a leaner operation after announcing in October that it had reached a provisional deal to sell its Russia business, with 502 stores.
Danni Hewson, financial analyst at AJ Bell, agrees that Inditex got it right in terms of understanding what customers want.
"Fashion retail is all about relevance and Zara owner Inditex has consistently delivered clothes that women not only want to wear but are prepared to pay a little more for the privilege".
Ben Yearsley, director at Fairview Investing takes a similar line: "Fashion retail is all about giving the customer what they want at a good price. The likes of Zara, Primark and Next seem to consistently get it right whereas many others fall by the wayside - you only have to look at how many have gone bust to see this in action."
What is your sentiment on ITX?
Vote to see Traders sentiment!
Competing with luxury brands
Hewson suggests quick turnaround times and some seriously sexy designs have brought in customers from all demographics including those with a whole lot of disposable income who'd usually drop their cash on luxury brands.
"A return to socialising and a glut of post pandemic events created an opportunity for Inditex to really dominate when it came to occasion wear which sells at a higher price point and so delivers better margins for the business."
The simple truth, according to Hewson, is that Inditex just got the clothing right this year in a way some of its competitors just didn't seem to. Some retailers had a lot of last year's merchandise to get out of the way and lost a certain cache because of it, others couldn't access the deeper pockets Inditex managed to attract.
The issue now is how much further can Inditex push its customer? "How much more can those price tags rise before people balk? And with wage hikes and inevitable additional cost the business will have to stand, this year's stonking run of form might be a one off," Hewson warns.