Indian stocks drop as Asia tracks gloomy manufacturing data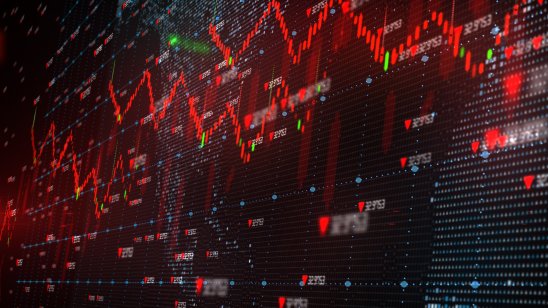 Indian shares dropped a third straight session to finish lower on Thursday, trailing largely downbeat Asian markets, which tracked the day's discouraging Chinese manufacturing and Japanese industrial data.
The National Stock Exchange's Nifty50 index closed 0.53% lower at 17,618.15 on Thursday. On an uptick, the blue-chip index posted a 3.17% gain through September.
The S&P BSE Sensex ended 0.48% lower at 59,126.36 points. Yet, the benchmark index advanced 3.12% this month.
The Nifty "is facing resistance in the 17,750-17,800 points range," ThincRedBlu Securities' chief executive Gaurav Udani said in a note to clients, which was emailed to Capital.com. "Traders will have to look at these levels very closely, (as a) break in any direction will cause a sharp movement of 150-200 points. Overall the trend in the Nifty remains bullish as long as it trades above the 17,250 mark," he added.
The Nifty Realty index, a basket of 10 stocks including builder Brigade Enterprises, rose 1.47% on Thursday. It has advanced 32% over the past 30 days.
Meanwhile, the Nifty Media index, a basket of 10 stocks including cinema operator Inox Leisure, fell 0.91%. However, it logged a near 35% increase over the month.
Gainers and losers
The Indian rupee was trading 0.028% higher to the US dollar, to INR74.30 at 16:55 hours Indian time (UTC+5:30).
On the Nifty, the Bajaj twins were among the top gainers, with lender Bajaj Finance, and insurance provider Bajaj Finserv adding 2.11% each. JLR-parent Tata Motors added 1.04%
Power Grid Corporation of India (PGCIL), coatings major Asian Paints, and Shree Cement were the top losers, shedding 2.82%, 2.26% and 2.15% respectively.
On the Sensex, shares in Bajaj Finserv, Bajaj Finance, and the country's largest power producer NTPC were the biggest gainers, adding 2.19%, 2.05% and 0.92% respectively.
PGCIL, Asian Paints, and the nation's third-largest private lender Axis Bank were the biggest losers, shedding 2.67%, 2.34% and 1.87% respectively.
Adani Renewable M&A
Adani Renewable Energy said it will acquire Vento Energy Infra for INR2.19bn ($29.5m) as part of an expansion plan that it claims will make it the world's largest renewables business. Vento, a special purpose vehicle of Essel Green Energy, has developed a 40 megawatt (MW) solar PV project in the Kalahandi District of the Odisha state.
JMC Projects' contract
JMC Projects, a civil engineering and infrastructure firm, reported that it has secured two orders worth a total of INR18.49bn ($251m). The company gained an INR8.57bn building and factories (B&F) contract in India, and an INR9.92bn social housing project in the Maldives.
Read more: Fidelity, B Capital-led funding values Facebook-backed Meesho at bn