Indian stocks rise on government's successful CoWIN strategy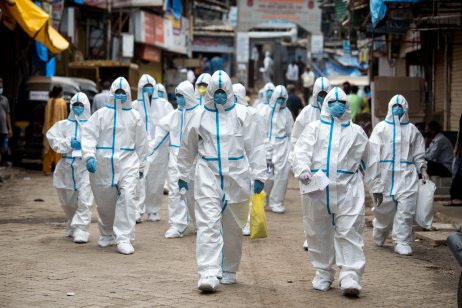 Indian stocks rose for a seventh straight session on Monday, with the bullish bias pushing key indices to all-time highs amid Covid vaccine optimism.
Banking, metal and technology stocks rallied after World Bank Group president David Malpass congratulated finance minister Nirmala Sitharaman on the nation's Covid-19 vaccination campaign, managed through CoWIN, in addition to complimenting the country's efforts towards financial reform.
CoWIN is the national web portal for Covid-19 vaccine registrations, operated by the Ministry of Health and Family Welfare.
Today saw the National Stock Exchange's Nifty50 index close 0.76% higher at 18,477.05 points, while the S&P BSE Sensex ended 0.75% higher at 61,765.59 points.
Gains were also made on the Nifty PSU Bank index, a basket of 13 state-run lenders including the Union Bank of India, which surged 3.98%, and the Nifty Metal index, a basket of 15 counters including commodities major Vedanta, which shot up 3.89%.
Meanwhile, the Nifty IT index, a basket of 10 software developers including Infosys, advanced 1.57%.
Winners and losers
The Indian rupee was trading 0.47% lower to the US dollar, at INR75.36, at 16:47 Indian time (UTC +5:30).
On the Nifty, shares of Aditya Birla Group firm Hindalco Industries, Infosys and rival Tech Mahindra were the top gainers, adding 5.24%, 4.79% and 3.65% respectively.
Tractor giant Mahindra & Mahindra (M&M), software exporter HCL Technologies, and pharmaceutical major Dr Reddy's Laboratories (DRL) were the top losers, shedding 2.21%, 2.10% and 1.82% respectively.
Meanwhile, on the Sensex, shares in Infosys, Tech Mahindra and Tata Group firm Tata Steel were the biggest gainers, adding 4.47%, 3.36% and 2.73% respectively.
HCL Technologies, M&M and DRL were the biggest losers, shedding 2.36%, 2.24% and 1.73% respectively.
Vaccinating India
Over 970 million people in the world's second-most populous nation have been partially vaccinated against the novel coronavirus, government data showed.
The sub-continent's active Covid-19 case load, at 189,694, is at its lowest in 221 days. The recovery rate, at 98.12%, hovers at its highest since March 2020, all against a backdrop of rising testing capacities, as per an 18 October health ministry statement.
Read more: India's GPT Healthcare files IPO papers