Indian shares see biggest fall in nearly four weeks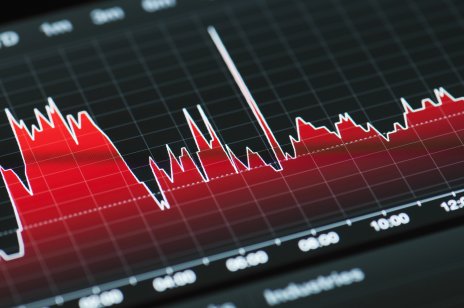 Indian shares experienced their biggest fall in almost four weeks to finish lower Monday, dragged down by concerns surrounding the impact of inflation on domestic recovery.
The benchmark indices in Mumbai lost 1.96% each through the day, with the National Stock Exchange's (NSE) Nifty50 index ending at 17,416.55 points, while the S&P BSE Sensex closed at 58,465.89. Meanwhile elsewhere…
The Nifty PSU Bank index, a basket of 13 stocks including the Indian Bank, nosedived 4.41%
The Nifty Realty index, comprised of 10 builders including Phoenix Mills, plunged 4.15%
The Nifty Media index, a basket of 10 stocks including multiplex operator PVR, dropped 3.91%
The Indian rupee was trading 0.10% lower against the US dollar at INR74.38, as of 16:45 local time (UTC+5:30).
On the Nifty50
Shares of the country's second-largest telco Bharti Airtel (Airtel), JSW Steel and coatings major Asian Paints were the top gainers, adding 3.78%, 1.64%, and 1.13% respectively.
But stock in lender Bajaj Finance, insurance provider Bajaj Finserv and JLR-parent Tata Motors were the top losers, shedding 5.6%, 4.81%, and 4.57% respectively.
On the Sensex
Airtel, Asian Paints and the Power Grid Corporation of India (PGCIL) were the biggest gainers, adding 3.9%, 1.14%, and 0.99% respectively.
Meanwhile, Bajaj Finance, Bajaj Finserv and oil-to-telecoms conglomerate Reliance Industries (RIL) were the biggest losers, shedding 5.74%, 4.69%, and 4.42% respectively.
India recovery
"Finance minister Nirmala Sitharaman (last) week made an impassioned plea for the private sector to ramp up investment to support the economic recovery, but we don't think that firms will heed her call," said Capital Economics' senior India economist Shilan Shah.
"Meanwhile, comments from RBI governor Shaktikanta Das support our view that policy tightening will proceed very gradually and that rate hikes won't come onto the agenda for several more months yet," Shah wrote in a 19 November note to clients, published on his firm's website.
Read more: India's Elin Electronics files draft papers for 2m IPO