India's second green revolution - the clean industry wave
Subscribe to Weekly Highlights
The major market events for the week ahead right in your inbox.
Subscribe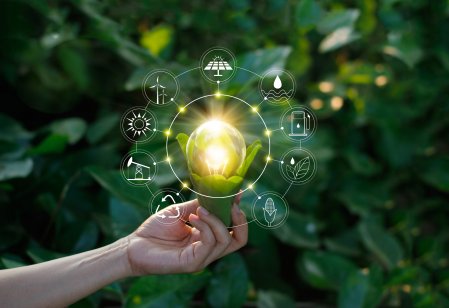 Content
India's renewables game is hot but could get way hotter in the next few years as hefty investments pour in. Big names in the Indian business world take initiative to grab their spots in the sustainable energy game as the next green revolution unfurls in India.
India could see $500bn worth investments in the clean energy business till 2028, as $42bn worth of investments piled in since 2014, according to Indian Brand Equity Foundation, state-owned export promotion agency.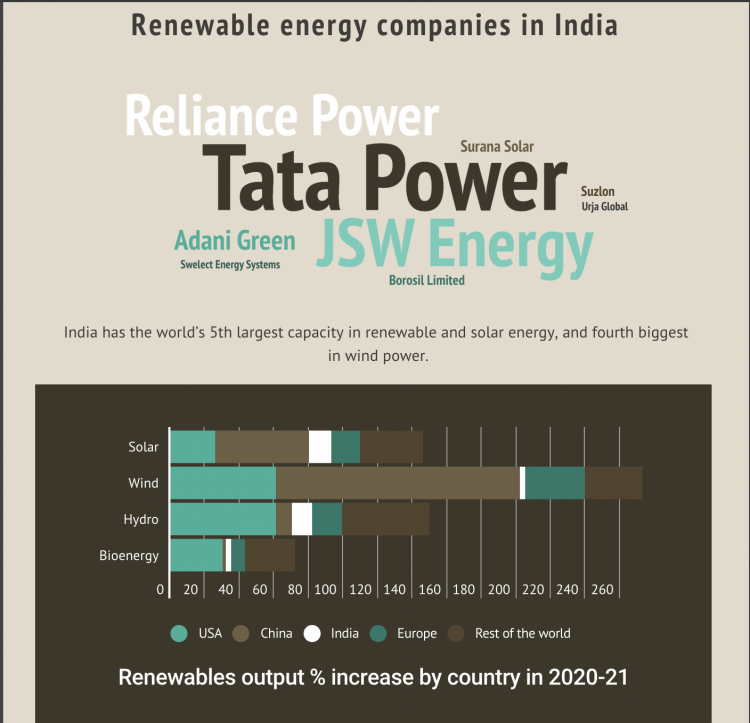 Data: International Energy Agency Infographic Credit: Capital.com
India's second green revolution has begun, an industrial revolution where money is gradually redirected to cleaner, green sources of energy instead of conventional fossil fuel sources that produce large harmful carbon footprints. From the Indian capital whose air quality is equal to smoking 26 cigarettes, Indian Prime Minister Narendra Modi announced to the world that the country's carbon footprint is going to shrink dramatically, the fossil fuel intensive Indian economy will reduce its total projected carbon emissions by one billion tonnes in the next nine years, said the PM at the United National Climate Meeting (COP26) in Glasgow last week.
Reliance, Tata, Adani
Big business conglomerates in the Indian business industry, Reliance Limited and Tata, compete in the environmental, social and ecological governance and clean energy sector in India while several counterparts lurk in the stock market. These listed companies like glassmaker Borosil Limited and Adani Green possess market values in billions and vault India to the forefront of the clean energy scale in the world.
India catches on to trends quite fast and usually momentum is created and carried forward internally. Back in 1970, India witnessed its first green revolution where farmers revolutionised production techniques to maximise output with minimal inputs as food shortages and erratic climate disrupted the backbone of agricultural systems in the Indian economy. In the case of the first green revolution in the Indian subcontinent, when a crisis struck, the country reacted and switched to modified methods and equipment of food creation. India aced in the digital revolution with chipmaker Intel and Reliance Digital helping it hold its head high and mighty.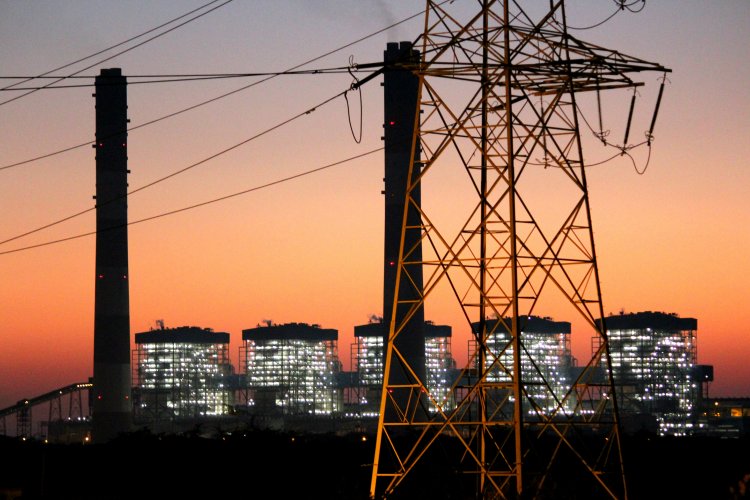 Tata Power plant at Mudra, Gujarat, India - Photo: Shutterstock
The most recent crisis, the coronavirus pandemic, is not the dominant cause for this shift in energy though. This shift had begun decades ago but has become more relevant in the past couple of years with all the attention thrown on the climate crisis. COP26 in Glasgow saw country leaders making bold statements and pledges to become more sustainable and work towards a cleaner tomorrow.
Modi's promise
Modi declared that the country would use renewable energy for half of its energy sources at COP26 last week, but the fossil fuel heavy country does not have government policies urging this change just yet, however, companies have taken huge strides in the clean energy game.
"India to fulfil 50% of its energy requirements from renewable sources by 2030"
by
Indian Prime Minister Narendra Modi
The International Monetary Fund (IMF) welcomed India's declaration as Modi boldly declared the economy would become net zero by 2070. India's actions may help incite change in other emerging economies and invokes a call to action with regard to climate change challenges, said Gerry Rice, director of the communication department at the IMF.
With its heavy reliance to coal, India had initially refused to become a part of the coal phase-out pledge 40 nations adopted at COP26. China, Australia and the US are other countries that did not sign. Modi announced yesterday that India will increase its non-fuel capacity to 500 gigawatt (GW) by 2030.
"We note continued investor shifts toward ESG, rising retail investor interest in alternative assets and highlight the 14th annual China Conference where substantial recent change has boosted investor interest and attendance," the Bank of America note said.
India and the US restructured their strategic energy partnership to concentrate on cleaner energy sectors including biofuels and hydrogen production.
The UK government to take its green industrial revolution global by aiding developing countries meet their environmental, social and governance (ESG) targets, grow their green tech and sustainably. They are providing funding to India, Vietnam and some African nation.
Environmental, social and governance
ESG has captured the interest of the international market a couple of years ago as they are more energy efficient, leaving a weaker carbon footprint, a marked decline in capital cost and a dive into technological advancements. In Europe, over $1.4trn is thrown into ESG's with a dedicated listed index for S&P Europe 350 ESG Index. The MSCI and Nasdaq also have dedicated indices for ESG's.
A shift has taken place globally from conventional sources of energy to newer, more environmentally ethical, clean, green sources that produce a significantly lower carbon footprint. The age of renewables have begun.
Even the Middle East, the part of the world that predominantly constitutes the Organisation of Petroleum Exporters and its allies, have all reorganised their conventional energy portfolios even though oil and energy were their primary sources of income, to focus on cleaner, greener energy sources. Abu Dhabi, state owned Abu Dhabi National Oil Company, the twelfth biggest in the world, said the United Arab Emirates's renewable energy portfolio is to double in the next decade. It grew over 400% in the last 10 years.
How far is net zero?
Bank of America said in a note, countries around the world are pledging steep emissions reduction in the coming years, with some aiming to reach net zero during the 2040-60 timeframe. Such ambitious goals require sweeping changes to energy demand, and the liquid biofuels industry, which currently produces around 2.8 million barrels a day of fuel and is expected to play an increasingly important role.
In the International Energy Agency's net-zero scenario, liquid biofuel production triples by 2030, and while this might seem unobtainable, energy companies are making plans to rapidly increase capacity in the coming years. Renewable diesel, jet, and naphtha capacity is likely to quadruple, adding around 10 billion gallons or nearly 700,000 barrels a day by 2025.
The multiplicative growth plans for biofuel capacity do not align with historical feedstock growth trends.
ESG's marked their place in the stock market a while ago with the ESG and sustainability index and a host of companies concentrating on renewables taking over a lot of conventional energy's pace. ESG's have snuck into the bond market as Candace Browning from Bank of America said in a note last week.
India as a renewable source
India has a host of companies listed in the renewables sector. In the first four months of 2021, $6.4bn was invested in ESG's.
Big names like Tata and Reliance, some of the biggest conglomerates fight it out to take the throne while smaller, significantly large companies like glassware makers, storage makers, as renewable energy needs to be stores, and others conquer their own bits of space in the ESG world. In India, they all thrive in the clean energy industry even though the concept is not widely discussed socially or politically, unlike the rest of the world.
Green tech
Green technology or companies that make equipment's out products that complement or support the green energy revolution have significantly risen, like Suzlon that manufactures and develops wind turbines.
Wall Street's investment giant and the world's largest asset manager with many interests in green businesses, Black Rock Investments, might invest in Indian conglomerate Tata Power's green unit Tata Power Renewable Energy Limited. The investment of £366m to £513m ($500m to $700m) will lead to Tata Power's unit holding a value of around £3.66bn ($5bn).
Year to date, Tata Power jumped 194.8% and the stock displays a five-day increase of 4.4%. Tata Power was the most active stock on the National Stock Exchange in India yesterday, with 5.04 billion stock traded during the day, buying the stock up 1.16%.
The Economic Times newspaper reported on 22 September that the Indian conglomerate Tata was restarting capital-raising plans with Australia-based investment bank Moelis. The company is looking to close negations by the end of the year, according to the news published on Economic Times.
"In a few years, India will move to alternatives. There has been no investment in oil due to ESG's. This was bound to happen," said Ashhish Vaidya, markets head and managing partner at DBS Bank India. The country is rife with opportunity and eager for investment and "given the focus on consumption and industrial management, India will be good with ESG's," Vaidya added.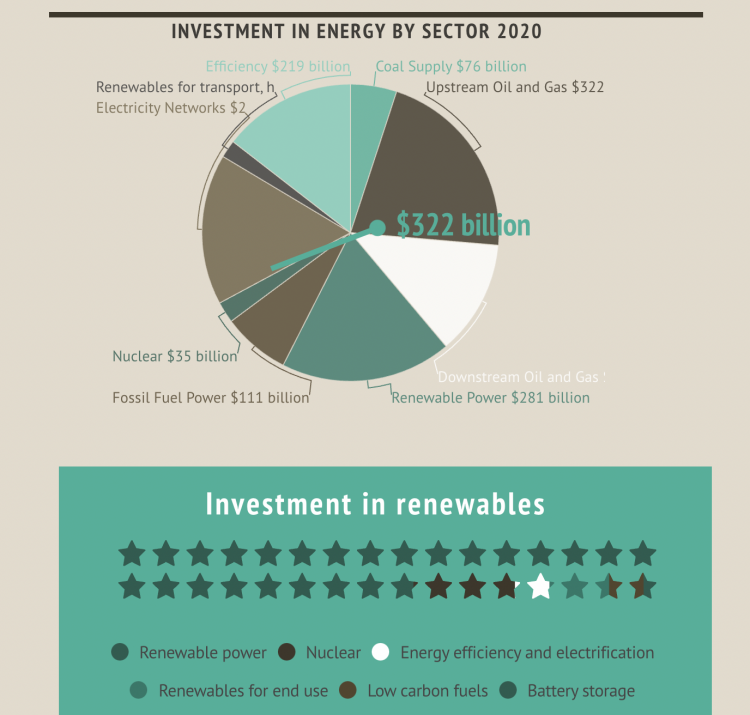 Infographic on investment in energy by sector 2020 - Credit: Hanna Paul
Solar power in India
Currently, India takes more than half of its power from domestic coal. Around 49% of India's energy could be renewable energy, if this green push successfully materialises. With the push from Tata Power and Reliance, India could become a major competitor to China, the international dominant source for inexpensive energy. It could also mark the end of the fossil fuels era and signal the transition to cleaner renewable energy. India could conquer the green energy divide with the other countries and the Indian subcontinent just like it massacred the digital divide.
With big names like Tata and Reliance leading the green energy push, other companies are encouraged to come play the field as the energy industry makes its transition. Adani Group has committed $20bn to green investments. These strides forward also attracts international investment into the country for the clean energy cause. India's state-owned NTPC, the country's largest energy conglomerate announced it would double its renewable energy capacity.
Tata Power - A unit of Tata Industries
Tata Power, India's largest integrated power company, plans to phase out its coal based units to replace them with clean and green technology to 80% by 2030. According to their ESG ratings, it is to increase its appeal in generating and attracting international investment. It has initiated projects towards raising solar projects with capacity of over 1GW.
The company redirected its growth strategy to reduce capital intensive projects and replaced them with renewable businesses including solar, electric vehicle charging, home automation, cell manufacturing and has branched out to maintenance, solar wind hybrid power, solar rooftops. Some states like Rajasthan, Punjab and Gujarat have agreed to buy power from Tata Power.
Rivals - Reliance Industries
Tata Power's main competition is its parent company's arch rival Reliance Industries which has vested interest in renewable energy and clean projects. Reliance Industries is the country's most valuable company. It is associated with German maker of solar photovoltaic wafers and Danish firm to produce hydrogen electrolyses and bought out Norway-based solar panel manufacturer REC Solar Holdings as the oil to retail conglomerate projects to pump up its clean energy portfolio.
Reliance aims to spend $10bn over the next three years to set up an integrated solar photovoltaic module factory, an advanced energy storage factory, an electrolysed factory for producing green hydrogen.
Saudi Aramco, InnoEnergy and Lynwood are investing €10m in the same round of projects Reliance is interested in, as the conglomerate intends to make India the manufacturing hub for low-cost high-efficiency solar panels. Reliance New Energy Solar plans to have a large scale battery manufacturing facility in the country to minimise costs in its transition into production of green clean energy.
The government of India supports green energy projects in the country. The companies are quite successful including Gita Renewable Energy that produce power from wind, solar and hydro sources, climbed 1421% in the past year. Stocks in JSW Energy soared 421% and stocks in Borosil Renewables multiplied four times.
Stock price gain and capital expenditure chart of Tata Power and Reliance Industries - Credit: Koyfin
Stocks of the green clean energy push in India
Strong renewable energy portfolio's are the best bet. Adani Green, Tata Power, Reliance industries and Borosil Renewables are some big names while private companies have also flourished in the renewable space.
Equipment makers
Biofuel makers
Solar panel material importers, producers, creators
Wind energy harnessing plants
Bitcoin mining using solar energy
Electric car manufacturers
Battery energy storage system companies are going to have a joyride as solar energy needs to be stored. The Indian government has invited an expression of interest in the installation of 1000 MGWh BESS as a pilot project.
Raw materials for green energy production are businesses that will enjoy a rally, as aluminium, copper, lithium, cobalt and nickel are widely used in generating solar power and form parts of other renewable equipment.
Mutual funds invested in discovery, development, production, distribution of renewable supply chain companies like Nippon India Power.
The green revolution has finally begun. Dhiraj Nim, an economist from ANZ Research said "the pickup in ESG investments in India is in line with the global trend, albeit offering great opportunities to businesses for creating value in a more sustainable way. India's took its first few steps towards clean energy. Renewable energy is here to stay and by 2040, 49% of total electricity is expected to be generated by clean green energy."
Read More: India calls bids for 1GWh battery based energy storage product