India's no. 4 asset manager sees stocks staying upbeat in 2021
Subscribe to Weekly Highlights
The major market events for the week ahead right in your inbox.
Subscribe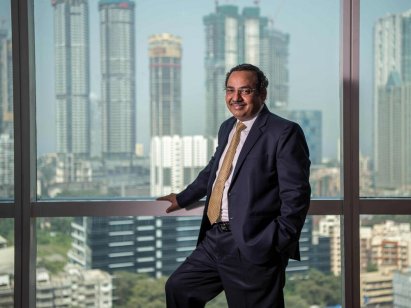 Content
At a time when India's economy is navigating one of the most challenging phases in history, the country's stock markets have been on a roll. Benchmark equity indices have surged some 130% from last year's pandemic lows, smashing several records on the way, as investors bet on economic recovery from the coronavirus crisis.
Still, with the economy not quite out of the woods yet and reliant on fiscal and monetary stimulus, there has been some concern among investors and analysts whether the market exuberance is overdone.
Not really, according to Aditya Birla Sun Life Asset Management, India's fourth-largest money manager.
The outlook for stocks remains upbeat at least for the rest of this year on the prospects of a robust economic recovery over the next six to eight months and a rebound in corporate earnings, A. Balasubramanian, managing director and chief executive officer of Aditya Birla Sun Life Asset Management, told capital.com in an interview.
"There is no excess liquidity in any one particular sector in the Indian context and therefore I do not foresee any uncertain scenario in terms of any massive correction or crash in the near future." The market should remain well supported in the coming months by buoyant demand for Indian assets from international investors, he added.
The growth narrative
Even as pandemic-related fears remain far from allayed, Balasubramanian says that the third wave could be a parting wave, both for the markets and the general economy at large.
"In terms of Covid-related risk factors for stock markets, this time around we are way better prepared to face any eventuality and hence markets have already factored in those risks at the current levels," he said, adding that people are extremely cautious than before which is palpable in a supermarket or even a factory.
According to Balasubramanian, the government would shift its stimulus packages, which now completely focus on end consumers and social causes, to core sector spending and infrastructure spending, engaging more private sector.
"Markets continue to draw comfort from these factors and hence we believe a substantial correction is unlikely till March 2022," he said. "Unlike in the past, there is no excess capital floating around in the stock markets here and volatility index is definitely not on the higher side. All this indicates that markets still have room to surge, and we could see more record highs in the near future," he added.
He sees a consolidation phase only after the eventuality of a sizable economic recovery and when interest rates start to inch up restoring normalcy. "Investors will start to book profits and then we will see a correction and I don't see that happening anytime soon or at least till March 2022," he added.
A calibrated growth narrative
The single point agenda for Indian regulators, both stock market and banking, seems to be growth, says Balasubramanian, and they are behaving in a calibrated manner with no sudden surprises. "They are quite clear on their narrative and no other indicator seem to be influencing them. No aberration likely in this case," he adds, coming back to the effect of regulatory measures on equity indices.
With the present stock market regulatory framework, Indian companies irrespective of their balance sheet size can raise cash from primary markets, which is relatively cheaper capital than other forms of raising capital. In that sense, business expansion capital is getting funded through primary markets and this, in turn, will bring in more efficiency in company balance sheets, he added.
On the IPO onslaught
Initial public offerings (IPO) in India will continue to remain robust as several good companies were willing to list their shares on the equity market. "We believe there will always be a few companies that will see a correction in valuation from its IPO valuation but that will be far and few."
Balasubramanian sees exciting opportunities in the pipeline and especially emphasises the much-touted IPO of Life Insurance Corporation of India. "We see LIC IPO as the Aramco from India," he says, hinting at a $191bn valuation for the insurance major after listing in Indian stock markets. "I believe we should be able to create a similar hype like that for Aramco and Ant Financial Services globally ahead of their issues. Here, LIC will have a better outcome than those."
Bharat Petroleum Corporation also is a big-ticket IPO opportunity with good potential for the country, according to him and he sees no problem with the delays in listing them. "The best days are still ahead of us and in that sense, we will get a better valuation for these high-performing companies which are big brands in their operating environment," he adds.
Sectoral preferences
Birla Mutual seems to consider information technology as the best sector in the current context with pharmaceuticals and capital goods quite close to it in terms of real returns.
Government spending will push capital good stocks further, while the software industry is structurally positive. His firm also expects consolidation in the fast-moving consumer goods space.
Aditya Birla Sunlife Mutual Fund, which manages $38bn worth assets, is looking to sell INR34bn worth of their shares via an IPO later this month. Balasubramanian adds that his outlook has nothing to do with his owners.