India's Canara Bank reports three-fold jump in Q2 profit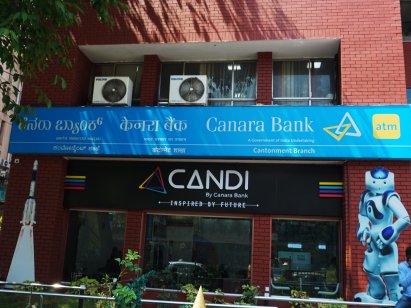 India's Canara Bank said on Tuesday that its profits for the quarter ending 30 September tripled to INR13.33bn ($177.7m) following an increase in other income and amid lower provisions for bad loans, as per a 26 October presentation to shareholders.
Total non-interest income of the nation's third-largest public sector bank shot up by 37.54% on-year in the quarter to INR42.68bn. Meanwhile, provisions set aside to cover for bad loans dropped 24.2% on-year to INR26.78bn.
The bank said its total income rose a marginal 2.58% on-year to INR213.31bn. The bank's global business grew by 7.61%, while the domestic business grew by 6.84% on-year for the period under review, which is the second quarter of the ongoing Indian financial year that ends in March.
As of 30 September, Canara Bank had 9,800 branches countrywide in addition to 10,988 automated teller machines, the statement added.
Shares fall in afternoon trade
The Bengaluru-headquartered bank's stock rose Tuesday morning on the National Stock Exchange (NSE) but dropped thereafter. The counter was down 3.27% in late afternoon trade.
The bank has a market capitalisation of around INR358.20bn on the NSE, where its shares have gained some 46% so far this year.
The Indian administration pared its stake in Canara during the September quarter, reducing its holding to 62.93%.
Previously, the state-run lender had reported a near three-fold jump in profits for the June quarter of 2021, on a decline in bad loans.
Read more: India's Fino Payments Bank fixes IPO price band