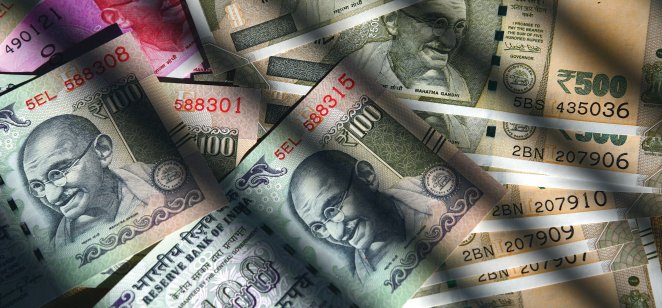 Content
India's economy grew by double digits in the first quarter of the current fiscal year. While the growth was lower than analysts' expectations, it shows the country's economy has remained resilient amid recessions that have loomed in on other developed nations and regions, such as the US and the eurozone.
However, the inflation rate, partly brought about by higher commodity and energy prices, has remained high. Will the elevated inflation increase risks of recession in India?
In this article, we discuss India's recession history and recent economic indicators that may give a hint on India's recession forecast.
What is a recession?
Although there isn't a clear definition of what a recession is, it is generally defined as a time when economic activity is down. Most analysts agree that a recession occurs when a nation's gross domestic product (GDP) declines markedly for two consecutive quarters.
According to the International Monetary Fund (IMF), recessions have several common characteristics:
A recession typically lasts about a year and results in significant output costs.

It is marked by a 2% drop in GDP growth. The output cost is nearly 5% during severe recessions.

The unemployment rate almost always rises, and inflation falls slightly as overall demand for goods and services is reduced.

International trade declines as exports and imports tumble.

Industrial production and investment see much steeper declines than GDP, while consumption experiences modest declines.
Since its independence from Britain in August 1947, India can be said to have successfully developed its economy. Within more than four decades, the country's GDP growth accelerated from just 1.25% after independence to 8.7% from April 2020 to March 2021.
Like other economies, India is no stranger to recessions — economic crises in India have occurred in the past.
Indian economic slowdown marked with a negative annual GDP growth rate has happened several times since the country became independent in 1947. According to World Bank data, there have been three instances when India's economy registered a contraction of more than 2% since 1961.
The South Asian country saw contraction of 2.6% in 1965, 5.2% in 1979 and 6.6% in 2020 during the onset of Covid-19 pandemic.
The most recent Indian recession happened in 2020, when the country's economy contracted for two consecutive quarters as Covid-19 restrictions took a heavy toll on the economy. India's GDP plunged to an unprecedented -23.9% in the first quarter of 2020/2021, which eased to -8.6% in the following quarter, according to the Reserve Bank of India (RBI).
An RBI recession forecast implied that the Indian economy was likely to have entered a technical recession in the first half of 2020-21 for the first time in its history.
India economy still posts double-digit growth, but pace slowing
In recent India recession news, in the first quarter of the 2022/2023 fiscal year, the Indian economy grew at 13.5% from April to June, according to a preliminary estimate from the National Statistics Office (NSO) on 31 August. While it still posted double-digit growth, it slowed from 20.1% in the same period in 2021/2022.
Q1 2022 GDP growth was below analysts' expectations of 14.5%, expressed in the Reserve Bank of India's Survey of Professional Forecasters (SPF), released in August.
Despite its GDP rate slowing, the Indian economy has registered much higher growth compared to other developed nations amid the global economic downturn. For instance, the UK's economy was estimated to have contracted by 0.1% in Q2 (April-June), while US real GDP growth declined at an annual rate of 0.6% in the same period as hawkish interest rate hikes began to take hold.
Overall, India's economy has recovered to pre-pandemic levels, with real GDP growth in 2021/2022 standing at 8.7% — 1.5% higher than the real GDP in 2019/2020, NSO data shows.
The RBI has forecast the country's full-year gross GDP growth to stand at 7.2% in 2022/2023, while expected first quarter real GDP growth in 2023/2024 will ease to 6.7%, according to the regulator.
The median estimate of 42 participants in the central bank's Survey of Professional Forecasters projected India's GDP growth to ease slightly to 6.3% in 2023/2024, from the estimated 7.1% in 2022/2023.
Inflation remains above target
The inflation rate in India has remained above the RBI's target of between 2% and 6% — mainly on the back of rising food and fuel prices. Reopening economies around the world have boosted demand for energy and commodities — from oil to natural gas to wheat and vegetable oils — boosting their prices.
The country's inflation readings shown by the Consumer Price Index (CPI) rose at an annual rate of 7% in August, ending three months of downtrend. After peaking at 7.8% in April, the inflation rate in India had eased to 7.04% in May, 7,01% in June and 6.71% in July, according to the NSO.
The RBI expected inflation to average at 6.7% in 2022/2023, cooling to 5% in 2023/2024, the country's central bank said on 5 August.
Participants in the RBI's Survey of Professional Forecasters in July expected inflation to average 7.1% in the second quarter of 2022/2023, easing to 5% in the first quarter of 2023/2024.
As of 19 September 2022, Netherlands-based banking group ING forecast inflation in India to average 6.6% in 2022, easing to 5.1% and 4.3% in 2023 and 2024.
ABN-Amro's recent economic forecast revised India's inflation projections to 7% for 2022 — up from a previous estimate of 6.5%. It expected the country's inflation rate to cool to 5.5% in 2023.
Food price inflation stays elevated
As India has the second-largest population in the world, food inflation is one of the most significant economic indicators for the government and the central bank. The majority of Indians' standard of living may be threatened by rising food prices, making them crucial to monitor.
The US Department of Agriculture (USDA) estimates that 50% of typical household spending goes toward food. High food inflation could threaten the living standards in a country where 10% of the 1.39bn population live in poverty, according to data from the World Bank.
The Consumer Food Price Index (CFPI), which measures retail prices of food items consumed by the population, rose to 7.62% in August — up from 6.69% in July and 3.11% in August 2021. The Wholesale Price Index (WPI) rose from 9.24% in December 2021, peaking at 12.41% in June, and easing to 9.41% in July 2022.
Fitch Ratings said in its global economic outlook in September:
| | |
| --- | --- |
| Long position overnight fee | -0.1437% |
| Short position overnight fee | 0.1041% |
| Overnight fee time | 21:00 (UTC) |
| Spread | 0.020 |
| | |
| --- | --- |
| Long position overnight fee | -0.0500% |
| Short position overnight fee | 0.0140% |
| Overnight fee time | 21:00 (UTC) |
| Spread | 60.00 |
| | |
| --- | --- |
| Long position overnight fee | -0.0500% |
| Short position overnight fee | 0.0140% |
| Overnight fee time | 21:00 (UTC) |
| Spread | 0.00600 |
| | |
| --- | --- |
| Long position overnight fee | -0.0140% |
| Short position overnight fee | 0.0041% |
| Overnight fee time | 21:00 (UTC) |
| Spread | 1.5 |
"Inflation moderated in August as crude oil prices eased but the risk to food inflation persists given negative seasonality towards the end of this year."
USD/INR performance
The Indian rupee (INR) has fallen 7% year-to-date against the US dollar (USD) as the US Federal Reserve's (Fed) hawkish policy rate has strengthened the greenback, hurting Asian and other global currencies.
The USD/INR currency pair reached an all-time high of 80.20 on 14 July, easing to the 78-79 level before rising to 80.13 on 29 August. As of 19 September, the USD/INR was quoted at 79.81.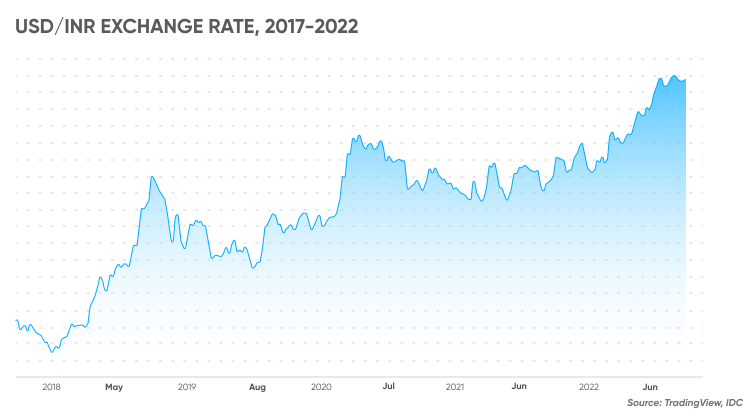 The Federal Reserve (Fed) has had four rate hikes this year — the benchmark federal funds rate is currently in the 2.25%-2.50% range. Analysts expect the Fed to maintain its aggressive rate hike pace of 75bps after data showed August consumer price inflation in the US remained elevated at 8.3%.
On the other hand, the RBI has front-loaded its policy rate by a total 140 basis points (bps) to 5.4% and is expected to hike the rate by 25bps in a meeting at the end of September, according to ING.
Other market participants have changed their stance, and now expect a higher interest rate hike in line with other central banks in developed countries.
Upasana Chachra, chief India economist at Morgan Stanley, said in a 16 September note, as quoted by Reuters:
"We were earlier expecting a 35 bps increase, however, sticky inflation and continued hawkish stance of DM (developed market) central banks warrant continued front-loading of rate hikes in our view.
"The external environment remains challenging ... with a stronger dollar and continued hawkish response from DM central banks".
Indian government bond yields are expected to increase following comments from the RBI that the frontloading of rate hikes can keep inflation expectations anchored.
"At this critical juncture, monetary policy has to perform the role of nominal anchor for the economy as it charts a new growth trajectory," the the RBI said in a recent article on the state of the economy, included in the central bank's monthly bulletin.
"Front-loading of monetary policy actions can keep inflation expectations firmly anchored and reduce the medium-term growth sacrifice."
If the RBI slows its rate hikes while the Fed keeps its aggressive stance, the USD/INR could rise further due to the policy divergence between the two central banks.
Fitch Ratings forecast USD/INR to average 79 in 2022/2023, rising to 80 in 2023/2024 and remaining at that level in 2024/2025.
ING's global currency forecast had USD/INR trading at 79.5 in the final quarter of 2022 and falling to 78.5% in the first quarter of 2023.

The currency pair was expected to continue rising from 79.5% in Q2 2023 to 82 in Q4 2024.
Indian economic outlook for 2022 and beyond
As the country's GDP remains strong despite elevated inflation and rising risks from increased food prices, what will be the Indian economic outlook for this year and in the medium term? Will an economic recession in India happen again this year?
Deloitte's India economic outlook in July expected that risks from global economic slowdown, including recession in developed nations, was not enough to tamper India's economic growth. It expected India's economy to grow by 7.1% to 7.6% in 2022/2023 and 6% to 6.7% in 2023/2024.
Resilient domestic demand and appetite for global business to look for cost-effective investment and export destinations will help the country ride the headwinds from inflation, supply chain disruptions and global business uncertainties, according to the consulting firm.
"The optimism about India's economic recovery, although slightly bruised, remains intact," Deloitte wrote.
"This will ensure that India reigns as the world's fastest-growing economy over the next few years, driving world growth even as several major economies brace themselves for a slowdown or possibly a recession."
On 15 September, Fitch Ratings cut its forecast on India's economic growth but the growth rate remained high. The firm lowered its India's GDP estimate to 7% in the current financial year ending March 2023, from the previous forecast of 7.8% amid the global economic slump, inflation and tighter. It also slashed its forecast for India's GDP in FY2024 to 6.7% from 7.4%.
In its recent forecast, ABN-Amro lifted India's GDP growth forecast for 2022 to 6.5% from previous projection of 6%, but it kept the GDP forecast for 2023 at 5.5%.
ING's forecast saw India's GDP growth rising to 8.6% in 2023, up from 7% in 2022, before cooling to 8% in 2024.
Bank of America (BofA) also expected India's economy to maintain its robust growth amid the global economic slowdown. It forecast the country's economy to grow by 7% in FY 2023 as the service sector recovered and 6.5% in FY 2024 on government spending and revival of private investment.
BofA wrote in a note on 16 September:
"In this global backdrop, we see India's growth holding fort. India is poised to be one of the fastest growing large economies in a relatively uncertain world."
The bottom line
Analysts mentioned in this article did not forecast Indian economic recession despite the country's economic growth may slow in the near term.
You should always keep in mind that analysts' predictions can bewrong. You should always do your own research before trading. Performance in the past does not ensure success in the future. Furthermore, never trade with funds that you cannot afford to lose.
FAQs
Is there going to be a recession in India in 2022?

The analysts and investment firms mentioned in this article did not expect an India recession to happen in 2022, 2023 or 2024. The country's GDP growth, however, may ease.

Remember that analysts can be wrong. Always do your own research.
Will global recession affect India?

In its recent India economic outlook issued in July, global consulting firm Deloitte suggested that strong domestic demand and the country's attractiveness as an investment and export destination may somewhat insulate India from the global economic slowdown.
What is the future of the Indian economy?

As of 19 September 2022, analysts mentioned in this article expected India's economy to maintain its strong growth in 2022 and beyond despite economic slowdown in other developed nations.

Keep in mind that analysts can be wrong in their projections. Always do your own research.
Further reading: