If there's no recession, what happens to inflation?
By Macrodesiac
10:32, 18 November 2022
Subscribe to Weekly Highlights
The major market events for the week ahead right in your inbox.
Subscribe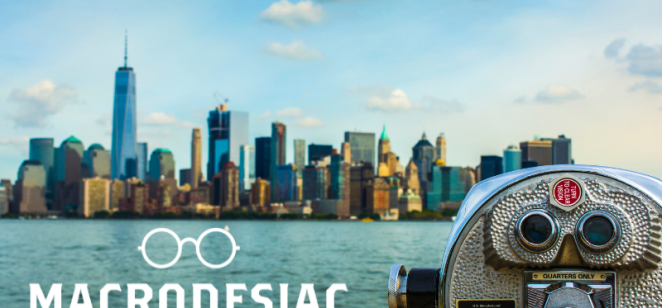 Content
It will take a recession to kill inflation. That's what markets have been hearing ever since central banks realised the inflationary cat was well and truly out of the bag. However, it now looks like inflation may have peaked in the US, and the economy is ticking along just fine.
In Europe and the UK, the energy shock and persistent inflation are set to weigh on growth, but the US, well that's a whole different story.
US outperformance could drive further dollar strength. The euro (EUR/USD), pound (GBP/USD) and yen (USD/JPY) have recovered ground, but all three currencies are still trading the on weak side of their respective 200 day moving averages. Perhaps the dollar isn't down and out just yet…?
What is your sentiment on DXY?
Vote to see Traders sentiment!
Dollar (DXY) index price chart
Goldman Sachs' crystal ball
Economic analysts at Goldman Sachs have dusted off their crystal balls and peeked into the future. They reckon 2023 could be a tricky year for the global economy, with the US outperforming:
Global growth slowed sharply through 2022 on a diminishing reopening boost, fiscal and monetary tightening, China's ongoing Covid restrictions and property slump, and the energy supply shock resulting from the Russia-Ukraine war. We expect the world to continue growing at a below-trend pace of 1.8% in 2023, with a mild recession in Europe and a bumpy reopening in China but also important pockets of resilience in the US and some EM early hikers, such as Brazil.
The coming period is probably one of the toughest to navigate. Although the economy has slowed significantly, there are still pockets of relative strength. Much like the Fed 'pivot', confusion reigns supreme when data and policy change speed.
Conflicting signals can take over as more variables enter the frame and both sides of the economic debate find supporting evidence for their views and the potential market impact. This is always the case of course. Without conflicting views, there would be no market.
As these variations in opinion widen, volatility will usually rise as participants on either side of the macro picture wrestle for control of the narrative. Things like…
The US Recession
How bad will it be? Will it even happen? Goldman assigns a far lower recession probability than most other recession forecasters: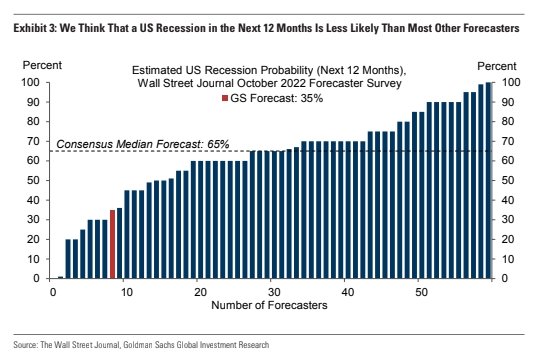 But why? Pretty simple:
One immediate reason is that the incoming activity data are nowhere close to recessionary. The advance GDP report showed 2.6% (annualized) growth in Q3, nonfarm payrolls grew 261k in October, and there were 225k initial jobless claims in the week of November 5.
While the focus has been on an imminent economic slowdown, the Atlanta Fed GDPNow indicator is tracking real GDP growth at 4.2% for 2022, way above the consensus forecasts...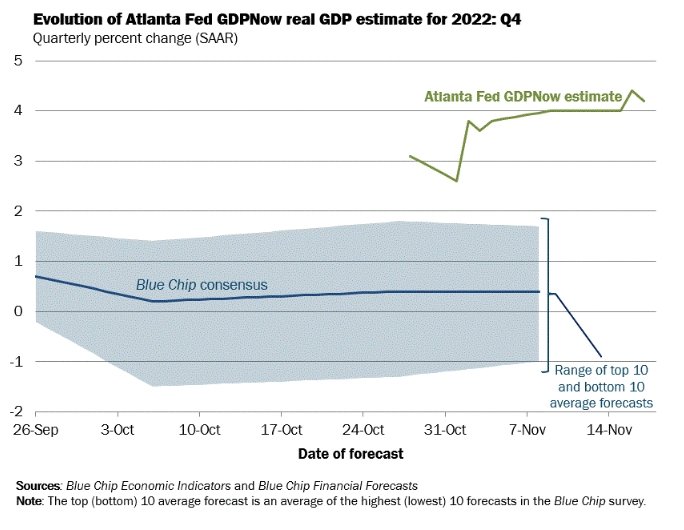 And the recession narratives aren't really being supported by the data. On top of this, Goldman sees the positive growth trend continuing into next year:
More fundamentally, there are strong reasons to expect positive growth in coming quarters. To be sure, the tightening in financial conditions is weighing heavily on growth, to the tune of nearly 2pp at present. But real disposable personal income is rebounding from the plunge seen in H1—when fiscal tightening and sharply higher inflation took their toll—to a pace of 3%+over the next year.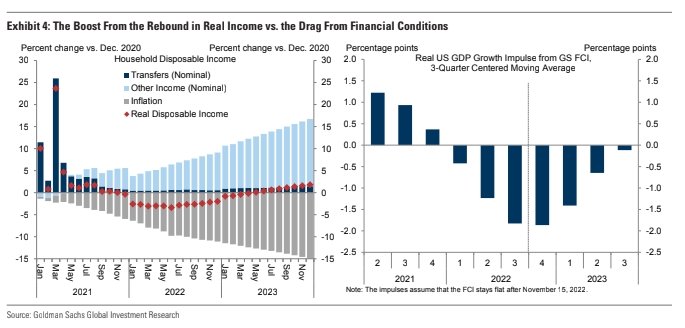 All else equal, an increase in real disposable incomes could lead to an uptick in consumption and economic activity more broadly. Which isn't very recessionary.
Final word from Goldman here:
| | |
| --- | --- |
| Long position overnight fee | -0.0015% |
| Short position overnight fee | 0.0001% |
| Overnight fee time | 22:00 (UTC) |
| Spread | 0.00013 |
| | |
| --- | --- |
| Long position overnight fee | -0.0017% |
| Short position overnight fee | 0.0002% |
| Overnight fee time | 22:00 (UTC) |
| Spread | 0.00006 |
| | |
| --- | --- |
| Long position overnight fee | 0.0000% |
| Short position overnight fee | -0.0001% |
| Overnight fee time | 22:00 (UTC) |
| Spread | 0.035 |
| | |
| --- | --- |
| Long position overnight fee | 0.0015% |
| Short position overnight fee | -0.0042% |
| Overnight fee time | 22:00 (UTC) |
| Spread | 0.010 |
While there are risks on both sides, we think the real income upturn is likely to be the stronger force as we move through 2023, especially because the financial conditions drag will likely diminish assuming Fed officials do not deliver dramatically more tightening than the rates market is currently pricing.
Rates higher for longer
Interest rate futures currently show a high probability of the Fed hitting a peak rate of approximately 5% in May 2023. Approximately the same time that the Goldman analysts see real disposable income turning positive again.
The Fed is widely expected to pause and hold rates from May (higher for longer), but how will it respond if there's a) no recession and b) the economy looks to be re-accelerating?
Much will depend on the path of inflation. To some extent, if the rate of price rises slows without the economy really suffering, this is the near-mythical soft landing that Fed officials are aiming for.
However, not every Fed member is on that page. Kansas City Fed President Esther George doesn't think history supports the idea of a soft-landing:
"I'm looking at a labour market that is so tight, I don't know how you continue to bring this level of inflation down without having some real slowing, and maybe we even have contraction in the economy to get there,"
"I would love if there was that path, and I've seen people paint that path… I have not in my 40 years with the Fed seen a time of this kind of tightening that you didn't get some painful outcomes."
Meanwhile, the S&P 500 (US500) has rallied approximately 500 points on the back of a single inflation print and the likely step down in the pace of rate hikes. Ironically, the reaction eases financial conditions, and in a circular fashion, works against the Fed's intentions.
St Louis Fed President Jim Bullard weighed in on the debate with his getting in the zone presentation. When will monetary policy be sufficiently restrictive? According to Taylor-Type Rules, the peak in rates will likely need to be higher than current forecasts expect: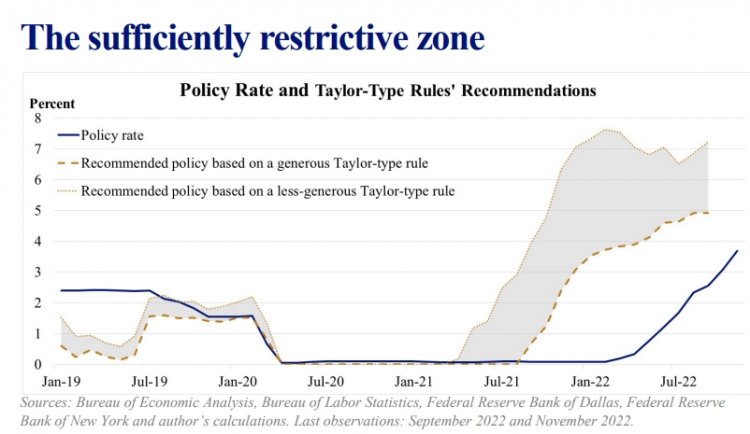 Which is why Bullard says rates will need to climb to 5% at a minimum to be considered restrictive. Rates aren't even at this restrictive level yet, and monetary policy is known to work with long and variable lags.
On this basis, the idea that the US economy could keep growing in 2023 isn't so outlandish. If that economic growth leads to more inflation, especially in energy, could the Fed be forced to push rates even further into Bullard's zone?
We're told a recession will be needed to kill inflation. But maybe that recession isn't as imminent, or shallow, as markets are hoping.
Related reading