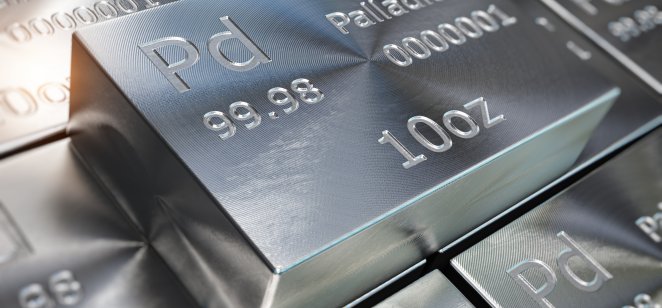 As a result of London recently halting the trade of freshly refined Russian palladium and platinum from two state-owned refineries – the Prioksky and Krastsvetmet plants –investor anxieties regarding supply shortages have once again resurfaced, boosting palladium prices even higher.
Russia is one of the largest palladium producers in the world, accounting for about 40% of global output. Its Krastsvetmet Refinery is the world's biggest producer of the refined platinum group of metals (platinum, palladium, rhodium, iridium, ruthenium, osmium), as well as of gold and silver.
The Prioksky Non-Ferrous Metals Plant was built to replace the Novosibirsk gold-producing plant; in 1991, it mined 90% of Russia's gold. It also refines silver and the platinum group of metals, manufacturing an extensive range of silver, platinum and palladium bars.
Previously, with platinum group metals not having been sanctioned in Russia, investors were beginning to be cautiously optimistic, especially after Nornickel's (MNODI) announcement of having secured alternative export routes. However, this has now been swiftly reversed due to Russia's high reluctance to end its conflict with Ukraine.
Palladium prices today
Why have these two Russian palladium refineries been banned?
The Prioksky and Krastsvetmet refinery plants mining the platinum group of metals were banned by the London Platinum and Palladium Market (LPPM) on Friday. As both refineries are state-owned, this move is yet another retaliation by Western states acting in response to Russia's brutal invasion of Ukraine.
Both plants have been removed from the LPPM's London/Zurich Good Delivery List – a list that defines the requirements for precious metals to be traded on the London market – and will not be traded by both Zurich- and London-based exchanges for the time being.
Initially, the LPPM was in favour of retaining Russian platinum and palladium. However, the disappointing progress of the Russia–Ukraine peace talks, as well as the disturbing reports of war crimes by Russia, have prompted the LPPM to align with the Western community's stance of harsher sanctions on Russia.
This move follows the Russian silver- and gold-bar trading halt in London of the past few weeks, and is therefore not surprising to most investors. As of now, metals produced by the above two companies after 8 April will not be eligible to be traded in London.
What does this mean for global palladium markets?
London is one of the biggest palladium markets in the world, therefore the LPPM's move will have a significant impact on the metal.
The price of palladium has already since risen more than 8% since the news, with platinum also inching up more than 1% as investors' concerns about a potential shortage of auto catalysts for the vehicle-making industry, as both palladium and platinum are metals used by vehicle makers to reduce emissions.
Palladium had previously lost around 40% since the start of the Russia–Ukraine conflict, but has quickly gained back almost 18% since the start of April as supply-chain constraints loom, threatening to make the metal scarcer than ever.
South Africa is another major producer of palladium, actually narrowly outstripping Russian production in 2020. In 2021, it emerged as the top producer in the world at around 80 metric tonnes, compared to Russia's 74 metric tonnes, according to Statista.
This may prompt investors to turn towards South Africa now that Russian palladium supplies are practically out of reach.
Knock-on effects for the supply chain
Nornickel, which produces approximately 10% of global platinum and 25%–30% of palladium worldwide, will also be significantly hit, with shares dropping 0.50% since the news. However, its supply capacity is highly likely to keep dipping as more transportation routes shut down.
Flight bans on Russia, as well as neighbouring Belarus and Ukraine, have also contributed to Russian metal export woes, as commodity manufacturers are left looking for more alternatives to transport their output out of the country.
What is your sentiment on Palladium?
Vote to see Traders sentiment!
The ban could potentially put auto manufacturers at risk and force them to hike vehicle prices higher as they look at other materials as substitutes.
This will inevitably push the green transition back further, as both palladium and platinum are key to reducing transmissions and vital for a shift to net zero.
Is platinum doing any better than palladium?
The Platinum group of metals on the NYSE Arca index had dropped approximately 28% since the beginning of March as the Russia–Ukraine conflict intensified.
With Russia also being a major producer of platinum, investors have been worried that increasing sanctions on the country could make it too difficult for most Russian-backed firms to find buyers for their commodities.
The supply-chain fears that have plagued palladium are also being echoed when it comes to platinum, especially given the metal's rising value in chemical industries as well as petroleum industries.
A slowdown in the Chinese economy as a result of the recent surge in Covid-19 cases, which led to a shutdown of many automotive manufacturing plants. With China being one of the topmost auto producers in the world, the shutdowns have dented the demand for platinum as a substitute for palladium for auto catalysts.
As a result, platinum prices had dropped to multi-month lows recently. However, since the ban of the two Russian refineries, platinum demand has also bounced back, with the precious metal nearing the $1,000 per troy ounce (t oz) range, close to one-week highs, as at the time of writing.
Yet even as its price has rallied on the news, platinum is still less than half the price of palladium. It is also still being seen as a viable alternative for the latter, which means demand is likely to remain high.
Read more