How to trade the commodities bloodbath
By PriapusIQ
14:59, 13 July 2022
Subscribe to Weekly Highlights
The major market events for the week ahead right in your inbox.
Subscribe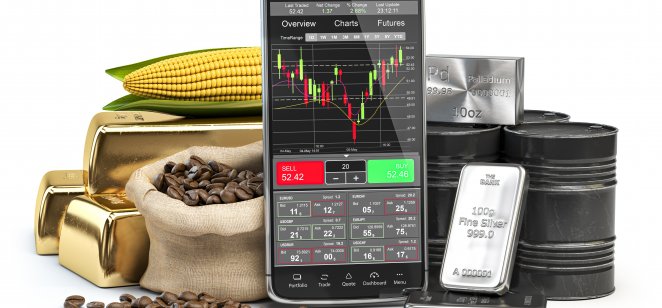 Content
The commodity complex has been a bloodbath of late. Particularly crude oil and precious metals such as gold and silver.
The fast moving players such as CTAs and momentum traders have been using the reduced liquidity to their advantage, exacerbating price moves and causing soaring volatility (brent crude sold off more than $10 a barrel in one day). The massively elevated volatility has created two-way tradeable opportunities to sink one's teeth into. Agility and not over-extending your position size in environments like this will keep you alive and trading.
What is your sentiment on Oil - Brent?
Vote to see Traders sentiment!
Growth slowdown fears trigger sell-off
So, besides the technical factors mentioned above what was the catalyst for brent crude's collapse? A global growth slowdown and the ugly "R" becoming front and centre. The US, the cleanest dirty shirt so to speak in terms of economic resilience now looks to already be in a recession as first-quarter growth was revised down to -1.6% and the Atlanta Fed's GDPNOW real-time forecast sees -2.1% shaved off second quarter GDP.
That means we've got two consecutive negative quarters of growth and meets the technical definition for a recession. Global PMIs all point to a slowing in growth too as the cost of living crisis bites. Business and consumer sentiment are in the doldrums. This obviously leads to lower investment by businesses and less spending towards the economy by consumers. We're also seeing hiring begin to deccelerate. This is all feeding into the theme of recessionary fears and demand destruction.
Commodities have quite clearly been chosen as the asset class to express these fears. One big bank envisions a price tag of $65 a barrel in a full blown recession. A very strong dollar additionally creates another headwind for commodities given the inverse relationship between the dollar and their price.
Supply of oil remains remarkably tight
Those two factors are driving the moves in the commodity complex at the moment, however, specifically to crude there are other catalysts to have on the radar. Supply is tight as OPEC+ struggles to meet output capacity quotas. Making matters worse are unrest in regions such as Ecuador and Libya, keeping supply offline. The prospect of Iranian crude coming back seems to be a never ending waiting game as talks continue or collapse constantly. Lastly, there is the prospect of Russian supply being removed if a price cap is put in place. The supply side looks set to stay very tight on the basis of these factors.
| | |
| --- | --- |
| Long position overnight fee | -0.0158% |
| Short position overnight fee | 0.0013% |
| Overnight fee time | 22:00 (UTC) |
| Spread | 0.03 |
| | |
| --- | --- |
| Long position overnight fee | -0.0062% |
| Short position overnight fee | 0.0023% |
| Overnight fee time | 22:00 (UTC) |
| Spread | 0.020 |
| | |
| --- | --- |
| Long position overnight fee | 0.0438% |
| Short position overnight fee | -0.0683% |
| Overnight fee time | 22:00 (UTC) |
| Spread | 0.006 |
| | |
| --- | --- |
| Long position overnight fee | -0.0061% |
| Short position overnight fee | 0.0025% |
| Overnight fee time | 22:00 (UTC) |
| Spread | 0.18 |
Technical Analysis
Looking at the technicals, brent crude is having a solid oversold bounce off the range support at around $100. If the demand picture becomes more optimistic then $120-125 comes back into view. The $115 range resistance would need to be overcome first though as well as the 50-day SMA.
Gold desperate for the dollar to reverse lower
Gold is another interesting asset of late. Almost $50 an ounce was wiped off from its price on Tuesday – that is a very significant move.
Similarly, to brent crude, the soaring dollar was largely to blame as well as real yields (yields net of inflation) not providing any support. When risk-off is cranked up, people want to hold dollars and this leads to liquidations across the board, which can lead to forced selling via margin calls. Throw lower liquidity levels into the mix and you have a potent bearish cocktail.
Looking at the chart, the yellow metal sliced right through the bottom of the range support at $1,750. The 50-day SMA has made a death cross with the 200-day SMA (a bearish signal) too. The 21-day EMA is working as a good dynamic form of resistance with sellers nibbling as price touches this line. The RSI looks like it wants to exit oversold territory. If price can get its head back above $1,750 then the next levels to watch on the upside are $1,775 and $1,800. On the downside, further selling brings $1,725 into view.
Related reading