How are technology giants maintaining their value?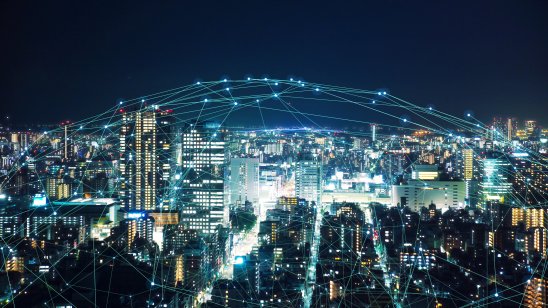 The beginning of the year saw a drop in the valuations of the world's technology majors including Alphabet, Amazon, Apple, Meta and Microsoft.
Most of these technology giants, however, recovered their valuations since then and each took a different approach to get there.
Apple and Amazon altered the prices of their existing products and services, while Microsoft earned a reliable income from its cloud technology, and Alphabet improved its share liquidity. Meta, however, is facing data struggles within the European Union.
Many of these stocks released impressive earnings in face of global supply chain disruptions and labour shortages, which raised market confidence and aided their rise in valuations. Let us take a look at each of them to see how they have managed to remain on the trader's radar.
Alphabet is splitting shares
Alphabet's recent fourth-quarter earnings were one of the most impressive among the technology majors. It reported a 41% on-year increase in its revenues between 2020 and 2021. Much of these profits came from advertising income, which saw a 31% increase during 2021. YouTube advertisements specifically earned the company 26% more during the year.
Revenue from Google Cloud also saw a substantial increase, where revenue from this business grew almost 45% during 2021.
The same announcement was accompanied by the declaration that the board of directors had approved a 20-for-1 stock split for all three class A, B, and C stocks. This would take place on 1 July 2022 at the close of business. Following this announcement, Alphabet's share price moved higher by 26%.
An outlook published by financial services firm Charles Schwab noted: "[the stock split] could help improve liquidity and potentially drive GOOG.L's inclusion into the price-weighted Dow 30".
What is your sentiment on GOOG?
Vote to see Traders sentiment!
Amazon increases subscription price
Amazon's fourth-quarter 2021 earnings release saw both positive and negative information. Although the company's net sales increased 9% from the same quarter in 2020, its free cash flow decreased to an outflow of $9.1bn in 2021, from a positive inflow of $31bn in 2020 with most of this cash outflow coming from its operating costs.
Its operating income was also down 50% year on year. On the date of the earnings announcement, the share price fell almost 8%.
The effects of the recent supply chain problems and labour shortages have clearly affected the income generated through its operations. The slowdown in online retail sales has also affected the company, with its net sales from online stores down 1% on-year.
Amazon's earnings release made it clear that it was heavily focused on improving its customer's 'prime' experience. They also planned to team up with Venmo, Starbucks and Sainsbury's to enhance the customer experience.
The firm recently announced that the price of 'prime' would increase from $12.99 per month to $14.99, while the annual subscription would increase from $119 to $139. Following this news, its share price enjoyed its highest daily increase since 2015. Much of the valuation loss seen following the earnings release had now been recouped.
Apple is potentially going low cost
At the end of January, Apple released its most recent quarterly earnings results. It managed to increase its revenue from product sales by almost 10% in 2021, while growth in revenue from services was much more impressive at 26% year over year.
CEO Tim Cook said in a public statement: "This quarter's record results were made possible by our most innovative line-up of products and services ever".
Apple's share price jumped 6% after the earnings release. The price, however, remains below its peak seen at the start of January when the device giant briefly reached a $3tn valuation.
Markets now await Apple's upcoming product launch event on 8 March 2022. There are expectations of the company releasing information on many new products. With potential news on a low-cost version of their current devices, which may allow their devices to be more accessible to a larger consumer base.
Meta is struggling
Much like many other technology firms, inflation and supply chain disruption affected Meta's bottom line, whereby its most recent earnings suffered. Meta saw this specifically affect its advertising revenues.
CFO David Wehner commented in the earnings release: "We're hearing from advertisers that macroeconomic challenges like cost inflation and supply chain disruptions are impacting advertiser budgets."
Earnings showed that although revenues increased by almost 18% between 2020 and 2021, Meta's cost of revenue increased by 40%, resulting in a reduction of its net income.
Facebook's daily active users fell by one million during 2021. Although not a staggering number as the site still holds 1,929 million daily active users, this was the first time that growth in the number of users was negative.
Following this and its earnings release on 2 February, the stock price fell almost 27% overnight and has not recovered fully since.
Meta is struggling with European regulators on the issue of transatlantic transfer of data. The company has warned that if it was unable to transfer data across, it might have to cease operations within the region.
Meta stated in its most recent 10-k filing "If a new transatlantic data transfer framework is not adopted and we are unable to continue to rely on Standard Contractual Clauses or rely upon other alternative means of data transfers from Europe to the United States, we will likely be unable to offer a number of our most significant products and services, including Facebook and Instagram, in Europe, which would materially and adversely affect our business, financial condition, and results of operations."
Microsoft relies on 'cloud' as it turns to gaming
On 18 January 2022, Microsoft announced its plan to acquire the video game holding company, Activision Blizzard. The deal, aimed to build Microsoft's gaming business across mobiles, personal computers, consoles and the cloud, was gaming's biggest takeover to date, costing Microsoft $75bn.
Following this, the company's shares dropped 2% and inched lower until Microsoft released its second-quarter earnings. In the earnings release, Microsoft saw its total revenue grow by 20% on-year, with much of the growth coming from cloud services.
The company's biggest growth was seen in its dynamic products and cloud services, which saw a 29% increase in revenue, while server products, which support the cloud, saw a 26% growth in revenue.
CFO Satya Nadella said in the earnings call that "it was a record quarter, driven by the continued strength of the Microsoft Cloud, which surpassed $22bn in revenue". Xbox revenues were up 10%, and revenue from gaming as a whole had increased by 8%.
In the same earnings call, Nadella added "our planned acquisition of Activision Blizzard, announced last week, we are investing to make it easier for people to play great games wherever, whenever, and however they want and also shape what comes next for gaming as platforms like the metaverse develop".
Following this, Microsoft shares regained an upward momentum.