Hong Kong shares fall over 2% as healthcare and tech drag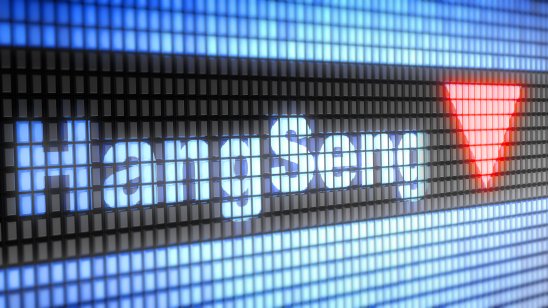 Hong Kong's Hang Seng index fell over 2% on Monday as tech and healthcare losses dragged the benchmark lower, while trading in debt-ridden Evergrande stocks were halted pending announcement of a "major transaction."
Benchmark Hang Seng index fell 2.3% to 24,020.28 points on Monday. The index plunged about 15% in the third quarter of 2021 as Beijing stepped up its crackdown on China's private sector and a default crisis in property developer further soured investor sentiment.
On Monday, trading of Evergrande shares were halted as state-affiliated Global Times reported that real estate peer Hopson Development plans to buy 51% of Evergrande's property management unit for $5.14bn.
Property stocks mixed on Monday
Property stocks were mixed in Hong Kong as New World Development and China Overseas Land & Investment rose 2.4% and 1.1%, respectively, to emerge as the top intraday performers on the benchmark index. Link REIT and LongFor Group fell over 2% and over 1%, respectively, as the Hang Seng Properties sub-index slipped 0.2% on Monday.
Healthcare stocks were the biggest drag on the benchmark index with Wuxi Biologics Cayman and Sino Biopharmaceutical losing over 8% and over 5%, respectively. Hang Seng Healthcare Index dropped nearly 4% on Monday.
Tech losses further dragged the Hang Seng index to hover above one-year low. Smartphone maker Xiaomi and e-commerce giant Alibaba Group fell 3.5% each in Hong Kong. While the Hang Seng TECH index fell 1.3%, laptop manufacturer Lenovo bucked the trend to jump over 9% higher after the Shanghai stock exchange approved its listing application.
Kishida elected as prime minister
Meanwhile, Japan's Nikkei 225 index closed 1.1% lower at 28,444.82 points, hovering above one-year low. Broader Topix closed 0.6% lower on Monday.
The benchmark index extended its losing streak to six straight days as investors turned cautious ahead of formation of a new government under Fumio Kishida. Materials and electric appliances stocks were the top intraday losers, while real estate and logistics sector rose most on Monday.
As Kishida was elected as Japan's 100th prime minister on Monday, English daily Kyodo News reported that Kishida plans to dissolve the Lower House on 14 October and seeks to call an earlier-than-expected election on 31 October.
Aussie stocks up
Elsewhere, Australia's S&P/ASX 200 index climbed 1.3% to 7,278.5 points on Monday as financials emerged as the top boost on the benchmark index.
Australia's largest listed company by market capitalisation Commonwealth Bank of Australia jumped 5.1% on Monday after announcing the completion of AUD6bn ($4.36bn) off-market share buy-back.
The S&P/ASX 200 Financials sub-index rose 2.6% and S&P/ASX 200 Energy sub-index climbed 1.4% on Monday.
Indonesia shares highest since March
In Southeast Asia, Indonesian shares outperformed regional peers as the Jakarta Stock Exchange Composite Index gaining 1.8% to hit its highest since March. The country's LQ45 index, which tracks the 45 most liquid stocks on the Jakarta stock exchange, jumped 2.8% on Monday.
Singapore's Straits Times index rose 1.3% and Philippines' PSEi index climber 0.5% on Monday.
Markets in mainland China and South Korea were closed for holiday.
Read more: Shanghai bourse approves PC-maker Lenovo's listing plan