Hochschild Mining sees Q3 production increase by 5%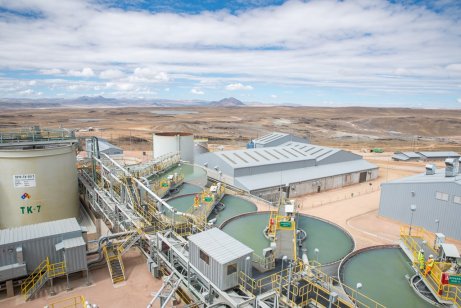 Hochschild Mining gold and silver productions hiked up by 5% in the third quarter versus what it delivered in the second quarter of 2021, according to its production report for nine months ending 30 September.
The UK company, which has over 50 years' operating experience in the Americas, said it delivered attributable production of 93,630 gold equivalent ounces or 8.1 million silver equivalent ounces.
Performance was particularly strong due to production in its Inmaculada mine in Peru.
On track
The company added that it remains on track to meet its production target for 2021 of 360,000-372,000 gold equivalent ounces or 31.0-32.0 million silver equivalent ounces.
"Operationally, the third quarter was our strongest so far of 2021 and we remain firmly on track to meet both our full year production and our cost targets.
"We have also had another successful period of drilling with the addition of further high-grade resources at both Inmaculada and at San Jose," said Ignacio Bustamante, chief executive officer at Hochschild Mining.
Gold mine takeover
Earlier this month it was announced that the London listed business exercised its option to start earning a 60% interest in the Snip gold project in Canada. It has a partnership with Skeena Resources Limited.
Bustamante said, "It has been a very busy period for business development with the exercise of our option on the high-grade Snip gold project in British Columbia and the announcement of the proposed demerger of our exciting rare earths business, Aclara Resources."
Bustamante hinted that there could be further take overs in the future, adding: "Furthermore, we retain a strong balance sheet to assess further opportunities to add to our long-term project pipeline throughout the Americas."
Q4 focus
Hochschild announced overall year-to-date attributable production of 268,749 gold equivalent ounces or 23.1 million silver equivalent ounces.
The company said that during the fourth quarter of this year it will focus on 2,000 metres of resource drilling in the Juliana North East vein.
Hochschild Mining's share price was down 3.38%, trading at £148.80 at 17:00 BST.
Read more: UK's Hochschild Mining half-yearly profits rocket to m
The difference between stocks and CFDs:
The main difference between CFD trading and stock trading is that you don't own the underlying stock when you trade on an individual stock CFD.
With CFDs, you never actually buy or sell the underlying asset that you've chosen to trade. You can still benefit if the market moves in your favour, or make a loss if it moves against you. However, with traditional stock trading you enter a contract to exchange the legal ownership of the individual shares for money, and you own this equity.
CFDs are leveraged products, which means that you only need to deposit a percentage of the full value of the CFD trade in order to open a position. But with traditional stock trading, you buy the shares for the full amount. In the UK, there is no stamp duty on CFD trading, but there is when you buy stocks.
CFDs attract overnight costs to hold the trades, (unless you use 1-1 leverage) which makes them more suited to short-term trading opportunities. Stocks are more normally bought and held for longer. You might also pay a stockbroker commission or fees when buying and selling stocks.