High-end retail stocks Nordstrom and Urban Outfitters show strength despite inflation pressures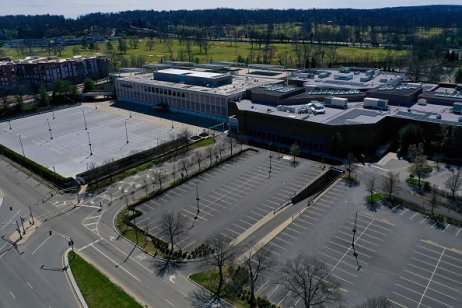 Promising quarterly earnings reports from retailers Nordstrom (JWN) and Urban Outfitters (URBN) spiked the respective stocks Wednesday and gave investors hope the retail sector may weather inflationary pressures on apparel prices.
Market-segment bifurcation, however, is emerging among the higher- and lower-end retailers, as buyers from high-income households are less price sensitive for so-called "event-driven" apparel, as social gatherings increase in the summer months.
Nordstrom Inc. (JWN) stock price
After missing analyst estimates, reporting a $0.06 per-share quarterly loss, but topping estimates by 42% with $3.57bn (£2.84bn) in quarterly revenue and increasing full-year revenue guidance 6% to 8% over than 2021, Nordstrom stock rose as much as 13.4% to $23.44 from Tuesday's $20.67 closing share price.
Urban Outfitters, which missed both top- and bottom-line estimates with $0.33 per share earnings, versus an expected $0.42 per share earnings, on $1.05bn in revenue, missing $1.07bn estimates, saw its stock rise 14.3% to a $20.48 per share from Tuesday's $17.92 closing share price. Urban Outfitters CEO Richard Hayne said Spring demand was "nicely positive" through the second quarter.
What is your sentiment on JWN?
Vote to see Traders sentiment!
'Event-driven apparel' drives high-end retail
In a retail sector note to investors Wednesday, JPMorgan Securities analysts cited the "sharp acceleration in demand" for "event-driven apparel" driving sales at the high end of retail, as wealthier consumers prepare for social gatherings and summer vacations and people returning to work seek to upgrade their wardrobes.
For example, JPMorgan notes strength in sales for men's suits at Nordstrom, while Urban Outfitters reported strong sell-through for women's bottoms tied to a silhouette shift for "skinny trouser legs." Additionally both management teams noted "a detectable shift in buying to fashion wardrobing and event-driven apparel...as consumers return to the office, make summer travel plans and attend social events," such as weddings.
Urban Outfitters Inc. (URBN) stock price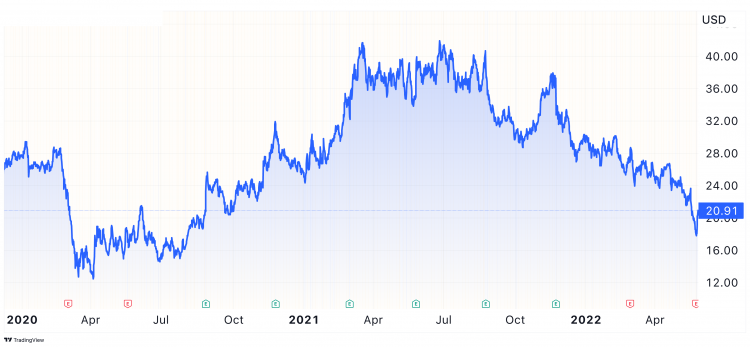 Urban Outfitters Inc. (Nasdaq: URBN) 2000-YTD - Photo: TradingView
"It was interesting to see Nordstrom give a rather positive earnings report; I know the narrative currently being passed around is that people are buying nicer clothes since they haven't done so for a couple of years," said tastyworks CEO Scott Sheridan. "Urban Outfitters actually missed estimates but offered some encouraging commentary, But URBN is more than just clothing so I find the whole nicer clothing narrative a little suspect."
What is lifting higher-end clothing retailers
Event-driven apparel
Positives: "Dress-up" apparel, resort wear, return-to-work
Negatives: "Basics" apparel, comfort/lounge wear, active wear
Promotional activity
Inventory carryover leading to increased clearance activity, lower margins
Higher-income demographic insulated from inflation
Retailers catering to $100,000 income households cited no inflationary related pressure
Gen-Z, Millennial cohorts moderating demand due to inflationary pressure due to younger age and lower income
High-income laterals
JPMorgan increased its full-year 2022 earnings estimate for Nordstrom to $3.20 per share and its December 2022 price target to $22 per share, while maintaining an Underweight allocation.
JPMorgan noted that retailers catering to higher household income (greater than $100,000 per year) consumers were better positioned to withstand inflation-driven price increases, while retailers catering to younger and lower-income consumers are adversely positioned for rising retail prices.
Splitting the retailers into two groups, "Positive High-Income Exposure Laterals" JPMorgan cited Capri Holdings (CPRI), Macy's (M), Mytheresa (MYTE), Ralph Lauren (RL) and Dillard's (DDS) as well as Nordstrom and Urban Outfitters as being well-positioned to pass along higher prices.
Macy's (M) stock price
"Higher income cohorts with consumers eager for a return to normal and attending several events citing no notable inflationary impact to demand," JPMorgan said in the report.
On the lower end of the spectrum, what it calls "Negative Laterals" falls American Eagle Outfitters (AEO), The Gap (GPS) and Ollie's Bargain Outlet (OLLI), as being "adversely positioned."
"We read the consistent Gen-Z/Millennial inflationary impact commentary as a negative lateral...adversely positioned tied to a 'discretionary squeeze' at the low-income customer demographic."
Reasons to remain skeptical
Tastyworks' Sheridan remains skeptical on retail. "We have some more retail earnings coming this week in Macy's and Gap Stores," Sheridan added. "I'll be watching to see how their numbers shake out and what type of forward-looking commentary they offer."
"If we get some positive news from the remaining retailers, it may end up being the sector isn't in the bad shape a lot of people fear."