Hertz (HTZ) ups credit scores on $1.5bn stock for bond swap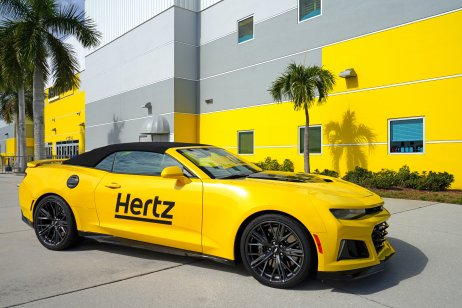 Hertz raised its credit profile by swapping $1.5bn (£1.1bn) of preferred stock with cheaper debt.
The Florida-based company priced two bond issues Wednesday: $500m of 4.625% notes maturing in 2026 and $1bn of 5% notes maturing in 2029.
Hertz plans to use proceeds from the bond sales, along with cash on hand, to repurchase some or all of its outstanding Series A preferred stock. The company may retain up to $250m of excess proceeds for general corporate purposes.
The swap will save money. The preferred shares pay a 9% dividend semi-annually prior to 30 June 2023 and generally increase thereafter, the company disclosed in a stock exchange filing in September.
Hertz issued 1.5 million preferred shares to private equity firm Apollo when it emerged from bankruptcy on 30 June and received $1.5bn, less a 2% upfront discount and fees.
In the September filing, Hertz said the shares could be redeemed at their current accrued value or 130% of invested value. As of 30 September, the bonds had accumulated $34m of undeclared dividends.
Ratings upgrades
Credit ratings services Moody's and Standard & Poor's both upgraded Hertz.
Moody's raised Hertz to B2 from B3, though the company remains in "junk bond" territory. The agency said the upgrade reflects its view that Hertz will likely perform better now than prior to bankruptcy.
Moody's expects Hertz to "continue generating robust earnings over the next 12 months, as car rental demand strengthens further, the industry fleet size remains constrained and prices for used vehicles remain well above historical levels".
Standard & Poor's upgrade
Standard & Poor's raised Hertz to BB- from B. Like Moody's, the ratings still reflect "junk bonds".
S&P noted that the owner of the Hertz, Dollar and Thrifty car brands continues to benefit from a "strong car rental" environment.
The ratings agency noted airline traffic has recovered to close to pre-Covid-19 levels on US domestic routes as vaccinations become widespread and international travellers are returning with the easing of travel restrictions.
S&P also expects the shortage of new vehicles due to the squeeze in semiconductor chips to boost used car sale prices and rental rates. Hertz's daily revenue per day in the Americas rose 45% in the third quarter of 2021 compared to the comparable quarter in 2019.
What about Tesla, Uber and Carvana?
S&P was cautious about Hertz's other plans.
"Although the company announced in late October that it had reached an agreement to acquire 100,000 Teslas by the end of 2022, up to 50,000 of which it would rent to Uber drivers, and that it had reached an agreement to dispose of some of its vehicles through online car seller Carvana, we think it is too early to determine any impact from these agreements on Hertz's revenues, cash flow and credit metrics," S&P said.
Moody's did not mention Tesla or Uber but had a favourable view of Carvana, saying "it adds a distribution channel for used vehicles and at a price per vehicle that should exceed wholesale dispositions".
Read more: Hertz (HTZ) public offering raises Read more: Hertz (HTZ) public offering raises $1.3bn.3bn