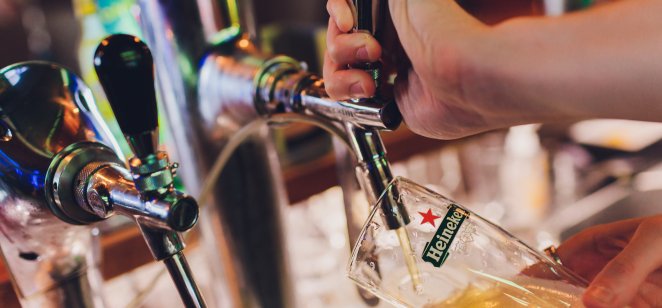 Brewer Heineken UK has announced it is to plough a further £38m into its Star Pubs & Restaurant estate, bringing the total invested since January 2020 to £73m.
The latest programme of investments will give the troubled pub and restaurant sector a much-needed boost after months of lockdowns and other coronavirus restrictions.
A £38m fillip for UK pubs
Heineken UK's additional £38m investment will create around 500 new jobs, benefiting 700 English and Welsh local pubs by the end of the year.
The company's plan will see almost 80 pubs completely renovated, with the cost of each upgrade being between £125,000 and £400,000. The cost difference reflects the bespoke nature of each transformation, which is designed to reflect the nature of an individual pub and its community.
Location, location, location
Pubs being covered by the scheme have been chosen due to their location, in suburbs or high streets, within 10 minutes of residential areas. Heineken is keen to tap into the working-from-home culture.
Upgrading pub gardens and improving comfort are key to the developments, the latter will include improving the quality of food, which is expected to account for 30% of sales. A greater range of drinks, including premium spirits and coffee, is also being factored in.
Staying local
The latest investment push follows earlier ones that largely coincided with the advent of the pandemic, as Star Pubs & Restaurants managing director Lawson Mountstevens acknowledged: "Many people have rediscovered the joy of their neighbourhood pub between lockdowns over the last year, and are opting to stay local. This investment responds to that demand giving communities quality pubs on their doorsteps.
"We've spent £62m on rent cuts to keep our pubs afloat during the pandemic. The pandemic has shown the resilience of the great British pub and especially the leased and tenanted model. We're committed to building on that support with refurbishments, so that pubs around the country thrive for the long term."
What is your sentiment on BTC/USD?
Vote to see Traders sentiment!
A new swathe of regulars
Sarah Locke, licensee at Ye Olde Hob Inn at Bamber Bridge in Lancashire, which received a £165,000 early last year, said the investment helped massively during the lockdowns and restrictions. She said: "People love the new look, and it's bringing in all ages. Local residents who hadn't been in for years, if ever, are now regulars, plus we're attracting a lot more drive-by customers.
"We saw the impact of the refurbishment immediately. Sales trebled overnight when we reopened and have stayed at that level despite a lot of local competition, COVID-19 restrictions and the overall impact of the pandemic, which we really felt in this area."
Trade Heineken N.V. - HEIN CFD