Healthcare tech supplier Ensemble Health files IPO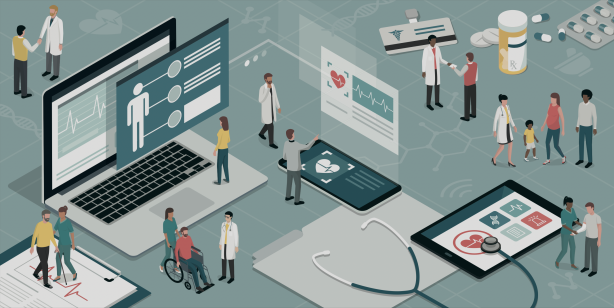 Medical claims management tools provider Ensemble Health Partners is planning to go public after winning more end-to-end contracts in 2020 than in any year in the company's history.
The Cincinnati, Ohio-based company filed a Form S-1 registration statement with the US Securities and Exchange Commission on 29 September, listing a placeholder amount of $100m (£74.3m) to be raised by selling a still to be determined number of shares at a yet to be determined price. The investment advisory firm Renaissance Capital said: "this is likely a placeholder for a deal we estimate could raise up to $500m."
The company plans to use proceeds from the offering to repay debt and for working capital and general corporate purposes. Cash and cash equivalents stood at $76m and long-term indebtedness was $1.4bn at 30 June.
Ensemble plans to list its Class A common stock on the Nasdaq Global Select Market under the ticker "ENSB".
Success amid Covid crisis
The planned flotation by the revenue cycle management (RCM) provider comes amid a coronavirus pandemic that has claimed the lives of nearly 700,000 Americans and sickened millions more, while straining the US healthcare system under an unprecedented deluge of patients.
"Although our business experienced a decline in existing customer revenue in 2020 as health system Client NPR (net patient revenue) decreased due to the suspension of elective procedures, we also observed increased adoption of RCM solutions by health systems and won more end-to-end contracts in 2020 than any other year in our history," Ensemble said.
The company signed more than $5bn in new NPR contracts in 2020 despite the disruption in the healthcare industry from Covid-19 in 2020.
First five patents secured
The IPO announcement comes in a year when Ensemble Health Partners secured its first five patents for its proprietary cloud-based technology platform. The US Patent and Trademark Office granted the first two patents in February and three more followed in April.
According to its S-1 filing, Ensemble's technology solutions are created on the premise that healthcare systems can't "efficiently manage and optimise their own revenue cycle operations".
Ensemble attributes this problem to several obstacles, such as a lack of coordination among internal departments and the complexity of integrating technology vendors. A lack of investment in technology due to budget constraints and attempts to improvise with technology not built specifically for end-to-end revenue cycle optimisation contributes to the disarray. For healthcare providers, this leads to reduced collections and higher costs to collect, and it causes a disjointed billing experience for patients.
The Ensemble system starts tracking a patient before they even arrive at the healthcare facility by handling pre-registration, scheduling, and insurance authorisation and verification. Digital patient engagement harnesses artificial intelligence-enabled communications technology, with features including two-way texting, interactive voice response calls, email, live chat and web-based chatbots. At the time services are provided, the system assists the healthcare facility with handling registration, eligibility and benefit management, financial counselling, and point-of-service fee collection from patients.
Rising revenue and net income
For the six months ended 30 June, Ensemble generated net revenue of $401.1m, net income of $67m, and adjusted EBITDA of $138.1m. That's up from $258.7m for the same period in 2020, when Ensemble earned net income of $35.2m with an adjusted EBITDA of $92m.
For the year ended 31 December 2020, Ensemble reported net revenue of $600m, net income of $100.7m, and adjusted EBITDA of $210.3m.
Evolving expectations in healthcare billing
In the Form S-1, Ensemble lists some of the challenges facing its healthcare clients. With costs rising, more private-sector employees are enrolled in health insurance plans with higher deductibles, and that can lead to more bad debt for hospitals. The prospectus also notes the dynamics between payors and providers is changing as costs escalate and governments and businesses attempt to rein in expenditures.
"Payors have increased in scale and technological sophistication in recent years through consolidation and accelerated investments, which has generated additional contracting leverage in their relationships with health systems," the filing said.
That developing dynamic translates to additional layers of accountability for healthcare providers.
"This requires that providers have the proper controls, systems, and reporting capabilities in place to ensure the complete and accurate documentation of claims. Health systems without these core competencies risk increased initial denials, which can lead to longer collection cycles, increased costs to manage these claims, and potential increases in bad debt expense," Ensemble added.
Goldman Sachs, BofA, Deutsche Bank, and Guggenheim are the joint lead book-running managers for the proposed offering. Credit Suisse, Evercore ISI, Wells Fargo, SVB Leerink, Baird, and William Blair are joint bookrunners. Academy Securities and Loop Capital Markets are co-managing.
Read more: First Watch sizzles in Nasdaq debut