Hasbro Q3 beats EPS estimate, ensures holiday product supply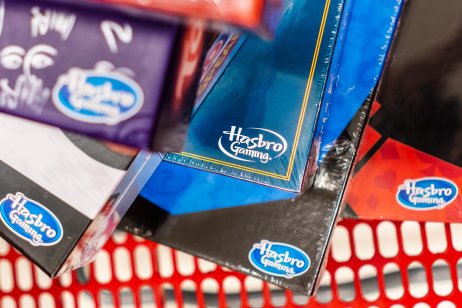 Toy and media company Hasbro reported third-quarter financial results that beat estimates with particular strength coming from its Entertainment division.
The results come just weeks after the passing of CEO Brian Goldner.
For the fiscal third quarter ended 26 September, net income grew to $253.2m (£183m) from $220.9m in the same period last year on sales which increased 11% to $1.97bn. Adjusted EBITDA rose 5% to $462.1m.
Adjusted EPS up 4%
Adjusted earnings per share (EPS) grew 4% to $1.96 from $1.88 a year earlier.
Analysts were expecting adjusted EPS of $1.69 on sales of $1.97bn, according to FactSet.
"The Hasbro team performed at an extremely high level to deliver double-digit revenue growth, strong earnings and cash flow for the quarter, driven by our diversified business model," Hasbro's interim CEO Rich Stoddart said in a press release.
What is your sentiment on HAS?
Vote to see Traders sentiment!
Supply chain concerns
With supply chain issues on investors' minds, the company assured them and holiday shoppers with regards to product shipments.
During an earnings conference call, CFO Deborah Thomas said the company used alternative ports in China and the US as well as air freight to ensure products will be on the shelves.
"We are also working tirelessly to ensure product for the holiday, and are pleased that, through today, we have delivered much of what was delayed in the third quarter despite continued supply chain challenges," Thomas added in the earnings press release.
"Our teams continue to work around the clock to secure transport for our goods to meet the robust demand for Hasbro brands," Stoddart said in the release.
Entertainment revenue up 76%
Entertainment revenue rose 76% to $327.1m and Wizards of the Coast and digital gaming revenue increased 32% to $360.2m, while consumer products revenue fell 3% to $1.28b as supply chain issues coupled with high demand led to lower product levels.
Hasbro is the long-time owner of the Star Wars toy licence as well as My Little Pony and Peppa Pig.
The company's entertainment division includes media company eOne, maker of television series such as The Rookie and Fear the Walking Dead and Wizards of the Coast, the maker of card game Magic: The Gathering and owner of the Dungeons & Dragons table top roleplaying game brand.
Looking ahead, Stoddart said in the conference call that the company expects to grow revenue in the fourth quarter and deliver full-year double-digit revenue growth.
CEO passes
Earlier this month Hasbro announced the passing of long-time chairman and CEO Brian Goldner. Goldner was "instrumental in transforming the company into a global play and entertainment leader." He joined in 2000, become CEO in 2008 and then board chair in 2015. Rich Stoddart was named interim CEO.
"While we mourn the passing of our long-time leader and friend Brian Goldner, our performance is a testament to the power and potential of the Brand Blueprint strategy he architected," Stoddart added in the earnings release.
Shares opened higher Tuesday at $91.52 per share, up from Monday's close of $88.50.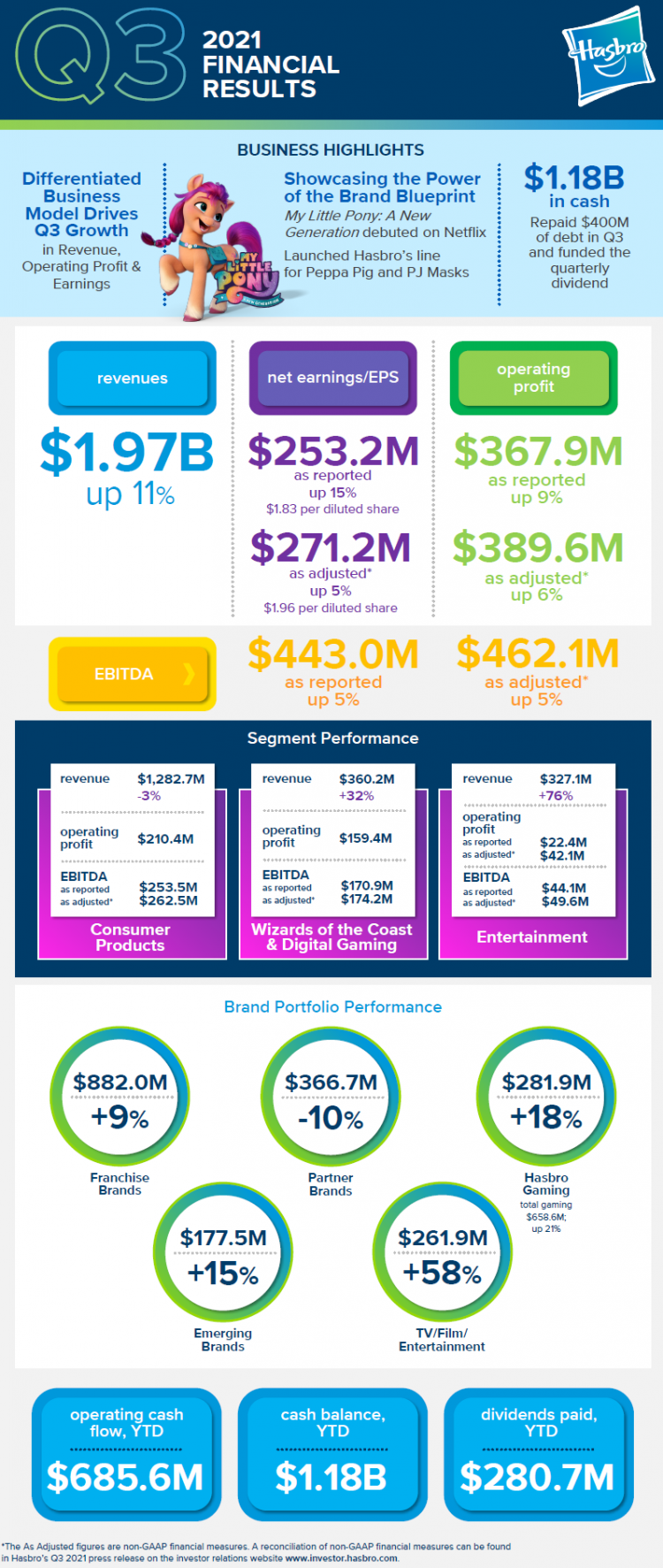 Source: Hasbro
Read more: 11 ways companies & government tackling supply crisis
The difference between stocks and CFDs
The main difference between CFD trading and stock trading is that you don't own the underlying stock when you trade on an individual stock CFD.
With CFDs, you never actually buy or sell the underlying asset that you've chosen to trade. You can still benefit if the market moves in your favour, or make a loss if it moves against you.
However, with traditional stock trading you enter a contract to exchange the legal ownership of the individual shares for money, and you own this equity.
CFDs are leveraged products, which means that you only need to deposit a percentage of the full value of the CFD trade in order to open a position. But with traditional stock trading, you buy the shares for the full amount. In the UK, there is no stamp duty on CFD trading, but there is when you buy stocks.
CFDs attract overnight costs to hold the trades, (unless you use 1-1 leverage) which makes them more suited to short-term trading opportunities. Stocks are more normally bought and held for longer. You might also pay a stockbroker commission or fees when buying and selling stocks.