Greencore (GNC) operating profit jumps 20% after difficult period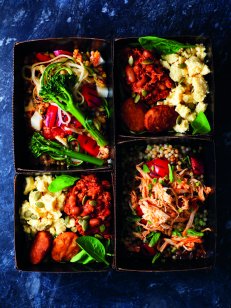 Irish food producer, Greencore (GNC), has seen its operating profit increase by 20% from £32.5m ($43.3m) to £39m and recorded a 4.8% boost in revenue to £1.3bn following good returns in its food-to-go business in the second half of the year.
CEO Patrick Coveney said of the group's financial year results: "Greencore has weathered the storm and emerged strongly from a difficult period. Following a challenging first half in FY21, we made good progress in rebuilding revenues, cashflows and profitability in H2 and are confident of maintaining this positive trajectory in the year ahead, particularly in the seasonally important second half.
"The strong recovery of the UK food to go market, as well as solid performance in other convenience food categories, underpins this confidence."
New business wins
Greencore supplies supermarkets such as Marks & Spencer and convenience stores on the high street. Britain's biggest sandwich maker also managed to reduce its debt (excluding lease liabilities) to £183.1m thanks to its strategic relationships.
It added that it had executed strongly against new business wins and that this had contributed over a third (38%) to revenue growth in its food-to-go categories.
Coveney said: "New business wins achieved last year are contributing to our momentum, and we anticipate delivery of profits for the year ahead in line with current market expectations."
Supply chain issues
The company said it wants to offer value return to shareholders next year but admitted that its profits continue to be affected by supply chain issues and labour challenges, which the rest of the industry is also experiencing.
Greencore said that it expects its financial year in 2022 to meet current market expectations, provided there are no further lockdowns due to an increase in Covid-19 infection rates in the UK.
Coveney added: "With strong free cashflow and a significant reduction in leverage achieved in FY21, the Group enters the new financial year on a robust financial footing. Greencore has a strong position in the dynamic UK convenience food market and, with demand remaining strong in the early stages of FY22, has confidence in its medium-term prospects."
New CEO search
Last year, the Irish business raised £90m in equity from its shareholders to help it get through the pandemic. The company is searching for a new CEO. Just this week, Coveney announced he will step down from the CEO role in March 2022, to head up catering giant SSP Group.
Greencore's share price was up marginally by 0.24% and trading at 123.49p.
Read more: Costs rising at record rates for the UK's service sector