Gold prices rebound on Fed interest rate plans, inflation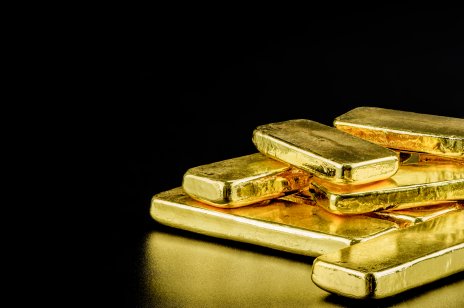 Gold prices rebounded Tuesday as investors were spurred on by the latest signals of interest rate increases, along with a sliding US dollar and stalled Treasuries.
New data released Wednesday showed inflation still raging in the US at 7% year-over-year in December, one day after Fed Reserve chair Jerome Powell affirmed at least three interest rate increases on the horizon.
At 2 pm EDT (UTC-5) gold was selling at $1,827 an ounce, $7 above Tuesday's price and only $3 from the resistance level placed at $1,830.
"A clear climb above this threshold would open space for continued gains, while we will have a first sign of weakness with a decline to around $1,800," wrote Rupert Rowling, a market analyst at Kinesis Money in a client note obtained by Capital.com
Dropping US dollar
Commerzbank's metal analyst Daniel Briesemann agreed gold will continue to climb to resistance levels of $1,830 to $1,832 an ounce.
In a client note, obtained by Capital.com, Briesemann wrote that the price is supported by the weaker US dollar and a significant drop in real bond yields. The US dollar was down 0.74% Tuesday afternoon.
Briesemann noted Powell confirmed during Tuesday's hearing that the Fed would tackle the high inflation.
However, the analyst wrote, "this would not hurt the US economy, which market participants apparently found reassuring. They will presumably be focussing today on the inflation data in the US."
What is your sentiment on Gold?
Vote to see Traders sentiment!
Treasury yield stalled
Gold has been comfortably above the $1,800 level after the 10-year Treasury yield rally stalled at the 1.8% level.
"Gold seems like it is in a good place as Treasury yields won't be rallying much higher until financial markets have balance sheet runoff certainty and that won't happen until at least a couple more Fed meetings," wrote Edward Moya, OANDAs senior market analyst the Americas, in a client note obtained by Capital.com
"Balance sheet reduction is the key for the back-end of the Treasury curve and that should mean the move higher in Treasury yields might be tentatively over, which would be great news for bullion," he wrote.
If dollar weakness accelerates here, gold could make a run towards the $1,840 level, Moya predicted.
Read more: Gold price forecast for 2022 and beyond: A buy, hold or sell?