Gold price prediction: can the precious metal return to $2,000?
Subscribe to Weekly Highlights
The major market events for the week ahead right in your inbox.
Subscribe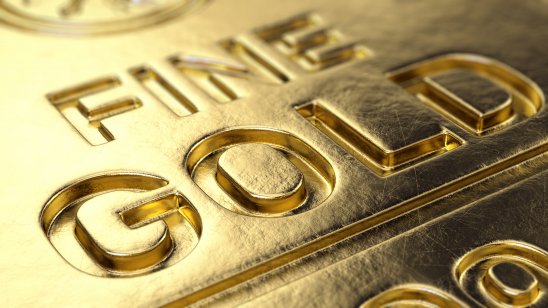 Content
The price of gold has struggled to return to $2,000 an ounce in 2021, after reaching an all-time high of $2,063 an ounce in August 2020.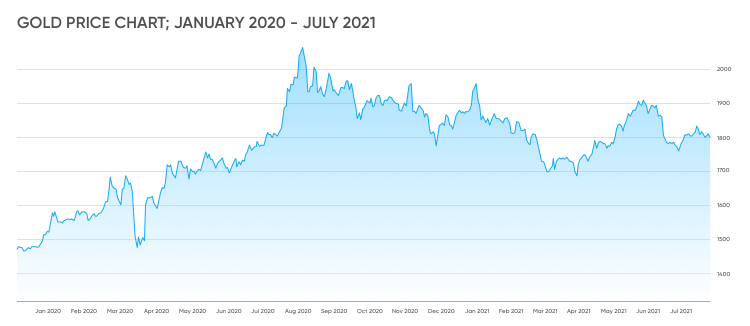 Gold and other precious metals are typically considered to be a safe-haven market for investors during times of economic uncertainty. A risk-on stock trading environment and expectations of fiscal tightening by central banks are limiting the upside for the market, however.
What is the outlook for the gold market for the remainder of 2021 and beyond? What are the main drivers for the price and the levels to watch? Read on to find out.
Current gold price and major value drivers
There are two main drivers for the direction of the gold price: demand from investors to buy gold as a financial asset and physical consumption of the metal, predominantly by the jewellery industry.

Investment demand
Prices for precious metals, led by gold, are driven by macroeconomic events. Unlike currencies, they are not controlled by any single government or central bank. This means that they can provide a hedge against currency fluctuations, low interest rates and rising inflation when investors are seeking a way to preserve the value of their capital.
The gold price trend climbed for a long time from mid-2018, surpassing its previous high, which came in September 2011, to peak at a new all-time high on 6 August 2020. By then, the price was up 35% from the start of 2020 and 40% from the low of March 2020. Quarterly, gold was up in 16 of the 22 quarters from the beginning of 2016.
The price of gold initially plunged in late March 2020, when the onset of the COVID-19 pandemic prompted a dramatic selloff across a broad range of asset classes. It quickly re-established its safe-haven status, however, recovering in early April 2020 before advancing to new highs.
The unprecedented economic stimulus that governments introduced early in the pandemic resulted in the gold price rallying while equities markets also quickly rebounded. Central banks from the US Federal Reserve to the European Central Bank (ECB) and the Bank of Japan (BOJ) moved to mitigate the impact of national lockdowns with quantitative easing and record-low interest rates, while governments introduced relief packages to support businesses and workers.
Concerns about the inflationary effects of the stimulus measures resulted in record inflows into gold exchange-traded funds (ETFs).
The precious metal fell by 6.5% in the first half of 2021, however, as rising US Treasury yields weighed on interest in gold investment. Higher Treasury yields are typically bearish for gold as investors receive guaranteed returns, which also attracts foreign investors and in turn pushes up the value of the US dollar.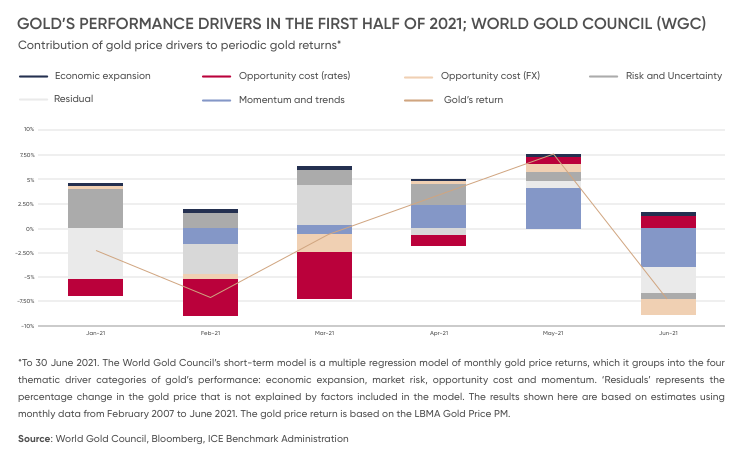 Gold dropped by 4.65% on 17 June, from $1,861.40 an ounce to $1,774.80 an ounce, in response to a statement from the US Federal Reserve that was more hawkish than the market had expected, raising the possibility of an interest rate increase earlier than anticipated. Gold has since been range-bound as continued concerns about higher inflation offset higher real interest rates, and investors remain cautious about the effect of stimulus policies on currency valuations.
Data from the independent precious metals authority LBMA shows that the traded volume for gold during the second quarter of 2021 was down by 6.7% from the first quarter to 30.55 million ounces ($55.5bn). At the end of June, the LBMA held 9,587 tonnes of gold, worth $543.5bn, the second-highest level of stocks on record after January 2021.
Some analysts argue that interest in gold investment has also been affected by the rise of cryptocurrencies, with bitcoin (BTC) in particular touted as "digital gold". The cryptocurrency markets rallied sharply to all-time highs in the second quarter of 2021, taking some of the attention away from gold.
Physical demand
The price of gold is also affected to an extent by physical demand for the metal, which is used in electronics, medicine and decoration, as well as in jewellery. The world's largest consumer gold markets are China and India, where gold jewellery is valued as a gift to mark festivals, weddings and other celebrations.
The purchase of gold jewellery in both territories is highly seasonal, as high temperatures and monsoon rains mean that weddings and festivals typically take place during the winter. Demand in India is dominated by the calendar of auspicious wedding dates, with gold being gifted as a symbol of good fortune. Similarly, in China, gold plays a prominent role in weddings, as well as in the Lunar New Year Holiday. And in both countries, consumers favour investing in gold jewellery as a store of value.
The pandemic disrupted buying activity, however, as lockdowns prevented consumers from leaving their homes to buy gold jewellery, and there were restrictions on large gatherings. In addition, falling disposable income and the rising cost of gold in local currencies decreased sales.
Demand for gold jewellery fell by 34% in 2020 to 1,411.6 tonnes, the lowest level recorded by the World Gold Council. Consumption in China fell to 415.6 tonnes from 638 tonnes in 2019, and demand in India fell to 315.9 tonnes from 544.6 tonnes.
There has been some recovery in physical demand during 2021. Imports of gold into China in May totalled 67.6 tonnes, which was close to pre-pandemic levels. With Chinese GDP and disposable income rising as the US dollar weakened, jewellery retail sales in the first half of 2021 were above the 2019 average.
Central banks are also big consumers of physical gold. They bought around $6.3bn of gold during the second quarter, virtually none of which was sold, according to the World Gold Council.
Analyst commentary on gold
Recent commentary from commodities analysts reflects the push and pull of factors that have been keeping gold trading in a relatively tight range, as the metal holds support but is unable to break out.
| | | |
| --- | --- | --- |
| Analyst | Organisation | Comment |
| ANZ | Australian investment bank | "The macro backdrop for gold is being challenged by fear of fiscal tightening. But negative real yields and rising inflation should offset those headwinds." |
| | Analyst firm | "We expect the price of gold to fall further over the next couple of years as long-dated US real yields climb, reaching $1,550 an ounce by end-2022." |
| | Producer and trader of precious metal products | "Dollar strength could hold back gold in the near term, but the outlook remains positive in the medium term." |
| | Dutch investment bank | "The precious metal needs to vault well clear of the 200-day moving average and recent highs 1,825-35 for a sense that it is playing a more prominent role in diversification from weak risk sentiment elsewhere, with 1,800 the important tactical level to shore up the downside risk." |
| | Precious metals investment manager | "We believe the smackdown was a temporary reaction to the perceived change in the Federal Reserve's (Fed) posture towards possible balance sheet reduction. In our opinion, the investment rationale for precious metals exposure remains unscathed." |
| TD Securities | Canadian investment bank | "Gold's failure to rally, even with rising growth concerns and real rates hitting fresh all-time lows, continues to highlight the lack of investor interest and the heightened risk of another pullback." |
| | Trade association | "The negative impact that higher rates could bring will likely be offset by the longer-lasting effects and unintended consequences of expansionary monetary and fiscal policies created to support the global economy." |
Analysts at investment bank Jefferies have a base case scenario in which the long-term price target for gold is $1,500 an ounce, suggesting it will drop from its recent $1,700-$1,800 an ounce range. Their upside scenario sees the market strengthening to peak at $2,500 an ounce, with a long-term target of $2,000 an ounce. In their downside scenario, the gold price would drop to $1,250 an ounce.
Analysts at ANZ bank predict in their gold price forecast that the gold price will reach $2,000 an ounce by the end of September, but end the year at $1,950 an ounce and trend lower to $1,550 an ounce by the end of 2022.
When considering analysts' targets, keep in mind that their predictions are sometimes wrong. You should always do your own research to help you decide which analysts to believe and to develop your own view of market conditions.
Should I buy gold?
There are several reasons why gold is considered a core part of an investment portfolio.
Gold is a proven long-term store of value
Gold has been used as a store of value throughout history. It is a form of money that can be used as a medium of exchange. It retains its value over long periods unlike fiat currencies, which fluctuate against other currencies and lose value over time to inflation.
Gold forms part of a diversified investment portfolio
It is often recommended that investors hold around 5-10% of their portfolio in gold and/or other precious metals to create diversification and hedge against a fall in the value of other assets like stocks and bonds.
Gold is a highly liquid asset
Gold is one of the world's most actively traded assets, so it can be easily traded in exchange for cash at any time. There is always a tight bid-ask spread, which is the difference between the lowest price a seller is prepared to accept and the highest price a buyer is prepared to pay.
Physical gold can be passed on as inheritance
Gold jewellery, coins and bars can be gifted or passed on to other people as an inheritance. Jewellery can also be used and enjoyed while retaining investment value.
Should I sell gold?
While the precious metal is a popular investment, there are drawbacks to gold trading.
Gold does not pay interest or dividends
Gold tends to lose value when currencies, interest rates and stocks rise because it does not pay investors interest or dividends. For that reason, investors sell gold under these circumstances in favour of these rising assets to guarantee higher returns than their initial outlay.
Gold can underperform stocks over time
Some investors reject holding gold as a long-term investment, in some cases preferring to trade it as a short-term hedge against uncertainty or volatility, then selling it in favour of other investments. Over the past 10 years, the Dow Jones Industrial Average (DJIA) has returned 189%, while gold has returned just 12%. Over the past 20 years, however, gold has outperformed the DJIA, returning 573% compared to 234%.
Storing physical gold is costly
Physical gold has the advantage of being protected from the failure of an institution like a fund manager or mining company. But if you choose to invest in gold bullion, in the form of bars, coins and so on, there are costs involved in making sure it is stored safely and correctly insured.
With the gold price remaining relatively close to its historic high, it is an expensive asset for investors with small portfolios to buy. Some retail investors have instead chosen to invest in silver, which has a record high price of just under $50 an ounce, compared with the $2,000 an ounce high for gold.
Whether you choose to buy or sell gold is your decision, and should be based on the information available from your research, risk appetite, portfolio diversification and any hedging you have in place. You should never invest more than you can afford to lose.
Big backers and holders of gold
National governments
National governments are the world's biggest holders of gold. The US government owns the largest gold reserve with more than 8,000 tonnes. That's more than Germany, Italy and France combined, which each hold 2,000-3,000 tonnes. Russia rounds out the top five, with 2,300 tonnes.
Stanley Druckenmiller, hedge fund manager, Duquesne Family Office
The former chairman and president of the hedge fund Duquesne Capital, Stanley Druckenmiller now manages his family's fortune. In 2016, he told investors to get out of the stock market and invest in gold. In late 2020, he cautioned against shorting the stock market, but he still touted gold as a hedge against inflation and retained large holdings.
Jeffrey Gundlach, CEO of DoubleLine Capital
Gundlach is a prominent gold bull who expects the value of the US dollar to decline because of a continued rise in the US budget and trade deficits. "The dollar is going to fall pretty substantially," Gundlach told CNBC on 15 July, calling the currency "doomed". It is worth noting that Gundlach has also taken the view that bitcoin could provide a hedge against the lower dollar.
I am a long term dollar bear and gold bull but have been neutral on both for over six months. Lots of liquid poured into a funnel creates a torrent. Bitcoin maybe The Stimulus Asset. Doesn't look like gold is.

— Jeffrey Gundlach (@TruthGundlach) February 18, 2021
John Paulson, hedge fund investor at Paulson & Company
The billionaire hedge fund investor predicted the collapse of the housing bubble in 2007 and made millions of dollars from going short on subprime mortgages. Paulson's investments include gold stocks, ETFs and bullion holdings. The SPDR Gold Trust ETF accounts for around 6.96% of the $4.35bn Paulson & Company portfolio, according to GuruFocus, with basic materials accounting for 18.62%.
Ray Dalio, founder, Bridgewater Associates
Billionaire investor Ray Dalio is a long-time gold bull and founder of Bridgewater Associates, the world's largest hedge fund. Bridgewater held around $532m in the SPDR Gold ETF at the end of 2020, as well as gold mining company stocks, according to its SEC filing.
Speaking at the Qatar Economic Forum, Dalio said it would be difficult for the US Federal Reserve to avoid overheating inflation, and tightening monetary policy would have a "big, negative effect" on the financial markets.
Short traders of gold
Warren Buffett, chairman of Berkshire Hathaway
One of the richest people in the world, the "Oracle of Omaha" Warren Buffett has famously been negative on gold as a non-producing asset.
In a 2011 letter to shareholders, Buffett wrote that gold "has two significant shortcomings, being neither of much use nor procreative… if you own one ounce of gold for an eternity, you will still own one ounce at its end."
So, investors paid attention when Berkshire Hathway invested $564m in Barrick Gold (ABX), the world's largest gold miner, in the second quarter of 2020, and even more when 43% of the holding was sold a few months later.
Historic gold price movement
Viewed as a safe-haven investment, gold price history shows that it tends to trade in an inverse relationship with the US dollar.
Gold price news sees the metal spike during times of economic uncertainty, soaring by more than 133% in 1979 when US President Nixon ended the gold standard and gaining more than 24% in 1987, a year when the stock markets crashed. Gold rose by 31% in 2007, and while it gained by just 3.41% during 2008 when the financial crisis hit a broad range of assets, it racked up another 27% in 2009 and again in 2010.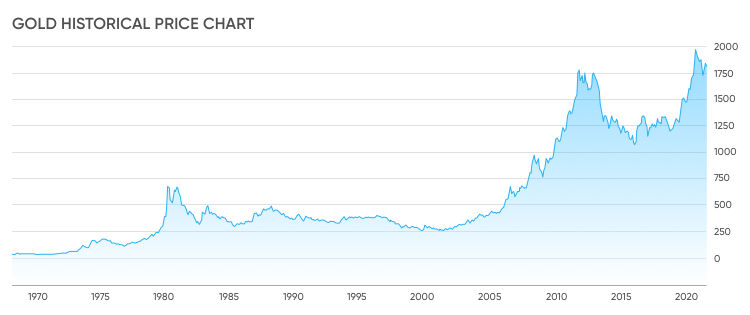 Conversely, the gold price fell by more than 21% in 1997 as central banks sold down their holdings, and it shed more than 27% in 2013 on concerns that the US Federal Reserve would taper quantitative easing and the banking crisis in Cyprus would force the country's central bank to sell off its reserves.
The price of gold has become more volatile in recent years, having always traded below $1,000 an ounce on an unadjusted basis until March 2008. It then took 12 years to hit the $2,000 an ounce level.
The price of gold reached a record high of $2,063 an ounce on 6 August 2020, surpassing its previous high of $1,909 an ounce reached in August 2011.

Biggest swings in the gold price
Keep in mind when investing in gold that, as with any other financial asset, past performance is no guarantee of future returns.
Profile
One of the world's most actively traded commodities, gold has been used as a store of value for millennia, and today it makes up a share of many investors' portfolios as a hedge against stock market volatility as well as inflation.
Countries around the world used gold or silver for trade for centuries, and in the 18th and 19th centuries pegged their currencies to the price of those metals. The US abandoned the gold standard in 1971, but gold is still considered an important store of value for investors around the world.
Gold is the most actively traded of the nine precious metals. It is a relatively rare metallic element, which is malleable and does not corrode, making it useful for jewellery and coins as a long-term holding.
Only around 10% of gold is used in industrial applications – unlike silver, which is widely used with around 50% of demand coming from manufacturing sectors. ETFs and other financial products account for around 19% of gold demand, according to the World Gold Council, while central banks take around 6%.
FAQs
Will the gold price go up?

The direction of the price of gold depends on monetary policy in the US and other large economies. While some analysts expect the price of gold to go up in the second half of 2021 in response to rising inflation, others argue that there is potential for the precious metal price to fall due to rising real interest rates and economic recovery from the COVID-19 pandemic.
Is gold a good investment?

Gold is often considered a useful hedge in a diversified portfolio. Some investors avoid holding gold, however, because it does not pay interest or a dividend, unlike stocks and bonds. Whether gold is a good investment for you will depend on your personal financial circumstances and risk tolerance.
What are the best ways to buy gold?

There are several different ways to invest in gold. You can buy physical gold, such as jewellery, coins and bars, or you can invest in a financial asset, such as an exchange-traded fund or gold mining stock.