Gold price analysis: Slowing Fed hikes to push gold above $1,800?
Subscribe to Weekly Highlights
The major market events for the week ahead right in your inbox.
Subscribe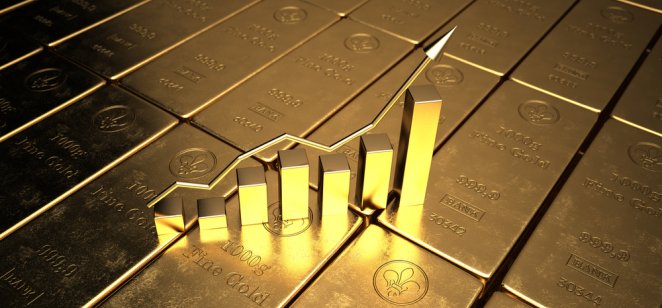 Content
Gold prices rose above $1,750/oz again after the publication of November FOMC minutes. The minutes presented a more dovish surprise than the market expected after Chairman Jerome Powell's November news conference, reiterating that most Fed members judged a lowering in the fed funds rate hike would be appropriate soon.
Some officials signaled that, as inflation showed no material indication of ebbing and supply and demand mismatches persisted, the potential federal funds rate needed to achieve price stability and maximum employment goals was higher than they had projected in September (4.6%). Nevertheless, it does not appear that this stance, although supported by chair Powell and the most hawkish members of the board, is garnering a broad-based consensus among the members of the Federal Reserve board.
Investors resumed repricing lower Fed interest rate increases over the upcoming months. December's 50bp hike is more likely than 75bp (44% vs 66%) and the terminal rate is expected to reach nearly 5% in May 2022.
The 10-year Treasury yield decreased once more to 3.68%, approaching the past week's lows, and the 10-year real yield decreased to 1.37%, returning to the level observed in early October. The US dollar retreated as rate expectations cooled, sending the DXY index back down below the 106 mark.
Is this a scenario that could soon cause gold prices to rise above $1,800/oz?
What is your sentiment on Gold?
Vote to see Traders sentiment!
FOMC November minutes reactions: Gold up, USD & rates down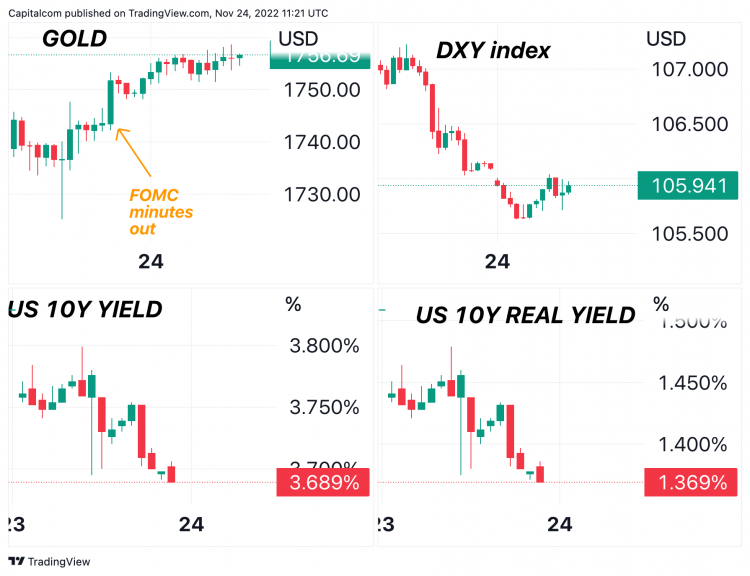 Market reactions following FOMC minutes from November 2022 meeting: Gold, US dollar index (DXY), US 10-year yield, US 10-year real yield – Photo: Capital.com, Source: Tradingview
Gold technical analysis: Bull flag pattern
The early stages of the formation of a bull flag pattern can be seen on the gold 4-hour chart. This pattern can be interpreted as the continuation of the November surge and may offer an entry point for an upcoming rally extension.
A bull flag pattern is characterized by a pole where prices spike first, followed by a flag of consolidation that is horizontal or downward-sloping, and finally by a sizeable increase in the upward direction that is equal to the size of the initial pole.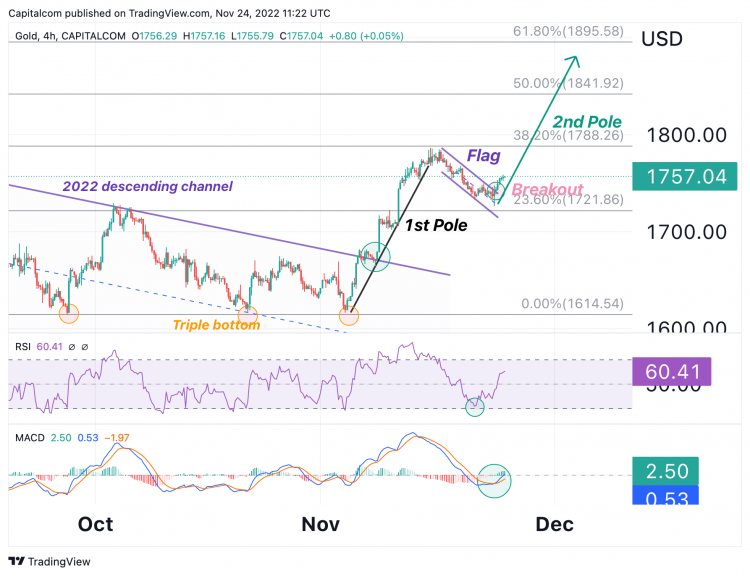 Gold 4-hour chart, technical analysis: bull flag pattern formation – Photo: Capital.com, Source: Tradingview
In the case of gold, we can see the first pole starting from the triple bottom that was hit in early November at $1,616/oz, which was followed by a 15-day upswing to the $1,788/oz resistance, where sellers reemerged as prices hit the 38.2% Fibonacci level of 2022 high-low range.
Gold prices formed a downward-sloping flag and consolidated in a descending channel until the price action from November 23, when a breakout of the flag channel was seen. The technical picture now begins to portray also the second pole, which may push gold prices up to $1,880/oz if it matches the scale of the first pole.
| | |
| --- | --- |
| Long position overnight fee | 0.0046% |
| Short position overnight fee | -0.0126% |
| Overnight fee time | 22:00 (UTC) |
| Spread | 0.090 |
| | |
| --- | --- |
| Long position overnight fee | 0.0000% |
| Short position overnight fee | -0.0001% |
| Overnight fee time | 22:00 (UTC) |
| Spread | 0.327 |
| | |
| --- | --- |
| Long position overnight fee | -0.0050% |
| Short position overnight fee | 0.0004% |
| Overnight fee time | 22:00 (UTC) |
| Spread | 0.00050 |
| | |
| --- | --- |
| Long position overnight fee | -0.0085% |
| Short position overnight fee | 0.0024% |
| Overnight fee time | 22:00 (UTC) |
| Spread | 0.00140 |
The relative strength index (RSI) recovered from almost oversold levels, while the moving average convergence/divergence (MACD) indicator made a bullish crossover close below the zero line.
If this price extension materializes, it will be a crucial development for the gold trend, as it will indicate a break above the 50% Fibonacci retracement level.
Gold outlook: Key data to watch next and potential market reactions
The next three weeks will be extremely important for determining the future of gold, as key macro data will be released in the United States that will mark whether or not the Fed rate hike cycle is going to wind down.
It will begin on Wednesday, November 30, with the ADP employment report, which will serve as a prelude for the more crucial non-farm payrolls print, which will take place on Friday, December 2.
The market anticipates roughly 200,000 new nonfarm jobs to be created in November, down from 261,000 in October. If the reading is lower than predicted, gold will benefit while the dollar will suffer, as a cooling labour market will support intentions to reduce the pace of rate hikes. In contrast, a higher-than-anticipated NFP report that is in line with October levels would reflect a robust labour market and should keep the Fed entirely focused on battling inflation. This second scenario is more detrimental to gold.
Monday, December 5 will see the release of the ISM non-manufacturing PMI, which will provide valuable insight into economic activity in the services sector. The October reading was 54.4, down from 56.7 in September, but it still showed expanding activity.
Recently, the S&P Global US Services PMI dropped from 47.8 in October to 46.1 in November 2022, falling short of market expectations of 47.9. Therefore, the ISM for services could continue to drop from its current level of 54.4. Any reading below 50 would indicate contracting services activity, which would be favorable for gold and negative for the dollar.
Then, on Tuesday, December 13, the US CPI for November will be released. This comes after the October number was lower than expected, bringing the inflation rate down from 8.2% to 7.7%. If US inflation moderates once again, the Federal Reserve meeting set for December 14 may have some bullish developments for gold, as the US central bank may cement the willingness to reduce the pace of hikes. If inflation surprises on the upside, on the other hand, that might be a very bad surprise for the bullion and could lead to a strong price pullback as markets will reassess the pace of Fed hikes.
Related reading