Gold diggers: Why precious metals miners look good in a downturn
Subscribe to Weekly Highlights
The major market events for the week ahead right in your inbox.
Subscribe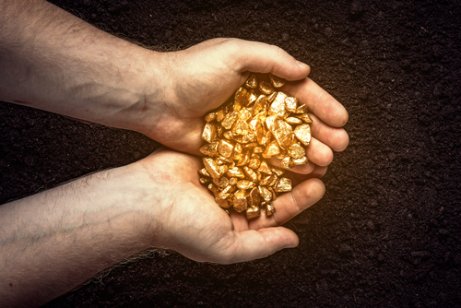 Content
Gold is often considered a safe-haven investment, especially in an environment where there are geo-political risks, forecasts of economic downturns and inflation is on the up.
All these elements are currently present, and traders may be looking at gold mining companies that produce gold in particular as a potentially lucrative investment.
But while conditions appear to be right when it comes to investing in this shiny element the numbers don't currently paint the most ideal picture…or do they?
Gold mining stocks haven't performed particularly well recently: Centamin (CEY) shares are down 32% over the past year and down 12% over the last month. Meanwhile, Hochschild Mining (HOC) shares are down nearly 47% over the last year and 25% over the last month.
Gold rose by double digits in the first few months of the year but has fallen nearly 13% since the start of March. So, is there potential upside for gold investors or is there more pain to come?
What is your sentiment on Gold?
Vote to see Traders sentiment!
Going for gold
When it comes to choosing between mining shares, investors are spoilt for choice. Other top gold stocks include South Africa's AngloGold Ashanti Ltd (AULGF), and Canada based Equinox Gold Corp and Barrick Gold (GOLD) to name but a few.
Just like Centamin and Hochschild their share prices have all gone down over the past year. Barrick is down almost 20% while AngloGold is down 34% and Equinox Gold down by almost 40%.
While this performance doesn't look good, there's potential value to be gained by investors if they get the timing right. Fawad Razaqzada, market analyst at City Index points out: "It is not uncommon for gold stocks to fall alongside other equities when the markets are in turmoil.
"However, times like now is when gold 'should' be performing well, as investors seek safety from riskier assets and hedge against soaring inflation. Gold therefore should find some haven demand, which, in turn, should boost the appeal of precious metals miners."
Dividend delights?
If you just invest in gold, you're pretty much banking on the value of gold going up. But the advantage to investing in gold mining shares is that they not only give you exposure to gold but can give an added income as well if the company is generous with its dividends.
For instance, Centamin investors have enjoyed a dividend for the last seven consecutive years, which the company proudly displays as one of its investment cases, claiming that it demonstrates the 'sustainability of its dividend policy'. Hochschild Mining, meanwhile, recently proposed a dividend of 2.3 US cents per share and also paid out a dividend in specie following the Aclara demerger.
But not everyone sees the benefits of dividends. "It depends on what you want from an investment: dividend income or capital appreciation. Most people, I would imagine, would only care about the latter, while investment funds might feel differently," said Razaqzada.
Dollar appeal?
While there are many advantages to investing in gold, the metal has lost its shine for investors because of the rising US dollar. The currency is enjoying its highest levels since March 2020, and is being lifted by the Federal Reserve's lifting of interest rates to keep inflation under control.
However, if the Fed fails to manage inflation through rate increases or makes an error that forces the economy into a recession this could in turn negatively impact the dollar and make gold the coveted top safe-haven investment again.
All that glitters…
With the potential for a recession, should all mining stocks that have seen their share price plunge significantly be a consideration for trading portfolios? Polymetal International (POLY), for instance has experienced torrid time and its share price is now down just over 85% at the time of writing.
However, it's exposure to Russia (the company's main operations reside here) and Kazakhstan remain a concern, given that there's no end in sight yet to the Ukraine/Russia conflict.
"Companies at risk include those that must shift large amounts of capital either into or out of Russia via banks that are sanctioned. If they are unable to do so, then they risk defaulting on debt repayments (either in Russia or the West) with everything that entails. Some, quite large gold mining companies have already put out announcements to this effect.
"However, gold is eminently tradeable, and many companies will still be able to mine and sell their gold in Russia and, in so doing, meet their costs and stay solvent. Some – with good and/or understanding banking arrangements – will be able to put in alternative banking arrangements. These are the companies that the latter group of investors should focus on," said Lord Ashbourne, director of energy and Resources at Edison Group.
Razaqzada warned: "It is important investors do their due diligence and only invest in companies they feel has the potential to perform well over next several years at least. Just because something is down 80%, it doesn't necessarily mean it will rise the most. It is down for a reason. Always remember that."
Related reading