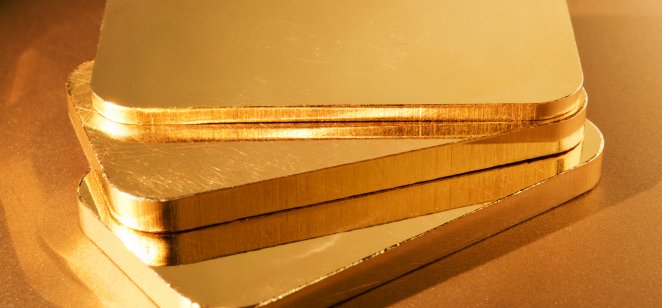 Precious metals are seeing near record prices after Russia's invasion of Ukraine, with gold surging to a one and a half year high.
Often viewed as a safe haven in times of trouble, Thursday's precious metal prices were no exception. Gold hit a high of $1,970 an ounce. Platinum hit $1,132 and palladium an eye opening $2,721.
Since 1 February, gold is up 5.5%, the biggest monthly gain since July 2020.
Russia rules the precious metals trade, exporting 46% of the world's palladium, and 15% of the world's platinum, and 9% of the world's gold, according to brokerage ADM Investor Services.
US sanctions Russia
However, record prices were fleeting Thursday. Minutes after US President Joe Biden announced sanctions against Russia for the invasion, precious metals prices began to slip slightly, but still held well above recent prices.
"Gold's afternoon selloff accelerated after President Biden unveiled the next round of sanctions, which many thought were not hard-hitting enough," Edward Moya, senior market analyst at OANDA told Capital.com.
"However, Russia's invasion of Ukraine is a gamechanger and demand for safe-havens will remain elevated and gold prices will likely see strong support over the short term."
Fear driving up prices
Analysts told Capital.com on Thursday that gold's global increase is the result of fear: fear of war in Ukraine and rising inflation.
Biden said in an afternoon press conference the US sanction would limit Russia's ability to conduct business in many foreign currencies, in effect isolating the country from the world's economies.
Russia is a top producer of palladium and platinum, and the world's third-largest producer of gold.
What is your sentiment on Palladium?
Vote to see Traders sentiment!
Other metals
Aluminium gained 4.36%, hitting a record-high of $3,492 an Imperial ton after Russia invaded Ukraine.
Nickel, a main ingredient in steelmaking, rose 5.6% to $25,755 an Imperial ton, an 11-year high.
"The market reaction to these developments has been seismic," Deutsche Bank's head of global fundamental credit strategy Jim Reid said in a client note. "A significant way the events in Ukraine will affect the rest of the world is regarding inflation, and even before we saw $100 a barrel oil overnight, that relentless rise in commodities showed no sign of abating."
Inflationary worries
The combination of increasing commodity prices and the troubled stock market puts pressure on the US Federal Reserve. If the Feds increase interest rates, it will suppress inflation but badly hit growth stocks.
"Oil is probably up $10 or $15 a barrel because of the conflict... That will probably add, if sustained, about 30 or 40 cents a gallon to unleaded," Mark Zandi, chief economist at Moody's Analytics, told CNBC on Tuesday. "My sense is it really complicates the Fed's efforts to rein in inflation and get back to full employment."
Read more: