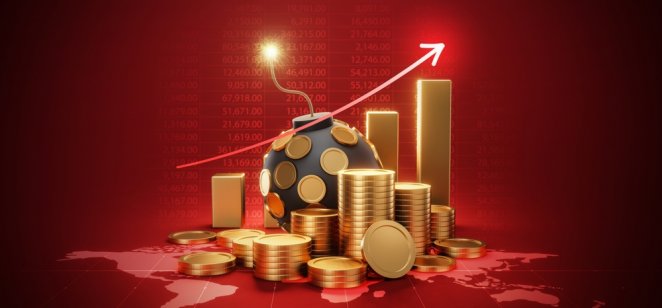 Content
Buckle up, there is a certain threshold of inflation that causes gold prices to skyrocket.
The global economy is presently on the verge of a new "Inflaggedon", or point of no return, in which inflation expectations become unanchored and people desperately try to put their money into anything that preserves buying value while everything else crumbles like a house of cards.
In June 2022, the US Consumer Price Index (CPI) grew at an annual rate of 9.1%, the highest since November 1981 and surprsing once again market expectations (8.8%). It's been 25 months in a row that inflation has gone up each month. The last time such a run happened was during the Great Inflation in the mid-1970s.
The most concerning issue, however, is that inflation is no longer only linked to price increases in food and energy commodities such as gas and oil.
Instead, inflation is becoming increasingly entrenched in services, such as housing, restaurants, transportation, and medical care, which are the most common consumption components in the modern advanced world. Service inflation is presently at 6.2% year-on-year, the highest level in more than thirty years.
The trimmed-mean CPI is another indication that reveals that inflation has now spread like wildfire over the whole consumer basket. Trimmed-mean inflation "trims" away the most erratic items at the top and bottom of the distribution, in order to preserve a clearer inflation signal. Here, we achieved a 6.5% annual rate, which is the highest since the series began.
The factors that have brought us here - the Covid-19 supply-chain crisis, the Fed printing money like there's no tomorrow, and the Russia-Ukraine conflict - need to be thoroughly and separately analysed.
For the time being, let's analyse how an Inflaggedon would affect gold prices.
What is your sentiment on Gold?
Vote to see Traders sentiment!
Inflageddon: How would gold perform if inflation spirals out of control?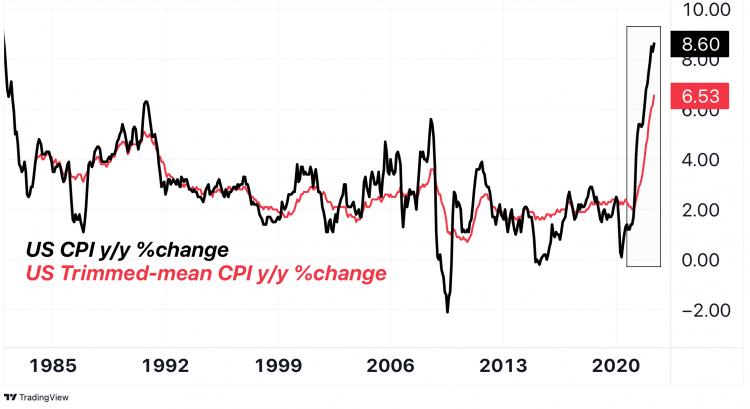 US inflation rate is at the highest level in more than four decades. Trimmed-mean inflation shows worrisome levels – Photo: Capital.com, Source: Tradingview
Is gold a good inflation hedge?
Gold is often considered to be an effective inflation hedge, or an asset that may protect the purchasing power of investors from the harmful effects of inflation.
Data show that there is not always a clear association between gold and inflation. Essentially, it is not always the case that rising inflation causes an increase in gold prices, and vice versa.
As we witnessed in the first half of 2022, inflationary pressures did not lead to major gains in the yellow metal. Besides inflation, several things affect gold prices.
But gold's performance has always gone through the roof when inflation exceeded double-digit levels.
Inflation vs gold: Here's what this shocking chart says

Gold skyrockets when inflation turns double digits – Photo: Capital.com
The graph above demonstrates that when the US CPI index increased by 11% or more compared to the previous year (horizontal axis), gold prices had phenomenal performances (vertical axis).
When inflation remains in the single digits, the link between the two variables is weak. In general, gold performed inconsistently when inflation was less than 10%.
However, inflation rates exceeding 10% drove gold's huge rise. This has happened only a few times in history, but mostly during the 1970s Great Inflation.
| | |
| --- | --- |
| Long position overnight fee | 0.0242% |
| Short position overnight fee | -0.0436% |
| Overnight fee time | 21:00 (UTC) |
| Spread | 0.03 |
| | |
| --- | --- |
| Long position overnight fee | -0.0052% |
| Short position overnight fee | 0.0019% |
| Overnight fee time | 21:00 (UTC) |
| Spread | 0.18 |
| | |
| --- | --- |
| Long position overnight fee | 0.0469% |
| Short position overnight fee | -0.0721% |
| Overnight fee time | 21:00 (UTC) |
| Spread | 0.04 |
| | |
| --- | --- |
| Long position overnight fee | -0.0038% |
| Short position overnight fee | 0.0010% |
| Overnight fee time | 21:00 (UTC) |
| Spread | 0.020 |
Why does gold's price soar when inflation becomes so high?
Gold and inflation: an insurance against loss of confidence and fear
Historically, gold has competed with government-issued paper currency.
Unlike dollars, gold cannot be printed by a central bank because there is a fixed amount of it in nature. On the other hand, we need to use paper dollars, not gold, to buy and sell things every day in the real economy.
However, when people lose confidence in the central bank's ability to control consumer price increases and see their currency's real purchasing power dwindling, then they rush to buy gold.
It's likely that the moment inflation surpasses the psychological barrier of 10%, that loss of credibility is triggered. The psychological side of things plays a significant role in how people handle their money, and inflation rates in the double digits raise a critical concern.
What if all of this had been engineered to artificially lower the government's debt?
There are three ways to reduce a country's debt.
The first is to implement "austerity" programmes, by raising taxes or cutting government spending, which are politically tough to achieve. The second way is through the increased productivity that drives economic growth, which in turn requires technological progress. The third method, and maybe the simplest one, is through inflation.
History demonstrates that the idea of a government inflating away its debt causes an increase in fear of currency devaluation and debasement.
At the end of 2021, the US debt-to-GDP ratio hit 137%, the greatest level since World War II.
Federal Reserve policymakers are now struggling to control inflation despite aggressive rate hikes. Perhaps the Fed woke up too late or the rise in inflation is due to factors outside the scope of monetary policy, such as a global energy crisis.
The point is that when there is a worry that inflation may spiral out of control for political reasons, the demand for gold as a hedge against inflation skyrockets, resulting in a huge increase in the price of the bullion.
The 1970s served as evidence. Will history repeat itself in 2022?
The US debt-to-GDP ratio reached an all-time high by the end of 2021 – Photo: Capital.com, Source: Tradingview
Read more...