Gold analysis: Is the metal set to rally further as Treasury yields peak?
Subscribe to Weekly Highlights
The major market events for the week ahead right in your inbox.
Subscribe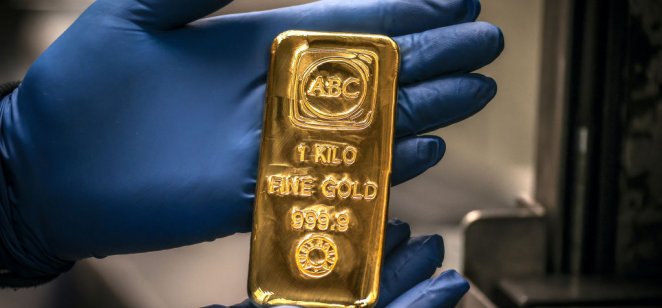 Content
Take a look at who's making a comeback. Gold prices are back above $1,700 per ounce, where they were in mid-September, after a 5% weekly rise as of October 4, European trading hours.
A sharp drop in Treasury yields and a slightly weaker dollar aided gold's rise recently, as the market begins to speculate on the end of Federal Reserve rate hikes.
The most recent macroeconomic data indicate an ongoing economic slowdown and have bolstered market expectations for a Fed policy reversal. The ISM Manufacturing PMI fell unexpectedly to 50.9 in September 2022, down from 52.8 in August and below market expectations of 52.2. Also in September, the University of Michigan consumer sentiment was revised down to 58.6 from 59.5.
Is this the end of the gold's bear market and the start of a new rally for the precious metal, or is the market pricing in the end of rate hikes too soon?
Gold vs US Dollar and Real yields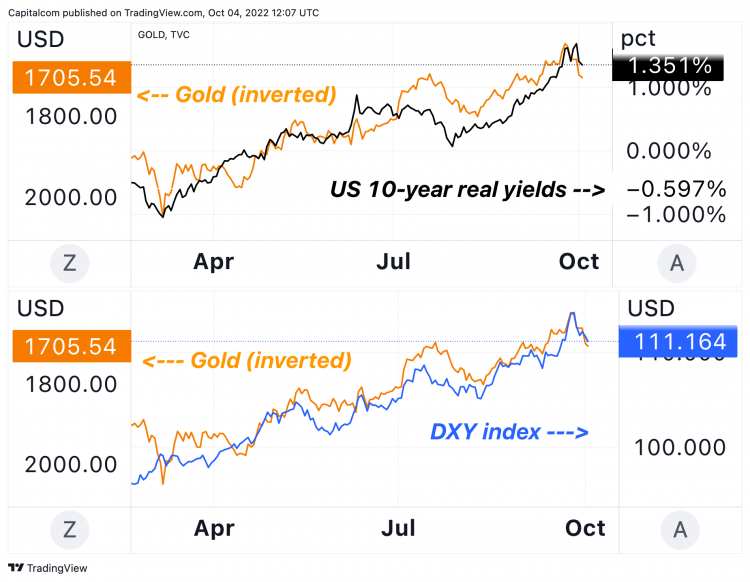 Gold price vs US 10-year real yields (upper pane); Gold price vs US dollar index (DXY) (lower pane) – Photo: Capital.com, Source: Tradingview
US 10-year Treasury yields have fallen nearly 40 basis points from their September highs of 4%. The movement in nominal yields was marked by a drop in real yields, as investors begin to price in lower Fed interest rates next year.
Market-implied Fed interest rates are priced in at 4.4% in March 2023 and 4.32% in June 2023, down from a high of 4.7% in September.
Concurrently, the DXY index fell from 114.1 on September 27 to 111.2 at the time of writing.
Lower real rates and a slightly weaker dollar benefited gold, confirming the precious metal's inverse relationship with these two variables.
What is your sentiment on Gold?
Vote to see Traders sentiment!
Gold fundamental analysis: A glimpse of light at the end of the tunnel?
The recent price movement in gold does not, in my opinion, clearly indicate a reversal of the metal's major bearish trend, but there are some early signs that the worst may be behind us.
Gold typically performs very well when there is the smell of an impending economic recession.
Such a connection is grounded in the conventional wisdom that rate-sensitive assets like gold benefit from the Federal Reserve's accommodative monetary policy during economic downturns by way of interest rate cuts.
| | |
| --- | --- |
| Long position overnight fee | -0.0215% |
| Short position overnight fee | 0.0060% |
| Overnight fee time | 22:00 (UTC) |
| Spread | 0.04 |
| | |
| --- | --- |
| Long position overnight fee | -0.0156% |
| Short position overnight fee | 0.0013% |
| Overnight fee time | 22:00 (UTC) |
| Spread | 0.03 |
| | |
| --- | --- |
| Long position overnight fee | -0.0062% |
| Short position overnight fee | 0.0023% |
| Overnight fee time | 22:00 (UTC) |
| Spread | 0.020 |
| | |
| --- | --- |
| Long position overnight fee | -0.0061% |
| Short position overnight fee | 0.0025% |
| Overnight fee time | 22:00 (UTC) |
| Spread | 0.18 |
Is the Federal Reserve's hiking cycle truly at a crossroads?
In this case, the market may be playing too soon for some reasons.
Core inflation remained high in August and accelerated (6.3% year on year), indicating that inflationary pressures are no longer dependent on energy but have spread like wildfire within services. This necessitates tighter monetary policy for an extended period.
When it comes to the trade-off between inflation and employment, Fed members still only care about the first variable. The U.S. job market is still very strong, and unemployment needs to go up before the Fed can think about changing monetary policy.
The dollar's bullish trend has not yet been materially reversed. In an environment of weak global growth, safe-haven demand flows can still be favorable for the dollar. In addition, the macro issues that have plagued European currencies (such as the pound and the euro) have not been resolved as Europe is still dealing with an inflation and energy crisis.
Therefore, the movements in gold prices over the past few days represent more of a breath of oxygen rather than a major reversal trend in the market.
However, gold could continue to do well in the coming weeks if we continue to see negative and worse-than-expected economic data.
Gold daily chart: Testing key resistances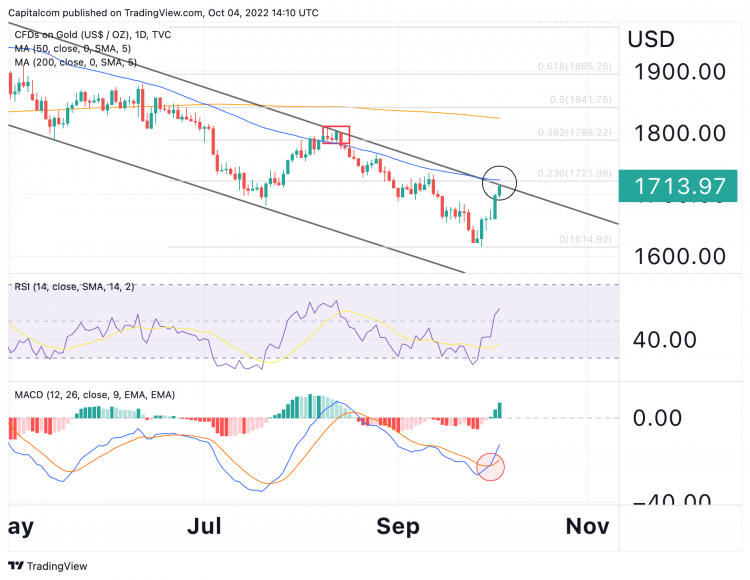 Gold technical analysis as of October 4, 2022 – Photo: Capital.com, Source: Tradingview
Gold prices are currently testing a multi-resistance region between $1,710 and $1,720, which is given by the bearish trendline from March's 2022 highs, the 50-day moving average, and the 23.6% Fibonacci retracement levels of 2022 high-low.
Gold prices previously met resistance at the 2022 bearish trendline and retreated in mid-August.
From the oscillator analysis, we can see that the MACD is forming a bullish crossover and that the RSI is moving above 50 for the first time since mid-August, supporting a short-term positive momentum.
The break of this multi-resistance region could signal an extension of the bullish wave towards $1,788 (38.2% Fibonacci) and $1,800-1.810 (August highs) as potential short-term targets. If prices retreated from the resistance, a stop loss could be placed at 1,680.
Key data to watch for gold
On Wednesday, October 5, the US ISM Non-manufacturing PMI will be released. A reading below the consensus (56) would likely fuel speculation of a Fed rate slowdown, boosting gold.
On Friday, October 7, the market will watch September Non-farm payrolls, which are expected to ease to 250,000 units, down from 315,000 in August. A number below expectations could signal a softening in the labour market and reduce interest rate hike pressure.
On Wednesday, October 12, the FOMC minutes from September will be released. On Thursday, October 13, we will receive the inflation rate figures for September. Headline inflation is expected to fall to 8.1% from 8.3%, but core inflation is anticipated to rise to 6.5% from 6.3%. Core inflation will drive the market. If the data confirms or beats expectations, it could boost the dollar and Treasury yields, hurting gold and other risk assets.