Will chip shortage lift GlobalFoundries post-IPO share prices?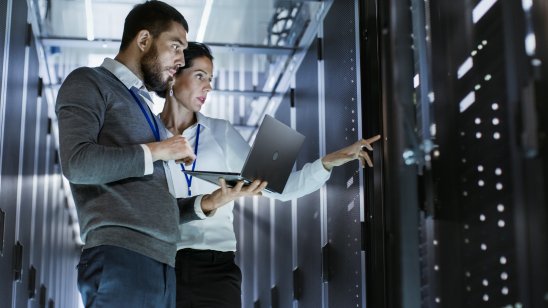 Shares in New York-headquartered semiconductor fabricator GlobalFoundries (GFS) rose over the past two weeks after the company went public at the end of October.
According to an overview of the semiconductor foundry published by Nasdaq in October this year, GlobalFoundries is one of the world's top five chip makers. A Semiconductor foundry, also known as a 'fab', is a factory where integrated circuits (ICs) are manufactured. ICs are key components that enable performance within electronic products from smartphones, cars, laptops, televisions, washing machines to game consoles and more.
The GlobalFoundries initial public offering (IPO) of 55 million ordinary shares was priced at $47 a share on 28 October on the Nasdaq exchange.
The company's post-IPO share prices climbed above $50 in the first week of trading, peaking at $66 on 5 November before falling. Although prices were below the highs in early November, the GFS stock price is up more than 30% from its initial offering, closing at $64.27 on 18 November.
The rise in GlobalFoundries' share prices has pushed its market capitalisation to over $34bn.The GlobalFoundries valuation is now more than 30% above its previous valuation in private markets.
Will the share price continue to rise? Read this GlobalFoundries price analysis to learn more about the chip maker, its plans after IPO and the industry development related to the company.
According to pandaforecast.com's GlobalFoundries stock forecast, shares are expected to be worth around $60 to $64 between 20 and 25 November. The forecast website expects a downtrend in December and prices to fall to between $53.64 and $60.41.
GlobalFoundries latest news – financial statements and changing operation
On 18 November, GlobalFoundries and US car maker Ford Motor Company announced a strategic collaboration to advance semiconductor manufacturing and technology development in the US. The non-binding agreement will give GlobalFoundries the opportunity to conduct joint research and development with Ford and increase semiconductor supply for Ford vehicles. The newly listed semiconductor foundry will be hosting a conference call to review its third quarter financial results on 30 November.
Prior to the release of its Q3 result, GlobalFoundries' operations were suffering losses between 2018 to 2020.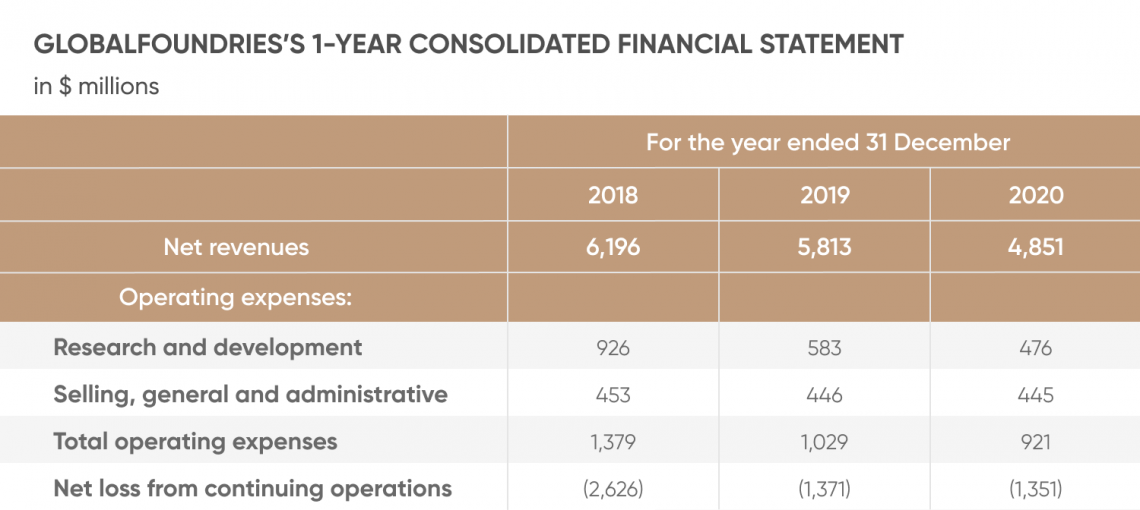 Although the global semiconductor shortages and strong demand over the past year have boosted earnings in 2021, the chip maker's finances remained in the red in the first half of this year.
The company's net revenue increased to $3.038bn in the first half of this year, up 12.6% from the same period in 2020.
"The growth was attributable to a $234m increase in wafer fabrication revenue, with approximately $155m of the increase related to wafer shipment growth, driven by our Smart Mobile Devices end-market. Also, approximately $80m of the wafer fabrication revenue growth was due to shipments with more favourable product mix and higher average selling price. In addition, $29m of the increase was attributable to a forfeiture of a customer rebate, and $13m due to higher non-wafer fabrication revenue," said GlobalFoundries in the filings. Increased earnings have helped reduce the losses to $301m in the first six months, down 43.6% year-on-year.
Changing revenue realisation and long-term supply contracts
According to the GlobalFoundries SEC filings, the company generates most of its revenue from volume production and sales of semiconductor wafers, which are priced on a per-wafer basis for the applicable design. It also generates revenue from pre-fabrication services such as rendering of non-recurring engineering (NRE) services, mask production and post-fabrication services.
Prior to 2020, the semiconductor foundry recognised wafer revenue primarily on a percentage-of-completion basis. In 2020, the majority of GlobalFoundries customers' contractual terms were amended in a manner that resulted in moving from recognising wafer revenue on a percentage-of-completion basis to recognising revenue on a wafer shipment basis.
The GlobalFoundries shipment utilisation rate across its 300mm fabs was 80%, 70% and 84% for the years ended December 31, 2018, 2019 and 2020, respectively.
The company has shipped 1.863 billion of 300mm equivalent wafers in 2018, 1.758 billion in 2019 and 2.03 billion in 2020.
According to the company, the factors affecting shipment utilisation rates include efficiency in production facilities, complexity and mix of wafer types ordered by customers, including the impact of export controls and other regulatory changes affecting customers and competitors.
In recent months, GlobalFoundries has also started to enter into more multiple long-term supply agreements with companies in the industry. These contracts would include advance customer payments and capacity reservation fees in order to secure future supply. It has concluded multiple long-term supply agreements with more than $19.5 billion in aggregate lifetime revenue, which provided significant visibility for the company.
Expansion plans for GlobalFoundries post IPO 2021
Following the IPO, GlobalFoundries plans "to retain all available funds and any future earnings to fund the development and growth of its business". To meet increased demand amid the global chip supply shortage, it expanded wafer production capacity, adding a centre in New York to existing manufacturing sites in Singapore and Malta.
In Singapore, the 1.5 million wafers a year capacity expansion is expected to be fully operational by 2024. GlobalFoundries has also invested $1.5bn and $1bn to expand its US and Germany operations, respectively.
GlobalFoundries operates five manufacturing sites located in Singapore, Malta, Germany and New York.
In addition to its wafer production capacity growth, GlobalFoundries believes its strength lies in not being located in China or Taiwan.
"As the only scaled pure-play foundry with a global footprint that is not based in China or Taiwan, we help customers mitigate geopolitical risk and provide greater supply chain certainty," said GlobalFoundries.
Geopolitical and cyclical risks
Despite the company's plans, analysts at the The Motley Fool website questioned the viability of rising global capacity in the coming years.
"GlobalFoundries has said it will spend $6bn this year to expand chip production and keep on capitalising on the situation as long as it lasts. How long will that be? According to [GlobalFoundries]' CEO, the semiconductor shortage won't end before the end of 2022 – right around the time that most of GlobalFoundries' new production capacity comes online," wrote Rich Smith on The Motley Fool.
"On the one hand, that seems to create a risk that GlobalFoundries' solution to today's chip deficit could end up creating a chip glut two years from now. On the other hand, that's the risk you take when investing in cyclical industries."
GlobalFoundries has acknowledged that the cyclical nature of the semiconductor industry will impact the company's revenue as chip demand is largely dependent on consumer and industrial high-end technology product suppliers.
"The semiconductor industry has exhibited cyclicality in the past and, at various times, has experienced downturns. Fluctuations in our customers' demand drive significant variations in order levels for our products and services and can result in volatility in our revenues and earnings," said the company.
"Political, economic and financial crises have in the past negatively affected and in the future could negatively affect the semiconductor industry and its end markets."
Remember that analysts and online forecasting sites can and do get their price predictions wrong. We always recommend you do your own research and consider the latest market trends and news and expert opinion before making any investment decisions, and never invest more money than you can afford to lose.
FAQs
Is Globalfoundries a good investment?

The roll-out of 5G networks across the world is increasing demand for semiconductors and boosting business for foundries such as GlobalFoundries. However, as analysts and the company have pointed out, the semiconductor industry is cyclical ,where supply and demand are largely dependent on the financial and political climate. Whether GlobalFoundries is a good investment for you depends on your investing goals and portfolio composition. You should do your own research. And never invest what you cannot afford to lose.
Where is GlobalFoundries traded?

GlobalFoundries' shares are listed on the Nasdaq exchange in the US.
Read more: What is Metaverse? The future of the internet