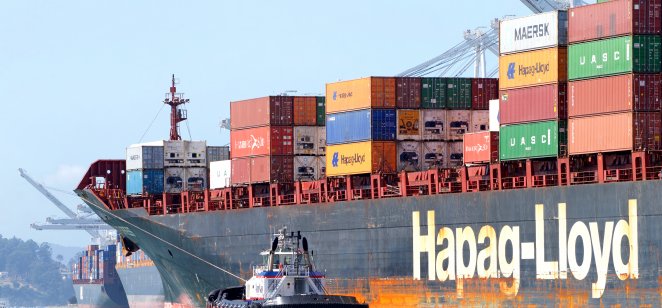 The global shipping industry is still booming. Continued high demand for containers is driving up freight rates, and companies are making an absolute fortune.
But what is driving this situation and will it continue? Are there other factors that would-be investors need to consider before getting involved?
Here we take a look behind the sector's phenomenal profit growth this year and suggest which individual companies stand to benefit.
Booming profits
The best place to start is with recent company results, which have certainly made for fantastic reading for investors and stock market analysts over the past year.
A prime example is Hapag-Lloyd. The German transportation giant has seen revenues soar around 70% to $17.9bn in the first nine months of 2021, due to higher average freight rates.
"This significant increase is mainly the result of persistently high demand for container transports with scarce capacities at the same time," it said in a statement.
Tripled earnings
AP Moller Maersk, a Danish shipping company, has been another beneficiary. Its third-quarter revenue was up 68% to $16.6bn, compared to the same period last year.
In addition, its earnings before interest, tax, depreciation and amortization, tripled to $6.9bn, while the earnings before interest and tax was up almost five times to $5.9bn.
In a statement, chief executive Søren Skou said the company had "once again set new records in the financial performance" across ocean, logistics and services and terminals.
"In the ongoing exceptional market situation, with high demand in the USA and global disruptions to the supply chains, we continued to increase capacity and expand our offerings to keep cargo moving for customers," Skou said.
What is happening?
According to Danni Hewson, financial analyst at investment platform AJ Bell, shipping companies are taking advantage of the massive pressure on global supply chains as economies roar back into life.
"There is a lot of money to be made, but there are also significant headwinds for these businesses to navigate," she told Capital.com
These include dealing with increased expenses for everything from staff to insurance premiums.
"Then there has been the headache of making sure the crews they need are in the right places at the right time and with the right clearance," she said.
Excited investors
While the sun is most definitely shining on global shipping now, Hewson pointed out that it had taken a battering during the pandemic.
However, its recent success has made the industry increasingly attractive to would-be investors enticed by the bumper profits being made.
"They are excited by the prospects for growth, and the huge amount of media coverage about the supply chain has woken some up to this sector for the first time," added Hewson.
Future prospects
According to Susannah Streeter, senior investment and markets analyst at Hargreaves Lansdown, supply chain problems are likely to continue well into 2022.
She noted that even though world merchandise trade volumes are expected to slow, there is still likely to be decent growth next year.
"Given that high customer demand coupled with low product inventory does not look like it will be reversed dramatically any time soon, it means giants like the Danish-based Maersk and Germany's Hapag-Lloyd are likely to keep cashing in on the high prices," she said.
Investing in their future
Streeter also highlighted that shipping companies had been looking to the future and Hapag-Lloyd was buying 12 ultra-large container vessels.
"As well as commissioning more environmentally-friendly ships, Maersk is increasing capacity to meet demand via increased airfreight options as well," she said.
However, it is unclear how this will play out over the long term.
"It all bodes well to gain from immediate demand but runs the risk that there will be over-capacity in the industry once the global supply chain problems do ease and pent up pandemic demand fades away," she added.
Five stocks to watch
Hapag-Lloyd (HLAG)
The German company has a 257-strong fleet of modern container ships and a total transport capacity of 1.8 million twenty-foot equivalent units (TEUs). Its revenue levels have been soaring.
AP Moller Maersk (MAERSK-B)
The Danish shipping giant recently revised its full-year guidance upward with the "exceptional market situation" forecast to last – at least – into the first quarter of 2022.
Euroseas Ltd (ESEA)
This company, which is based in Athens, Greece, reported total net revenues of $23m for the third quarter, representing an 86.9% increase over the $12.3m achieved in the same period last year.
Eagle Bulk Shipping (EGLE)
The US-based company recently revealed revenues of $183.4m for the three months ending 30 September 2021, up from $68.2m recorded for the comparable quarter in 2020.
Star Bulk Carriers Corp (SBLK)
The Greek shipping company reported second-quarter 2021 revenues of $254.9m, up from the $97.1m achieved in the corresponding quarter in 2020.