GitLab (GIT) up 4% after beating revenue estimates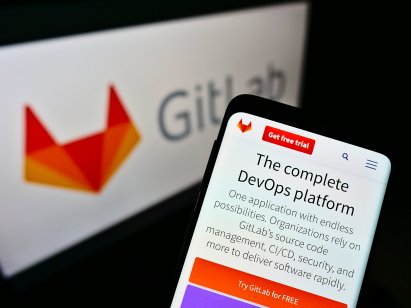 GitLab's stock was up more than 4% to $93.05 during after-hours trading on Monday after the company reported beating Wall Street's revenue estimates in its third quarter earnings.
This is the first earnings report the company has produced since its initial public offering (IPO) on 14 October. The stock has lost more than 30% of its value since then.
Earnings details
According to the San Francisco, California-based company's earnings report, GitLab earned more than $66.8m (£50.36m) in revenue last quarter at a gross operating margin of 89%.
Still, GitLab recorded larger operational losses in Q3 2022 than it did last year. Last quarter, GitLab lost $32.5m compared to the $24.3m it lost in Q3 2021.
GitLab also produced an earnings per share (EPS) loss of $0.62 last quarter, the earnings say.
For comparison, nine analysts at Yahoo Finance projected the company to record revenue of $59.2m and an EPS loss of $0.48.
Brian Robins, GitLab CFO, said the company "performed well" during the quarter, and set itself up for "continued strength" going forward.
Existing customer growth
GitLab, which pioneered the DevOPS Platform, also showed considerable growth among its existing customers during the third quarter.
DevOPS allows GitLab's customers to "develop, secure, and operate software in a single application," according to GitLab's website. This gives GitLab's customers more control over their experience of GitLab's product offerings.
GitLab's earnings show its products are becoming increasingly popular, even among those already attuned to the company. For example, customers accounting for $5,000 of annual recurring revenue (ARR) increased by 66% up to 4,057 in all.
The number of GitLab customers accounting for $100,000 ARR also increased by 73% up to 423.
Outlook
Looking ahead to the fourth quarter, GitLab expects its revenue to be between $69.5m and $70.5m.
For the full fiscal year, the company is anticipating revenues between $244m and $245m, with EPS loss of $1.43 and $1.42.
Read more: DevOps platform GitLab prepares for IPO