Ginkgo has strong start after public offering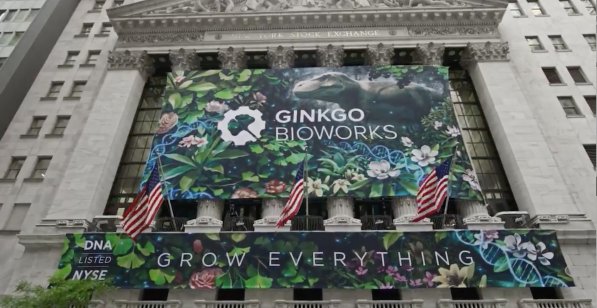 Biotech company Ginkgo Bioworks enjoyed a strong start on its first day of trading on Friday in New York.
At one point, Boston-based Ginkgo was up more than 9%.
Ginkgo became the lastest company to complete an IPO with a SPAC after joining forces with Soaring Eagle Acquisition Corp. Ginkgo's co-founder and CEO Jason Kelly rang the opening bell at the New York Stock Exchange to applause from colleagues, friends, family and other supporters.
Two-decade company mission
"For nearly two decades, my co-founders and I have been on a mission to make programming cells as easy as programming computers," said Kelly in a news release.
"Today marks an important milestone not only for the team at Ginkgo, but for synthetic biology as a whole, and I am thrilled to work with our team, partners and investors as we continue scaling our platform to solve even bigger problems with biology."
Ginkgo stock began trading under a fitting symbol, DNA, based on its core subject. The company designs and prints deoxyribonucleic acid (DNA), the genetic material found in humans and most other organisms. Ginkgo bills itself as "the organism company" in its marketing efforts and is also involved in COVID-19 testing.
Stock symbols bucks tradition
The company's symbol bucked tradition by not containing any letters from Ginkgo's name.
The company was founded in 2008. Prior to the IPO, major shareholders included ARK Investment Management, Baillie Gifford, Putnam Investments, funds and accounts managed by Counterpoint Global (affiliated with Morgan Stanley), and Franklin Advisers.
Microsoft founder Bill Gates is also a Ginkgo backer.
Ginkgo was among a dozen companies that went public in the US on Friday, generating more than $4bn (£2.91) in sales proceeds.