Ginkgo Bioworks shares fall 20% on Scorpion Capital sting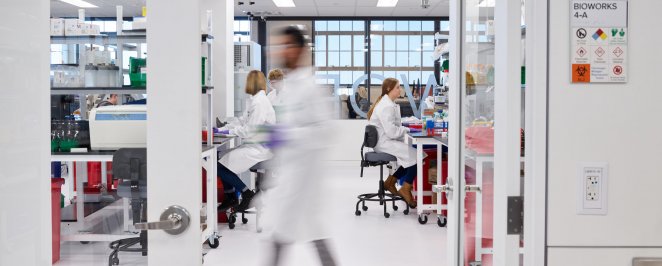 Shares in Ginkgo Bioworks Holdings were down over 18% in mid-afternoon trading following a short-sale report by Scorpion Capital that called the biotech "a colossal fraud" and "a Frankenstein mash-up of the worst scams of the past 20 years".
Shares traded heavily Wednesday morning, with roughly 40 million exchanging hands by mid-day, versus a recent average daily volume of 5.9 million trades per session, according to MarketWatch data.
The report asserts 72% of Gingko's foundry revenue and all of its deferred revenue are derived from related parties that Gingko controls through ownership or board seats. Investments in those parties are then recycled back into Ginko in the form of deferred or current revenue, Scorpion Capital claimed.
Calls to Gingko Bioworks, including to CEO Jason Kelly, were not returned as of publication time.
Scorpion Capital
Scorpion Capital characterises itself on its website as "activist short [sellers] focused on publicly traded frauds and promotes." Short sellers are investors who use shares they don't own to bet on price declines. They profit heavily on steep price drops but can easily lose as much or more if prices rise.
"You should assume that Scorpion Capital LLC is short…any companies that are the subject of our reports," Scorpion states in its Disclosures section.
The firm summed up its opinion of Ginkgo in a Twitter post, claiming: "At (a) $23bn market cap, it is rare to see a related-party scheme on Ginkgo's scale in the US markets – it is, quite simply, the US version of the 'China Hustle,'" a reference to a 2017 finance documentary of the same name. The film asserted a systematic and formulaic decades-long securities fraud perpetuated by Chinese companies listed on the US stock market.
Scorpion Capital's report on Ginkgo, titled "A Snake Oil Salesman And Some Hedge Funds Partner Up To Pimp The Latest 'Synthetic Biology' Scam," compares Ginkgo to Enron, WeWork, Theranos and what it calls Gingko's "Siamese twin" Zymergen, which analysts note saw its shares decline 75% on 3 August.
"[W]e think it'll be a contender for the Hall of Shame, if not a 6am raid by the Feds and some perp walks," Scorpion analysts predict.
Lack of independence
Specifically, Scorpion alleges Gingko's third-party revenues come from entities propped up and controlled by Gingko. "Related parties are such an alarming red flag and self-evident mechanism for abuse that if most or all of your 'revenue' comes 'customers' you created, funded, co-locate in your offices, and who you control or influence, you are presumed to be a rig until proven otherwise," the report states.
Scorpion claims it hired private investigators to personally monitor Gingko's Boston headquarters, and that they concluded that Gingko's largest customers are either all located in the same office building – some even sharing the same telephone number prefix – or in one case don't even exist.
"[W]e think that related party 'customers' like Kalo Ingredients are fronts for Gingko and its revenue is, therefore, an elaborate fiction," Scorpion analysts wrote.
Kalo Ingredients
Kalo Ingredients is a private company founded this year with one investor, according to PitchBook.com.
It is described as an eco-friendly ingredient manufacturer for the beauty and personal care industry. Scorpion Capital reports Gingko Bioworks booked $11.9m in deferred revenue from the company despite its having "no employees listed on Linkedin," and being formed on 15 March, just two weeks prior to Gingko booking the revenue for the period ended 31 March.
Kalo Ingredients is listed as owing $11.9m in deferred revenue, current and non-current under "Significant related party transactions included in the Condensed Consolidated Balance Sheets" on page F-128 of the 424(b)(3) prospectus supplement filed with the US Securities & Exchange Commission by blank-cheque firm Soaring Eagle Acquisition Corp. on 13 August.
Soaring Eagle Acquisition
Gingko became a publicly traded company after merging with Soaring Eagle Acquisition, a special purpose acquisition vehicle.
Soaring Eagle spun off Kalo prior to its combination with Gingko. In March, Soaring Eagle granted Kalo intellectual property rights in exchange for 9 million common units. The units had an initial carrying value of $11.9m but were subsequently reduced to $0.
Scorpion Capital reviewed Kalo Ingredients' corporate registry filing and found Kalo's principal offices are the same as Gingko's and the three employees listed on the filing are all Gingko employees, including Gingko's CEO, Jason Kelly.
Kalo Ingredients, Scorpion Capital added, "is only the tip of the iceberg."
Read more: Gingko has strong start after public offering