Getty Images stock surge: Are de-SPAC shares like GETY the new meme frenzy volatility trades?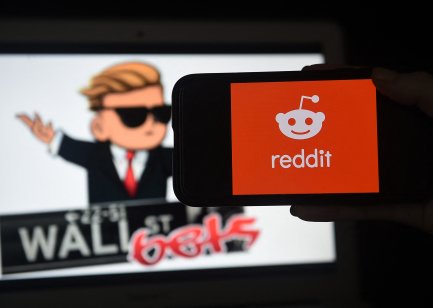 Are investors who have no interest in Steady Eddie stocks but prefer the white-knuckle ride associated with volatile trades, behind the surge in stocks like Getty Images right now?
In short, are de-SPAC shares like Getty the new meme frenzy trade?
Earlier this week, intense retail trader activity saw the likes of Getty Images and popular meme stocks including GameStop (GME) experience huge share price jumps. The fact that there was a lack of news concerning Getty Images, suggests it was speculative meme stock traders behind the price surge.
A meme stock gains popularity among retail investors through social media posts.
The attention itself can often drive up the share price – as retail investors respond to the 'noise' being generated on message boards – Reddit Wallstreetbets being an obvious example.
On Monday, the stock price in Getty Images rose sharply from $5.06 to $7.02 in just a couple of hours and the stock has since fallen back to the $6.05 level.
Gamestop share price chart
Gamestop's shares showed a similar trend – rising from $28.21 to $31.32 and is now at the $26.62 level.
With no trading update or company announcement to speak of, the surge in Getty Images share price and the fact that over 7 million shares changed hands during the day's trading, gives a strong hint of a 'meme frenzy'.
The fact that Getty Images had been recently discussed positively by US stock market pundit Jim Cramer and was circulated on message boards no doubt provided a boost to shares.
Cramer is a highly influential market pundit and his view will have provided a tailwind for the stock. In addition, Marketbeat shows five analysts largely supportive of Getty Images – with one analyst rating the stock a buy; and four a 'hold'.
What is your sentiment on GME?
Vote to see Traders sentiment!
Getty Images undervalued?
Simply Wall St believes the stock is 'significantly undervalued' – 35% undervalued to be precise, with 'fair value' seen at around $9.31.
Simply Wall St points to the fact that in addition to Getty Images trading at fundamentally attractive levels right now, the company has also seen profit margins grow.
But it also highlighted the fact that interest payments are not well covered by earnings and that Getty has had a highly volatile share price over the last three months.
The issues with meme stocks is that money can be made quickly – but also lost quickly too if trades are mistimed or misjudged.
The meme stock frenzy of earlier this year when retail investors were using the Reddit WallStBets site to marshal support for stocks like GameStop, indicates just how quickly markets can move. This could be good or bad news depending on how swift and decisive retail investors are with their trading.
AMC Entertainment Holdings (AMC) GameStop (GME) and Blackberry (BB) were all meme stocks that soared spectacularly back in mid-August– only to fall back down to earth with a bump.
Hit and run or hold?
News travels fast on social media – the question is defining what is useful analysis and what is hot air or hype?
Some opinions count and there are respected market watchers and TV pundits who have a track record of calling the market and specific stocks correctly. However, there is no shortage of misinformation out there too. As an investment manager told me once, "why would any day trader want to share information with you for free? "
It is true meme stock investing can be lucrative but the risks associated need to be understood. Dr. Richard Smith, CEO of the investing tool RiskSmith, says: "If you want to trade meme stocks you should look at how long you want to hold for, if you want to trade in this stock. Sure the volatility is good for you but if you are just going to buy because you think they will go up because they have a bright future that's a different thing."
He adds: "The most important thing in any speculative bet is your position size: how much do you bet, how much risk are you taking? What do all the market wizards have in common? Well, they are all religious about risk management."
Knowing when to sell before you buy, is key to risk management, according to Smith.
Ben Yearsley, Investment Consultant at Fairview Investing believes that meme investing is rightly too rich for the blood of most.
"Anything that goes viral you should probably avoid as that's trading not Investing. The history of most viral crazes is what goes up then comes right back down again as fundamentals of the company reassert themselves."
Jason Hollands, managing director at Best Invest, takes a similar line: "This just looks like speculative trading, with lemming like momentum from retail investors behind it and no fundamental news. A stock that can lurch upwards by a third in a day can also fall by as much."
He adds: "While early investors can make a killing with meme-stocks – providing they get out in time the late comers in these situations are at serious risk of getting their fingers burned."