Getty Images going public in $4.8bn SPAC transaction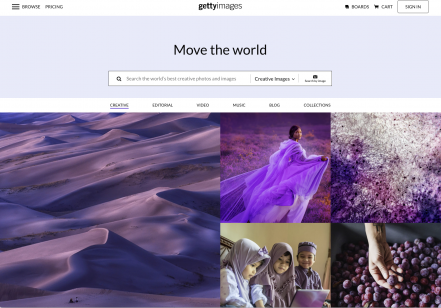 Getty Images is merging with blank-cheque firm CC Neuberger Principal Holdings to go public in a transaction that values the company at $4.8bn (£3.6bn).
The New York, New York-based stock image provider will receive $1.2bn in cash proceeds from SPAC Neuberger, which is a joint venture of private equity firms CC Capital and Neuberger Berman. CC Neuberger went public with an $828m IPO in August 2020, according to records filed with the US Securities & Exchange Commission.
"With a unique library and an exclusive network of content creators, deep customer loyalty and substantial recurring subscription revenues, Getty Images is well positioned for revenue growth acceleration through multiple exciting pathways, unlocking significant intrinsic value for all stakeholders," said Neuberger Berman Managing Director Charles Kantor.
"This will cement and enhance our position as the first-place people turn to discover, purchase, and share powerful visual content from the world's best photographers and videographers,"
Valuation
The valuation is based on 15 times an estimated $315m of earnings before interest, taxes, depreciation and amortisation (EBITDA). The transaction includes $150m in private investment in public equity (PIPE) securities and has a $300m cash backstop provided by CC Neuberger to cover any potential shareholder redemptions in advance of the closing. The acquisition includes Getty Image subsidiaries iStock and Unsplash.
Goldman Sachs and JP Morgan Securities are acting as financial advisors to Getty Images. Rothschild is the lead financial advisor for CC Neuberg.
Closing is expected in the first half of 2022.
CC Neuberger stock unchanged
CC Neuberger stock opened Friday unchanged at $9.84 per share. CC Neuberg trades over the New York Stock Exchange (NYSE) under the ticker "PRPB". The new entity has applied to trade over the NYSE under the ticket "GETY".
Getty Images was purchased and renamed after being acquired by Mark Getty, the son of oil magnate JP Getty, in 2018.
"Today's transaction is another milestone in the transformation of Getty Images," said Getty Images Chairman, Mark Getty. "This will cement and enhance our position as the first-place people turn to discover, purchase, and share powerful visual content from the world's best photographers and videographers,"
Read more: SEC's Gensler warns of changes in SPAC IPO rules