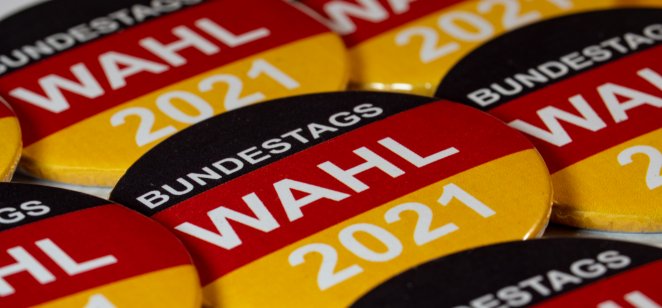 Germany's Social Democrats will engage in "exploratory talks" to form a coalition government, after narrowly winning their first national election for 16 years.
The SDP, led by Olaf Scholz, won 25.7% of the vote – just ahead of the 24.1% achieved by Angela Merkel's CDU/CSU conservative block, according to provisional results.
They were comfortably ahead of the Greens on 14.8%, the Liberal Free Democrats with 11.5%, Alternative for Germany on 10.3%, and Linke with 4.9%.
European markets show gains
The election result didn't come as a great surprise. Surveys prior to the weekend's election had predicted the outcome and warned it would be very close.
However, the news went down well on the European equity indices with Germany's blue-chip DAX up almost 1% to 15.664 points in early trading as everyone digested what the result was likely to mean for international stock markets.
The Euro Stoxx 50 was up a more modest 0.5% to 4,178 points, while the FTSE 100 had made a 0.34% gain to 7,075 points. Meanwhile, the dollar opened fairly flat against the euro as fears of radical changes rescinded on the poor performance in the election of the far-left Linke party
Market commentators suggest that Angela Merkel is likely to stay in place for a while until her successor can be formally announced.
Nothing much will change
Michael Hewson, chief market analyst at CMC Markets, suggests a three-way party coalition, with the SPD set to lead the way, alongside the Greens and one other party.
"What this means for German politics is that nothing much is likely to change in the short term, with investor attention likely to remain on events in China, and Asia more broadly, as well as the various supply crunches taking place across the world," he said.
He also pointed out that the end of the month – and quarter – were coming up, which "could temper or exacerbate" market volatility.
"Asia markets have had a somewhat mixed session, with the Nikkei giving up some decent early gains, with markets here in Europe looking set to open higher," he added.
Weeks before a coalition is formed
Andrew Kenningham, chief Europe economist at Capital Economics, believes it could be weeks – or even months – before a coalition is formed.
"The parties themselves have to agree to form a coalition and the new Chancellor must be voted in by an absolute majority in the Bundestag," he said.
However, he doesn't expect a dramatic change in economic policy. "All the parties who might be in the government share similar views on fiscal and monetary policy," he added.