Germany consumer confidence hits record low: Plunging morale reflects bleak inflation data, energy crisis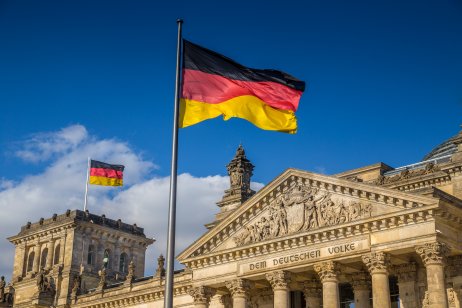 Consumer confidence in Germany is being rocked from all sides amid an unprecedented energy crisis that has added to already spiralling costs.
As central banks move to shore up inflation and protect their currencies, German citizens are braced for pain.
What is consumer confidence?
Consumer confidence gauges the sentiment of individuals in an economy, based on the economic environment and future expectations.
Consumer confidence may be affected by different factors in different countries. But, generally, most countries' citizens respond to the same underlying trends. These include economic growth, inflation, interest rate policies and the labour market.
Falling consumer confidence has widespread implications, and can indicate several other issues in an economy. Consumers cutting back on spending affect companies across all sectors and, accordingly, the price and performance of key asset classes, from stocks of retail companies to commodities like oil.
In Germany, consumer confidence is measured by the Growth from Knowledge (GfK). These surveys involve 2,000 consumer interviews a month conducted on behalf of the European Commission. The survey uses a propensity to buy measure, which helps gauge the likelihood of consumer purchases.
What is your sentiment on DE40?
Vote to see Traders sentiment!
Germany consumer confidence slumps in 2022
Germany's consumer confidence history tends to track the wider economy, with times of economic expansion reflecting a more upbeat sentiment, complemented by rising incomes and stable prices. In times of downturn, the effects are reversed, as falling prices hurt confidence and relative wealth among homeowners, while being generally reflective of tough economic conditions.
Until 2020, Germany exhibited remarkably stable consumer sentiment. The country was a strong performer in terms of gross domestic product (GDP) growth compared with other G7 nations, with stable confidence levels, as measured by GfK. It only suffered one year of relatively mild economic decline during the 2008 financial crisis, compared to two years for many other nations.
But Germany consumer confidence has experienced unprecedented volatility since the onset of the Covid-19 pandemic. At first confidence plummeted. It showed signs of recovery thanks to fiscal stimulus and the rollout of an effective vaccination against the virus.
Consumer confidence in Germany has experienced a rapid decline once more in 2022, as citizens grapple with multi-decade high inflation and rising interest rates.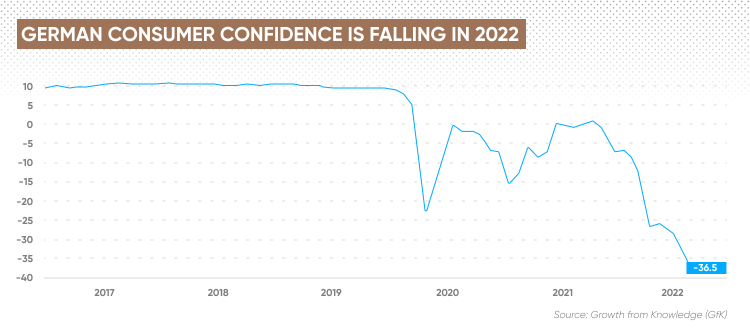 The latest reading for Germany GfK confidence for August 2022 showed a further decline to -36.5%, marking another record low. Rolf Bürkl, GfK consumer expert, said:
"The sharp increase in the propensity to save this month means that the consumer sentiment is continuing its steep descent. It has once again hit a new record low.
"The fear of significantly higher energy costs in the coming months is forcing many households to take precautions and put money aside for future energy bills. This is further dampening the consumer sentiment, as in return there are fewer financial resources available for consumption elsewhere."
The propensity to spend was at its lowest level since 2008 and the financial crisis, and GfK research appeared to suggest this would remain an issue. The research noted:
"If households have to pay significantly more for energy and food, they lack the financial means for other purchases. As a result, consumer restraint must remain high here.
"In addition, against the background of significantly higher heating bills, a number of households are beginning to build up reserves in order to be able to pay for them. For this reason, many households will forgo one purchase or another or will have to postpone it for the time being."
What is driving consumer confidence in Germany right now?
Germany hasn't been shielded from the trauma that has hit financial markets and the wider global economy this year in the shape of soaring inflation, brought on by unravelling supply chains following the Covid-19 pandemic and a jump in energy prices instigated by Russia's invasion of Ukraine.
Inflation is rising. The harmonised index of consumer prices hit a 70-year high in September of 10.9%, up from 8.8% in August. Energy prices rose 43.9% and food was up 18.7% on pieces for September 2021. The consumer price index (CPI) ran at 10%. Inflation in the wider euro area was also at 10%.
But food and energy prices were much lower, on average, than in Germany across the eurozone, pointing to pain for German citizens, who could see a larger hit to their discretionary incomes.
Germany consumer confidence has suffered. Germany, more than most, built up strong energy relations with Russia prior to the county's invasion of Ukraine. Germany imported about 55% of its natural gas from Russia in 2021, according to the World Economic Forum (WEF). This had declined to 26% by the end of June this year, as Germany scrambled to import energy from alternative sources such as Norway and the Gulf states.
This has put upward pressure on prices, as demonstrated by huge energy inflation last month.
And consumers are now beginning to feel the pinch from both sides, as the European Central Bank (ECB) moves to halt rising prices with an aggressive schedule of interest rate hikes.
The central bank raised its key rates by 75 basis points in September, following a 50 basis point rise in July, with the expectation that more rate rises would follow to get inflation back to its target of 2%. ECB president Christine Lagarde said following the decision:
"While supply bottlenecks have been easing, these continue to gradually feed through to consumer prices and are putting upward pressure on inflation, as is recovering demand in the services sector. The depreciation of the euro has also added to the build-up of inflationary pressures."
In Germany, long-term interest rates, which for three years up to early 2022 ran at less than zero, are now above 1%.
The impact of rising rates in concert with high inflation could prove to be a short-term drag on Germany consumer confidence. Higher interest rates affect financing costs on loans, including mortgages, meaning consumers need to put more money into repayments and less into spending.
The euro (EUR) has also begun to fall in value this year, making the cost of some items higher, which could spell a Germany economy crisis.
Employment growth, meanwhile, has been relatively muted. That could offer some encouragement for policymakers, suggesting steam is running out of a hot economy, putting less upward pressure on wages and prices.
Germany consumer confidence forecasts
While there are no consumer confidence forecasts directly available, there are lots of indicators that guide it.
GDP forecasts have been slashed by most institutes. The IfW cut its Germany economic growth outlook from 2.1% to 1.4%, suggesting inflation would remain elevated next year at an average of 8.7%. The body said:
"The recent price jumps for electricity and gas will reduce the purchasing power of private households and lead to a decline in private consumer spending."
The IWH carried a similar 1.4% forecast to GDP, centred around the impact of increased energy costs for businesses and individuals. The institute expects the economy to contract by 4% next year in a confidence-crushing recession. The research centre said:
"Even though the institutes do not expect any gas shortages under normal weather conditions over the winter, the supply situation remains extremely tight.
"Although the situation is expected to ease somewhat over the medium term, gas prices are likely to remain well above pre-crisis levels. This will mean a permanent loss of prosperity for Germany."
That threat of lowering prosperity may alter German citizens' confidence levels.
In June, the Bundesbank suggested that households could decide to spend savings accumulated during the pandemic, but that was prior to conditions worsening.
Impact on DAX40
Those forecasts could have deep implications for the DAX40 (DE40), the index of Germany's biggest publicly listed companies. The index has lost nearly a quarter of its value in 2022, as of 4 October. Lower growth could feed into the earnings of most big companies, hurting investor sentiment.
The DAX 40 was expected to trade at 10,362.62 points in 12 months' time, according to Trading Economics, as of 4 October, marking a 17.8% fall from current levels (4 October) of around 12,600 points.
Forecasts from algorithm-based service Long Forecast suggested even more pessimism for the index, with the DAX 40 projected to contract to 9,682 points by October 2023.
Final thoughts
German consumer confidence suggests trouble in the economy, and investors will be watching the indicator with a hope for changing fortunes soon.
Note that analyst and algorithm-based predictions can be wrong and shouldn't be used as a substitute for your own research. Always conduct your own due diligence, looking at a wide range of commentary, latest news, technical and fundamental analysis. Remember, past performance does not guarantee future returns. And never trade money you cannot afford to lose.
FAQs
What is the current rate of consumer confidence in Germany?

Consumer confidence in Germany hit a record low of -36.5% in August, owing to a falling appetite for spending in the face of rising bills.
What drives German consumer confidence?

German consumer confidence is driven by a range of factors, including GDP growth, inflation, interest rate policy and the state of the labour market.
How is Germany's consumer confidence measured?

Germany's consumer confidence is measured by the Growth from Knowledge (GfK) survey of 2,000 people a month.