GBP rallies on BoE hike, USD pauses and TRY sinks
The British pound surged as the Bank of England unexpectedly increased interest rates to 0.25% from 0.1% in an 8-1 vote, the first rate boost by a major central bank since the pandemic. By 12:15 GMT, the cable (GBP/USD) soared to 1.3362, up 0.75%.
The Turkish lira's wild freefall intensified once again as the Central Bank of Turkey cut interest rates by 100 basis points to 14%, despite the country's high inflation. The USD/TRY currency pair is up 4%, reaching a new high of 15.40.
The US dollar rally took a pause after the Federal Reserve meeting, as key Fed officials had already laid the groundwork for a shift towards a more hawkish stance in recent weeks, the market was already pricing in an acceleration of tapering.
The pace of monthly asset purchase reduction was raised to $30bn, from USD15 previously, with the tapering program now ending in March 2022 instead of May 2022.
The Fed took a slightly more hawkish stance than expected towards future interest rates, projecting three hikes in 2022 and 2023 and omitting the reference "transitory" in relation to the inflation dynamic.
The DXY index, which measures the US dollar against a basket of six major currencies, was last seen at 96.12 down (-0.2% on the day) by 12.13 a.m. GMT.
High-beta currencies gained ground, with Australian (AUD) and New Zealand dollar (NZD) up 0.6%. Also commodity currencies, such as Canadian dollar (CAD) and Norwegian krone (NOK) were stronger in London midday trading.
What is your sentiment on EUR/PLN?
Vote to see Traders sentiment!
Forex Daily Matrix – 16 December 2021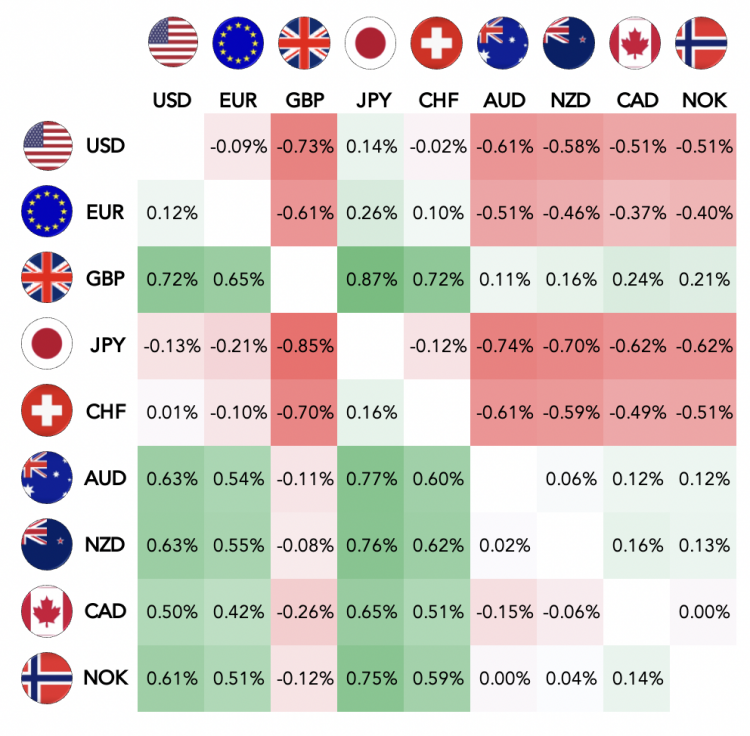 Forex Daily Matrix as of 16 December 2021, 12.15 a.m. GMT
US Dollar
At time of writing, the US Dollar Index (DXY) was at 96.16, down 0.2% on the day.
At its December meeting the Fed announced to double the pace of tapering to $30bn monthly, from $15bn, which means the process will be completed by end of March.
The new "dot-chart" – which depicts the FOMC members' judgement of the appropriate path for interest rates – now indicates a median preference for three raises in 2022 and 2023, and two hikes in 2024. Previously in September, the dot-chart projected only one hike in 2022.
The Fed also lifted markedly its 2022 inflation forecasts, to 2.6% for PCE inflation (0.4% higher than September projections) and to 2.7% (also 0.4% up from September) for core PCE inflation.
Fed Chairman Jerome Powell voiced optimism in labour market recovery, saying that the full employment target is closed to be met, and downplayed the economic risk posed by the Omicron variant. He referred to inflation as "elevated" and no longer "transitory," in line to what he says two weeks ago.
Finally, he also mentioned that this meeting included a discussion on "quantitative tightening" - or balance sheet shrinkage.
Overall, the December meeting signalled a Fed moving towards a more hawkish stance with the aim of rapidly normalizing its ultra-accommodative monetary policy.
US dollar (DXY) technical levels:
52-week high: 96.82
52-week low: 89.22
50-day moving average (one-day chart): 95.05
200-day moving average (one-day chart): 92.73
14-day Relative Strength Index (RSI) (one-day chart): 55
Chart of the day: New Fed's dot-chart now shows 3 hikes in 2022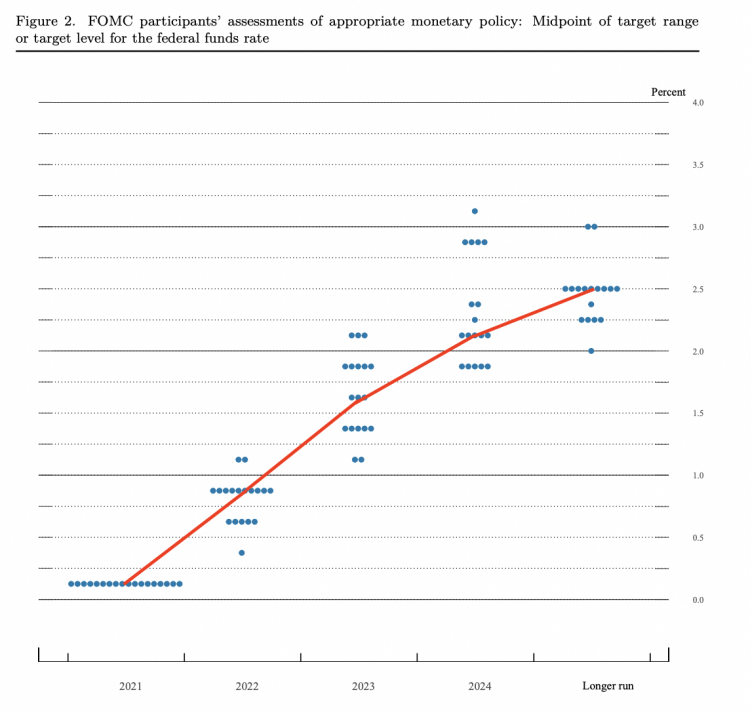 Fed "dot-chart" and median projection as of December 2021 – Credit: Federal Reserve
British pound
By 12:15 GMT today, the cable (GBP/USD) was trading at 1.3362, up 0.75% on the day, while EUR/GBP was down 0.6% to 0.8454.
This morning, the MPC of the BoE voted by a majority of 8-1 members to raise the Bank Rate to 0.25% from 0.1%. The market didn't expect such a move from the BoE after the discovery of the Omicron variant.
BoE anticipated that anticipate inflation will continue to hover around 5% for the duration of the winter and peak at roughly 6% in April 2022.
GBP/USD technical levels:
52-week high: 1.4248
52-week low: 1.3133
50-day moving average (one-day chart): 1.3495
200-day moving average (one-day chart): 1.3773
14-day Relative Strength Index (RSI) (one-day chart): 51
Euro
EUR/USD was last at 1.1312, up 0.4% on the day.
The ECB will announce its policy decision today, while no significant changes from its current accommodating stance are expected.
The ECB is expected to confirm that PEPP purchases would finish in March next year, but might also hint at a temporary lift in the Asset Purchase Program (APP), as has been rumoured in recent weeks.
Additionally, the ECB will revise its economic estimates, slightly raising inflation expectations but likely maintaining them below the target in the medium term.
ECB Chair Christine Lagarde is expected to maintain her stance that rate rises are still a long way off, therefore broadening the monetary normalisation path gap with the Federal Reserve.
EUR/USD technical levels:
52-week high: 1.2349
52-week low: 1.1184
50-day moving average (one-day chart): 1.1448
200-day moving average (one-day chart): 1.1788
14-day Relative Strength Index (RSI) (one-day chart): 46
Forex Performance Heatmap – 16 December 2021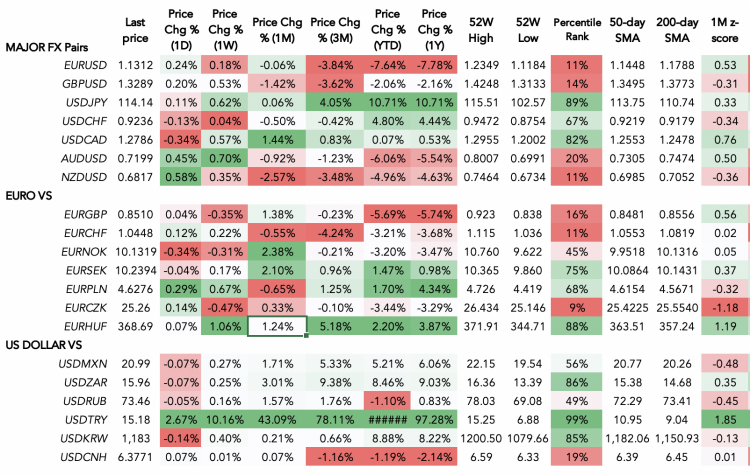 Forex Performance Heatmap as of 16 December 2021, 10.00 a.m. GMT – Credit: Capital.com
Other currency pairs (% change from previous close):
Read more: All eyes on the Fed: USD holds firm, GBP boosted by inflation