Gas stock lower while oil recovery stalls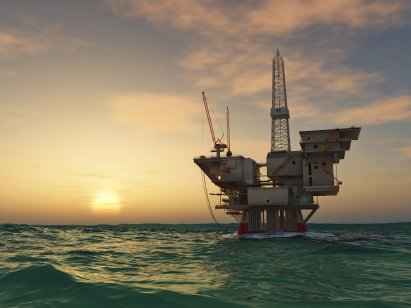 On Friday, US Natural Gas prices traded around $3.50, continuing on their winding movement between $3.50 and $4.50 price range.
In their weekly natural gas storage report, the US Energy Information Administration (EIA) noted a fall in natural gas stocks this week of 59 billion cubic feet (bcf). These levels are 9.2 bcf lower than this time last year, and 2.5 bcf lower than five year average, both of which maintain an upward pressure on price. The upper limit on price appears to be sustained due to lower demand for heating needs in the US.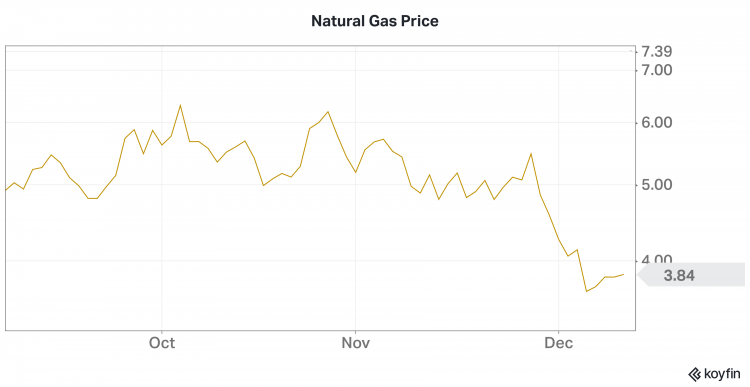 Three month natural gas price – Photo: Koyfin
Brent Crude Oil and US Crude Oil traded around $74 and $71 per barrel respectively. After recouping about 60% of value since the last week of November, the recovery appears to have slowed down today.
Significant value was wiped out after the Covid-19 Omicron variant discovery, with oil prices dropping more than 12% over night between 25 and 26 November. Almost two thirds of the value was recouped after health officials and governments announced that this variant does not pose a significant public health risk. However, even after further reassurance from Pfizer about their vaccines protecting against the new variant, the oil market recovery appears to have stalled.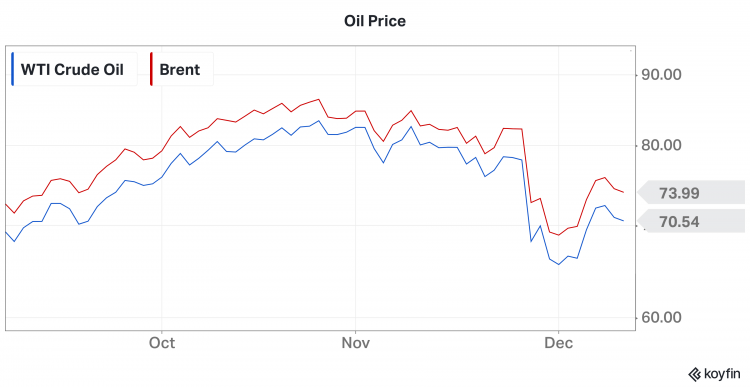 Three month oil price – Photo: Koyfin
Performance
Day range: $73.93 - $75.74

52-week range: $48.09 - $86.70

52-week price change: 47.24%

10-day Exponential Moving Average (EMA): $74.44

14-day Relative Strength Index (RSI): 45.31
Day range: $70.32 - $71.86

52-week range: $45.52 - £83.83

52-week price change: 50.79%

10-day Exponential Moving Average (EMA): $71.00

14-day Relative Strength Index (RSI): 45.42
Day range: $3.77 - $3.92

52-week range: $2.26 - $6.47

52-week price change: 50.53%

10-day Exponential Moving Average (EMA): $4.08

14-day Relative Strength Index (RSI): 36.12
Read more: Economic preview: Decision time for Fed, BoE, ECB and BoJ