GameStop (GME) climbs 6% as earnings release looms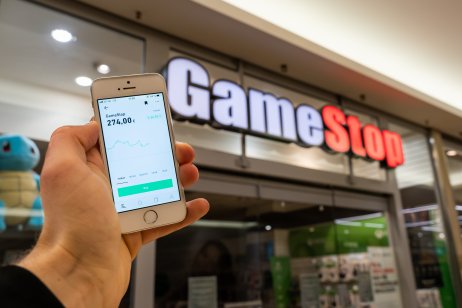 GameStop stock climbed more than 6% on Tuesday, closing up $10.69 to $177.81, one day before the US gaming retailer delivers its quarterly earnings report.
Grapevine, Texas-based GameStop (GME) sells games, consoles, and other gaming-related electronic devices, as well as toys and collectibles, at bricks-and-mortar locations and online. In recent days, Ascendiant downgraded GameStop to a sell rating and Wedbush maintained an underperform assessment.
Analysts expect 52-cent-per-share loss
Analysts polled by Dow Jones expect GameStop to post an adjusted loss per share of 52 cents.
In the second quarter GameStop cut its loss almost in half, to $61.6m (£46.50) from $113.3m from the same period in 2020. And, net sales soared 25.58% to $1.183bn from $942m a year earlier on strong hardware sales. But the company's stock fell 7.7% following the release of the quarterly report.
GameStop's share price has been extremely volatile this year, largely because of social media hype. In January, the stock rose 1,784.06% to $325.00 from $17.25 following comments by Reddit users.
"If I were long in GME, I would hold but I certainly would not buy in further," said Tony Klein, an associated finance professor at Queen's University in Belfast, Ireland told Capital.com in early September.
The stock fell 18.67% between the market close on 8 November and Tuesday.
Read More: ARK Invest to launch 'transparency' ETF