G-III Apparel Group (GIII) soars 10% as Q3 EPS tops estimates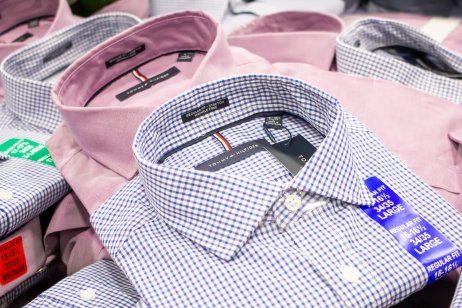 Retail conglomerate G-III Apparel Group's (GIII) stock was up nearly 10% to $32.57 by 15:00 UTC on Wednesday as the retail industry braces for its busiest month of the year.
So far this year, shares have gained more than 35% in value.
Third quarter earnings
One reason for the jump in stock price was the New York-based clothing company's third quarter earnings, which were released before the US markets opened Wednesday.
The company also raised its full year guidance and expects to deliver record annual earnings.
G-III reported quarterly net sales of $1.02bn, up 22.8% compared to the $826.6m it reported for the same quarter last year.
The owner of more than 30 licenced and proprietary brands reported net income of $106.7m and per-share earnings (EPS) of $2.16 compared to Wall Street's EPS estimates of $1.79. Net income for Q3 2020 was $63.2m, or $1.29 per share.
Morris Goldfarb, G-III's chief executive, described the company's quarterly results as "strong momentum" as it moves into the fourth quarter.
"Given the strong demand we are seeing across our brands, we are well positioned for the holiday season," Goldfarb said.
"We are raising our full year guidance and expect to deliver our highest annual earnings in our company's history."
by
G-III CEO Morris Goldfarb commenting on strong demand
Retail portfolio
The retailer also finished restructuring its portfolio during the third quarter, which included closing its Wilsons Leather and G.H. Bass stores.
These two stores contributed to a net loss of $12m or $0.25 per share in Q3 2020, the company said.
Despite the losses, G-III still maintains a portfolio of recognisable brands such as Guess, DKNY, Tommy Hilfiger, and Levi's.
Headwinds
Analysts also expect the retail industry to see some headwinds as the calendar turns to December, which is a traditionally busy time for outlet stores.
Dylan Carden, an analyst at William Blair, wrote in a note published on 17 November that demand for retail apparel remains strong even though the back-to-school bump in August was much softer than anticipated.
Still, Carden says supply chain issues may be a double-edged sword for retailers this holiday season. On one hand, supply shortages will inevitably push prices higher, thereby leading to better margins.
On the other, Carden says retailers may report weaker-than-expected earnings in the front half of 2022 as "disruption could last well into 2022," the note says.
Outlook
G-III anticipates the global supply chain issues to impact its performance for the full fiscal 2022 year. It also caveats that its outlook does not contemplate any government-mandated store closures despite the emergence of the Omicron variant of Covid-19.
For the full fiscal year, GIII expects to record net sales of $2.77bn, up from $2.7bn, and net income of $180m–$190m, up from $155m–$165m.
The company also expects to report EPS between $3.65 and $3.75 per diluted share, up from $3.10–$3.20 per diluted share.
Read more: Bankruptcy of activewear company reveals pressures on retail