Freyr (FREY) stock sees bump following deal agreement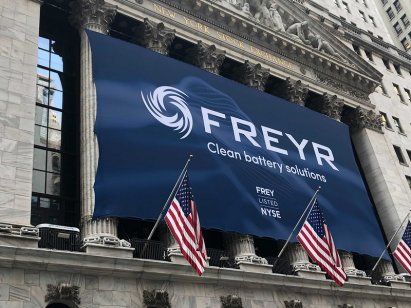 The stock of lithium-ion battery cell manufacturer Freyr got a boost of energy on 16 December with the announcement that it has executed an agreement to produce its low-carbon battery cells for a "leading global publicly listed manufacturer and provider of energy storage systems". Freyr stopped short of revealing the name of the company.
Freyr estimates the deal could generate as much as $3bn (£2.25bn) in revenues, based on its current price forecasts.
The market responded to the news by revving up the price of the shares in after-hours trading. The stock opened at $12.51 on 16 December following the previous day's close of $11.31, an increase of 10.6%. The stock price had settled closer to the previous day's close as of publication time.
Offtake agreement
In a press release, Freyr described the deal as an "offtake agreement", which typically signifies the off-taker has agreed to purchase a portion (or all) of the factory's output. In some cases, it also means the purchaser is providing financial support for the project. Freyr did not provide those details on its deal, but it did state that the two companies would "jointly develop innovative technology solutions".
"Announcing our first significant offtake agreement is a major milestone," said Freyr CEO Tom Jensen. "This development advances us towards a final investment decision, the start of construction on our initial gigafactories, and industrial-scale commercialisation of Freyr's clean battery cells".
Under the terms of the agreement, Freyr is slated to deliver at least 31 gigawatt hours of low-carbon battery cells from 2023 to 2028 out of its Norwegian manufacturing facility, Gigafactory 1, which is currently under construction. Freyr is headquartered in Luxembourg, but its factory operations are in Mo i Rana, a city in the county of Nordland, which is part of the northern Norway region. The anticipated volume of the product required to meet the demands of this deal represents almost half of the estimated production of Gigafactory 1 over that time.
In addition to energy storage systems (ESS), Freyr's battery cells are designed to be used in electric buses; trucks; marine vessels and for aviation applications.
Licensing agreement
Back in December 2020, Freyr signed a licensing agreement with Cambridge, Massachusetts-based 24M Technologies to use its SemiSolid lithium-ion battery platform technology in its Mo i Rana facility. When that agreement was signed, 24M said that its "SemiSolid battery cell simplifies and enables stronger recycling opportunities. The production platform is highly flexible, works across all chemistries and can be re-tooled for various sized batteries and cathode and anode chemistries".
This latest deal Freyr has made with the undisclosed company is going to harness the technology it licensed from 24M, according to the company statement.
"The parties will package Freyr's sustainable, next-generation battery cells using 24M Technologies' innovative design and process platform with the partner's leading stationary ESS solutions to drive standardisation and cost optimisation in the utility space. 24M's significantly larger and thicker electrode design is intended to deliver higher energy density per volumetric unit while also reducing production costs".
Read more: Adobe (ADBE) meets estimates but stock falls on 2022 outlook