France outperforms Germany with strongest GDP growth in 52 years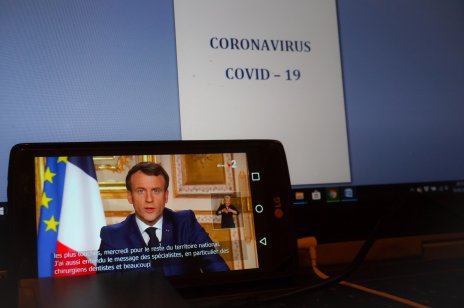 France has reported its strongest growth in over five decades as its economy bounced back from the impact of the Covid-19 pandemic faster than expected. In contrast, rival Germany's economy shrank over the last quarter as its gross domestic product (GDP) contracted from October to December.
According to new data from statistical body Insee (Institut national de la statitisques et des études économiques) released on Friday, French GDP grew on average by 7% last year, the country's biggest annual expansion since 1969.
This follows an 8% contraction in 2020 as the coronavirus lockdown and restrictions drove the economy into a deep recession.
The news will be a welcome boost for French President Emmanuel Macron ahead of the country's elections in April, in which he is widely expected to run for a second term.
Capital.com takes a closer look at how France exceeded the forecasts from its statistics institute and the Bank of France, and reviews what has gone wrong for Germany.
What's behind France's economic recovery?
According to Insee, the reopenings across several business sectors has helped France's economy to recover more quickly than expected.
The country also demonstrated resilience in the face of semiconductor chip shortages and the severe supply-chain disruptions that contributed to bottlenecks in ports that plagued several countries in 2021, as noted by the European Central Bank (ECB) in August last year.
Said Insee: "Gross domestic product (GDP) grew at a more moderate pace in the fourth quarter (Q4 2021) (+0.7% after +3.1%) after the strong increase recorded in the third quarter (Q3) with the reopenings in several sectors of activity.
"After returning to its pre-crisis level in the previous quarter (+0.2% compared to Q4 2019), GDP exceeded it significantly in Q4 (+0.9% compared to Q4 2019)."
The statistics body added that there were ​​various contributions to GDP growth that were more homogeneous this quarter: "Final domestic demand (excluding inventories) contributed to +0.5 points, after +3.6 points in the previous quarter: in particular, the growth rate of household consumption expenditure (+0.4% after +5.6% in Q3 2021) was similar to that of gross fixed-capital formation (GFCF, +0.5% after +0.1%)."
However, the statstics body noted that foreign trade was still catching up, but had grown faster than domestic demand: "The increase was more marked on the side of imports (+3.6% after +0.8%) than exports (+3.2% after +1.7%). Thus, the contribution of foreign trade to GDP growth was slightly negative this quarter: -0.2 points, after +0.2 points in the previous quarter.
It added: "Finally, the contribution of inventory changes to GDP growth was positive this quarter (+0.4 points after -0.7 points in Q3 2021)."
Pace of production
France's pace of production was also highlighted, with the total production of goods and services growing vigorously in Q4 2021 by +0.9%, compared to +2.9% in the third quarter.
Insee said: "The slowdown in the pace of growth in services was largely mechanical, after the rebound in the second and the third quarter with the reopenings in several sectors of activity.
"The production in hotel and restaurant services stabilised this quarter, while the production growth in IT services remained vigorous, as in business services. The production in non-market services returned to a more moderate pace, while production in construction decreased for the second quarter in a row."
The statistical body also noted that manufacturing production branches rebounded slightly, while the production of energy, water and waste decreased.
"While production grew on the quarter, on average over 2021, total production of goods and services increased by +7.4% after -8.5% in 2020 and was thus 1.7% below its average level in 2019," it said.
Household consumption and other sectors
The household consumption sector remained strong despite the mechanical slowdown following the reopenings in the second and third quarters – +0.4% compared to +5.6% in Q3 2021, however, the data showed that the sector had continued to catch up (+5.7% after +46.1%).
"Overall, household consumption was back to its pre-crisis level (+0.0% from Q4 2019)," Insee said.
While consumption in hotel and restaurant services remained steady (+0.0% after +59.9%, -1.8% from Q4 2019), transport services were still far below its pre-crisis level (-15.9% from Q4 2019).
Foreign trade
Meanwhile, the recovery of foreign trade accelerated in Q4, more on the import side (+3.6% after +0.8%) than on the export side (+3.2% after +1.7%).
According to Insee, "In particular, imports of transport equipment rebounded sharply (+8.8% after -6.9%), while exports were driven by transport services (+13.6% after -9.4%), especially maritime, and other industrial products (+2.7% after -0.6%).
"Trade linked to international tourism continued to recover, particularly on the export side (+17.3%, against +7.7% for imports). Overall, the contribution of foreign trade to GDP growth was negative this quarter (-0.2 points, after +0.2 points in the previous quarter)."
Over the year 2021, it noted that the contribution of foreign trade to GDP growth was slightly positive (+0.2 points after -1.1 points in 2020).
Covid-19 cases and restrictions
Despite the positive data overall, France has been recording a high number of active Covid-19 cases so far this year due to the Omicron variant, with a record number of 368,149 cases noted as of 11 January 2022.
This week, the government imposed a vaccine pass that would allow those recently recovered from the disease or fully vaccinated (and over the age of 16) to access bars, restaurants, inter-regional transport and other public spaces.
The vaccine pass has replaced the country's health pass in a bid to increase the overall national vaccination rate.
However, Macron has resisted placing additional restrictions on certain sectors amid the crisis.
Signs of a solid economy
According to ING analysts in London, France's strong GDP reading is no longer just the mechanical result of reopenings, but a sign of a solid economy. The analysts considered this an indication the country is starting 2022 on a strong footing, even if the first quarter looks more difficult.
Said ING: "[The] 0.7% quarterly GDP growth figure closes a memorable year for the French economy. [The year] 2021 started badly, with the coronavirus leading to severe restrictions in the winter and spring, leading to an economic standstill in the first quarter.
"But the recovery in the summer of 2021 was extremely dynamic, erasing a difficult first half of the year and allowing France to be one of the first European countries to return to its pre-crisis level of activity in Q3 and exceed it by 0.9% in Q4."
Moreover, the group added, the fourth quarter figure still points to a dynamic economy, even if the pace has slowed down.
A spectacular rebound
According to ING, the 7% growth after the -8% shock in 2020 is an impressive figure: "The shock in France in 2020 was stronger than the European average, and the French economic recovery in 2021 was in turn much more dynamic than the average recovery in Europe.
"Nevertheless, the global imbalances generated by the pandemic, particularly in terms of prices, are now being felt, and overcoming their effects will be a complicated and important challenge for the recovery in the coming quarters."
ING also highlighted that the first available indicators point to a mixed situation for the French economy: "The PMI [Purchasing Managers' Index] indices for January, for example, indicate an increase in new business and growth in activity. But, on the other hand, this growth is being held back by the lack of personnel."
In contrast to other European countries, the Omicron wave of the coronavirus has so far not led to new health restrictions in France, ING noted. However, production lines are likely to remain heavily impacted, "especially given Omicron's arrival in Asia and the zero-Covid strategy being pursued there, potentially resulting in closures of ports and factories".
ING added: "The economic slowdown in France will therefore probably continue well into the first quarter. Positive quarterly growth, but close to 0%, is expected in Q1. The economy is then expected to grow at a faster pace and growth could reach close to 4% in 2022." It also concluded that consumer price inflation was expected to continue to rise in the first quarter, with the consumer price index (CPI) for France likely to reach the 3% mark.
However, the group said inflation is expected to fall from the spring onwards but is likely to be slow, with consumer prices likely growing at a rate above 2% throughout 2022.
The analysts added: "The expected rise in headline inflation is likely to impact household consumption, as rising energy prices are eroding their purchasing power and could negatively influence confidence. This is therefore an important risk for the 2022 outlook."
Meanwhile, German economy shrinks
Meanwhile, in Germany, GDP contracted by 7% in October to December last year – a sharper downturn than expected, according to new government figures from Destatis.
The country was hit by a wave of coronavirus cases in the previous quarter, with the German government forcing those who were unvaccinated to go into lockdown and in addition imposing wider limits on social contact for all citizens.
Moreover, factories in Germany were also impacted by ongoing global supply-chain challenges, especially frustrating those manufacturers who were unable to get their hands on the much-sought-after computer semiconductor chips.