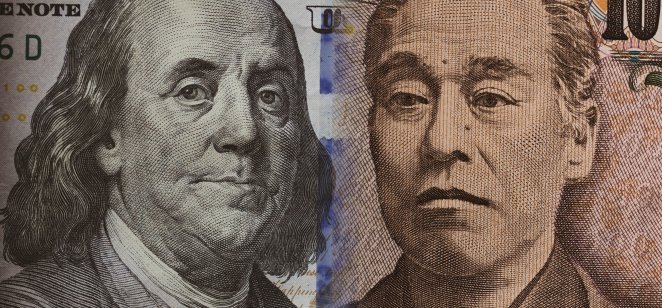 The dollar/yen exchange rate (USD/JPY) extended yesterday's declines, sliding to 135.3, as Fed Chairman Jerome Powell's appearance before the Senate Banking Committee hinted at the rising risk of a recession, thus failing to bolster the greenback. The comment made by Takehiko Nakao, a former head of foreign exchange policy at the finance ministry, who stated that a weak yen is bad to Japan's economy, also contributed to the strengthening of the JPY.
On the USD/JPY daily chart, a bearish divergence is readily visible, with prices updating new relative highs this week but a relative strength index (14-day RSI) falling from overbought levels. This might imply that the USD/JPY surge has lost the adequate steam to extend beyond the 136.7 level, and that the bears may possibly take the lead from here. The next support is now at 134.5.
The fundamental picture clearly depends on the monetary policy divergences between the Fed and the Bank of Japan. If the Fed signals bigger hikes in addition to those already priced in by the market, which now expects the Fed fund rate to end the year at 3.5%, the dollar might see a fresh boost.
Chart of the day: Bearish divergence emerges on USD/JPY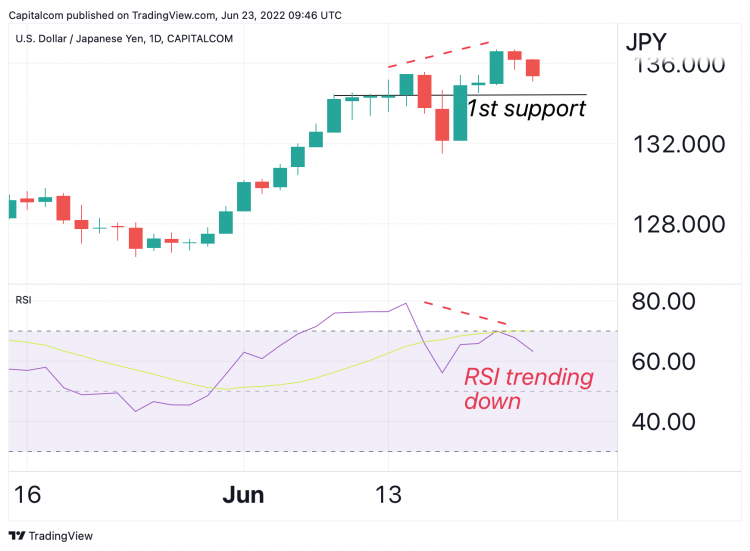 USD/JPY bearish divergence – Photo: Capital.com / Source: Tradingview
Forex market today – 23 June 2022
EUR/USD live chart – Euro vs US dollar exchange rate today (EUR to USD)
Euro (EUR) news: The euro is trading at 1.05 at 11 GMT, down 0.5% on the day, after touching an intraday low at 1.048. The Purchasing Managers Index for the euro area reported a worse-than-expected drop in economic activity in June. Manufacturing PMI declined to 52 from 54.6 in May and against a forecast of 53.9, while services PMI fell to 52.8 from 56.1 and against a forecast of 55.5. Yesterday, consumer confidence fell 2.4 points to -23.6 in June, compared to the average estimate of -20.5. It's the second-worst result ever recorded, influenced by the Ukraine conflict and a steep spike in energy prices, showing that the degree of pessimism remains high. Traders now awaits US data to be released later today. The consensus for initial jobless claims is 226.000, still indicating a tight labour market. The June manufacturing PMI is predicted to fall to 56.5 from 57 in May, while the Services flash index is seen to rise to 53.5 from 53.4.
GBP/USD live chart – Pound vs US dollar exchange rate today (GBP to USD)
British pound (GBP) news: The sterling hovered around 1.22 against the greenback, after touching an intraday low at 1.217 at open. The GBP/USD pair is down 0.5% on the day, as risk mood remained subdued despite the fact that June's UK PMIs were broadly in line with predictions. The S&P Global/CIPS UK Services PMI was at 53.4, the matching previous month, an above market forecasts of 53. The S&P/CIPS UK Manufacturing PMI dropped to a 23-month low of 53.4 in June 2022, down from 54.6 in May, and falling short of market forecasts of 53.7, as demand outlook worsened while input costs surged further.
USD/CHF live chart – US dollar vs Swiss franc exchange rate today (USD to CHF)
Swiss franc (CHF) news: The dollar recovered from a support level of 0.96 versus the Swiss franc, rising over 0.967 (+0.4% today). Yesterday, the Swiss franc strengthened, attracting investors seeking safe havens amid rising recessionary concerns on the market. It will be crucial for the dollar to remain above the support level of 0.96 in order to prevent the opening of a further drop toward the psychological 0.9500 mark.
AUD/USD live chart – Australian dollar vs US dollar exchange rate today (AUD to USD)
Australian dollar (AUD) news: The Australian dollar fell 0.5% today, reaching an intraday low of 0.687 in the early hours of the European morning. The S&P Global Flash Australia Services PMI fell to 52.6 in June 2022 from 53.2 in May, still indicating an expansion in the Australian service activtity, albeit at the slowest pace in the past five months. Fear of a recession and falling commodity prices have lowered risk sentiment for cyclical currencies like the AUD.
NZD/USD live chart – New Zealand dollar vs US dollar exchange rate today (NZD to USD)
New Zealand dollar (NZD) news: Another dip sent the Kiwi dollar down to 0.626 (-0.2% today), which was yesterday's support level. Bearish sentiment is reflected by the short-term trendline, which is set to hold for as long as the pair is unable to overcome the psychological barrier at 0.64. Similarly to the neighbouring AUD, also the NZD sentiment is depressed by worries of a global recession.
USD/CAD live chart – US dollar vs Canadian dollar exchange rate today (USD to CAD)
Canadian dollar (CAD) news: The US dollar is aiming to break above the 1.30 resistance level versus the Canadian dollar, but has been rather range bound in recent sessions. Yesterday's effort resulted in an extension to 1.2995, but the USD/CAD pair has already reverted to its current level of 1.2960.
Annual inflation in Canada accelerated to 7.7 percent in May 2022, the most since January 1983 and more above market estimates of 7.4 percent, raising the prospect of further aggressive interest rate rises by the Bank of Canada. However, fears of a US recession and declining WTI prices, weighed on the Loonie.
What is your sentiment on AUD/USD?
Vote to see Traders sentiment!
Norges bank unexpectedly hikes by half percentage point
Today, Norges Bank lifted its policy rate by half a percentage point, from 0.75 percent to 1.25 percent, in a unanimous decision, defying market forecasts of a 0.25-percentage-point increase and signalling that another hike to 1.5 percent is likely in August.
According to the statement, a much higher policy rate is required to keep inflation around the target level.
Despite the unexpected move and the likelihood of more rate rises, the Norwegian krone reacted poorly to the news, dragged down by lower oil prices. The USD/NOK pair rose to 9.997, but failed to break through the psychological 10.00 resistance level, before slightly retracing to 9.90 as of writing.
Major currencies performance today – 23 June 2022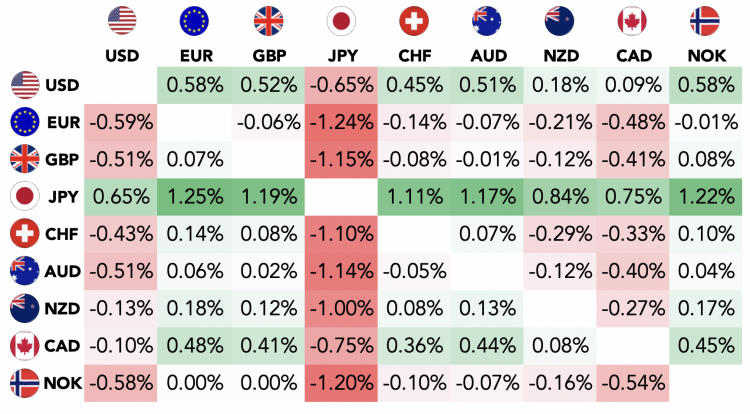 Major currencies performance today 23 June 2022, 11:45 UTC – Photo: Capital.com
Forex market heatmap – 23 June 2022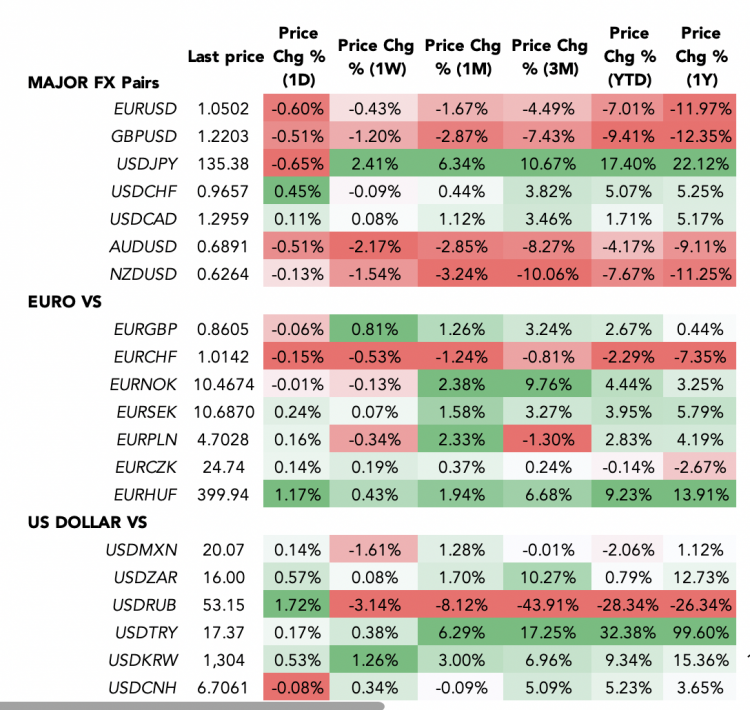 Forex market heatmap 23 June 2022, 11:45 UTC – Photo: Capital.com
Read more...