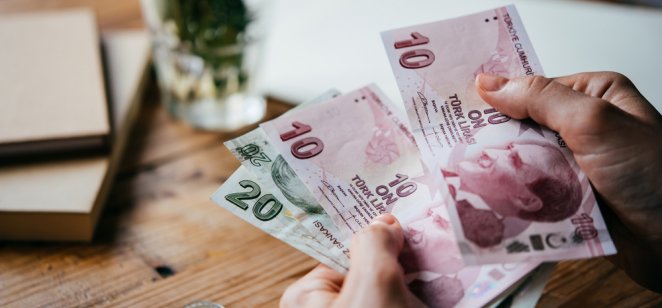 Content
It's a relatively calm start to the week on major currency pairs, with the Japanese yen continuing to attract buying flows in the Asian session, with USD/JPY spinning at 135, on fears of a global economic slowdown.
The US dollar index (DXY) dipped below 104 for the first time in seven sessions. However, the two news events that are likely to shake up the currency markets in Turkey and Russia are attracting the most attention.
Turkish lira (TRY) rallies as credit is cut
On Friday, Turkey announced measures to freeze credit in Turkish lira (TRY) to domestic enterprises that hold more than 15 million lira ($890,000) in foreign currency, or 10% of their foreign currency holdings.
It might be the first step toward further capital controls to prevent speculation in the Turkish currency, which has lost more than 20% of its value this year.
In essence, businesses with foreign assets will be obliged to sell them, and thus creating demand for the Turkish lira, in order to comply with the new law.
After the announcement, the Turkish lira rallied 5%, going below 17 TRY per USD.
Russia defaults on foreign debt for the first time in a century, RUB flat
Russia defaulted on its foreign-currency sovereign debt for the first time since 1918 as bondholders did not receive payment after the grace period on two eurobond notes worth $100 million ended on Sunday.
According to the Kremlin, Russia's default was practically triggered by its inability to make international payments as a result of Western sanctions.
The Russian rouble (RUB) has had a muted reaction so far, sticking around 52 RUB per USD due to very low volumes, but the opening of the US market today is expected to determine whether the currency enters a new period of volatility.
Forex market today – 23 June 2022
EUR/USD live chart – Euro vs US dollar exchange rate today (EUR to USD)
Euro (EUR) trading news: The euro rose to 1.058 dollars as of 10 GMT, up by 0.3% on the day. The single currency has regained momentum against the dollar, and may retest of a breakout at 1.06, a key resistance level that has been holding since June 10. At the ECB symposium currently taking place in Sintra, policymakers might reaffirm the need to speed up rate rises this summer.
What is your sentiment on AUD/USD?
Vote to see Traders sentiment!
GBP/USD live chart – Pound vs US dollar exchange rate today (GBP to USD)
British pound (GBP) trading news: The pound finds some buying, breaking over the 1.23 barrier and rising 0.4 percent on the day. The cable is currently attempting to assault the next resistance (16 June) at 1.2340. According to Huw Pill, Chief Economist at the Bank of England, there is a danger of higher headline inflation leading to second-round effects in prices, wages, and costs, and the present objective for monetary policy is to address it and bring inflation back to target.
USD/CHF live chart – US dollar vs Swiss franc exchange rate today (USD to CHF)
Swiss franc (CHF) trading news: The dollar/Swiss franc pair remains holding at 0.958 after completing a double-top bearish reversal pattern. The Swiss franc was boosted by the Swiss National Bank's decision to hike interest rates by half a percentage point when the market was anticipating no changes. However, the franc appears to be stabilising at this new support, which corresponds with the neckline of the double top. A significant breakdown below 0.9530 might indicate the start of a USD/CHF downward trend.
AUD/USD live chart – Australian dollar vs US dollar exchange rate today (AUD to USD)
Australian dollar (AUD) news: After hitting a relative low of 0.685 on June 14, the Aussie dollar continues to trade in a very tight range without any directionality. The AUD is awaiting fresh catalysts as the buying and selling volumes remain subdued, amid rising recession fears and slugghish commodity performance in the past week. On the technical front, the first attempt of a bullish reversal after the double bottom of 0.685 failed. Macro data to keep an eye on this week are May retail sales, out on Wednesday, and the final reading of the S&P Manufacturing PMI for June.
USD/JPY live chart – US dollar vs Japanese yen exchange rate today (USD to JPY)
Japanese yen (JPY) trading news: The Japanese yen held steady at ¥135 per USD. Exports and output are under more pressure than in April owing to China's lockdowns, according to the latest BoJ Summary of Opinions. The Bank also added that it is appropriate to maintain easy monetary policy since inflation is not driven by a strong growth economic cycle.
Major currencies performance today – 27 June 2022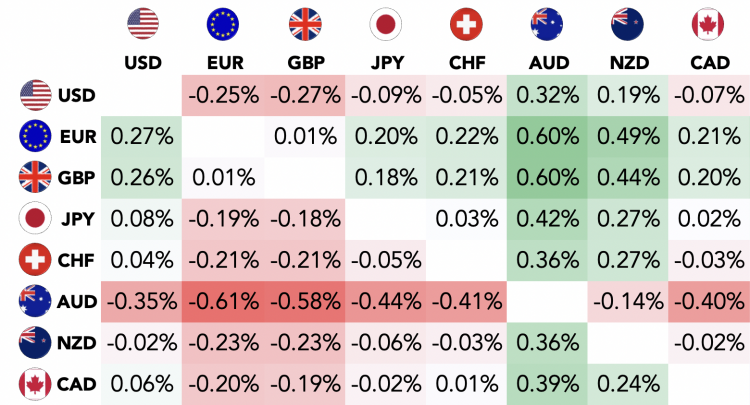 Major currencies performance today 27 June 2022, 10:45 UTC – Photo: Capital.com
Forex market heatmap – 27 June 2022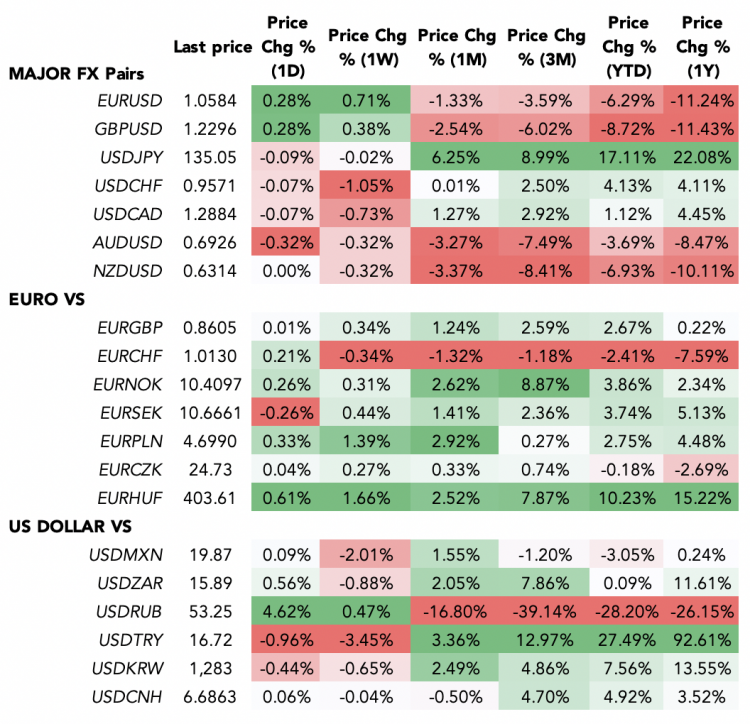 Forex market heatmap 27 June 2022, 10:45 UTC – Photo: Capital.com
Read more...