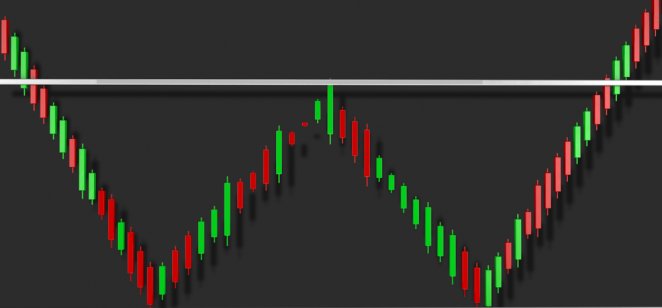 After yesterday's US Juneteenth holiday, the forex market is in a risk-on mode, with all major currencies – except the Japanese yen (JPY) – rising against the dollar.
The euro was boosted by comments from European Central Bank officials Peter Kažimír and Olli Rehn, who suggested that a half-percentage point increase is expected in September.
After opening at 1.051, EUR/USD climbed to 1.056 at 11:45 GMT, up by 0.5% for the day. The US dollar index (DXY) fell to 104.1 levels, down by 0.4% on the day, as Treasury yields remained mostly flat, with 10-year Note staying at 3.27% yield.
The pound (GBP/USD) rose 0.4% to 1.23, boosted by comments by Huw Pill, the Bank of England's Chief Economist, who predicts further hikes in the coming months.
The Swiss franc held steady, with USD/CHF at 0.966 down 3.6% in the previous week following the Swiss National Bank's unexpected rate hike of half a percentage point.
Oil-linked currencies rallied, with the Canadian dollar (USD/CAD) and the Norwegian krone (USD/NOK) up by 0.3% and 1.4%, respectively, as crude oil prices recovered, with WTI crude rebounding to $110 per barrel.
The Australian dollar (AUD/USD) gained ground as well, up by 0.2%, boosted by Reserve Bank of Australia Governor Philip Lowe's remarks that additional tightening is needed because rates are still low and inflation is expected to reach 7% by year's end. The New Zealand dollar (NZD/USD) mirrored the Aussie's performance (+0.2% today).
Major pairs: Top risers and fallers today – 21 June 2022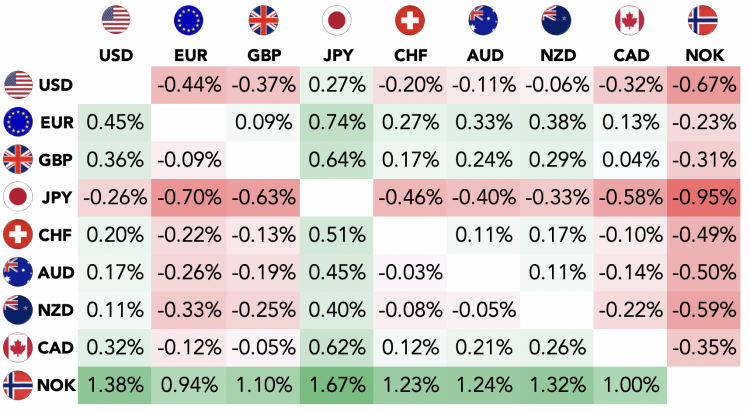 Major currencies: Today's top risers and fallers, 21 June 2022, 11:30 UTC – Photo: Capital.com
Technical chart of the day: AUD/USD forms a double bottom; 0.73 in sight?
On the technical front, the AUD/USD daily chart formed a double bottom around 0.685 last week, a level reached by the pair in mid-May before rebounding to 0.727.
What is your sentiment on AUD/USD?
Vote to see Traders sentiment!
This might indicate the possibility of a new move to the 0.727 neckline, which, if broken, would signal a bullish trend reversal. A double bottom bullish pattern consists of two equal dips and a modest high in between, which tipically occurs at the end of a downward trend.
AUD/USD is now trading at 0.699, up by 1.3% over the past week.
AUD/USD hit double bottom, is there an upside? – Photo: Capital.com, Source: Tradingview
Forex market heatmap – 21 June 2022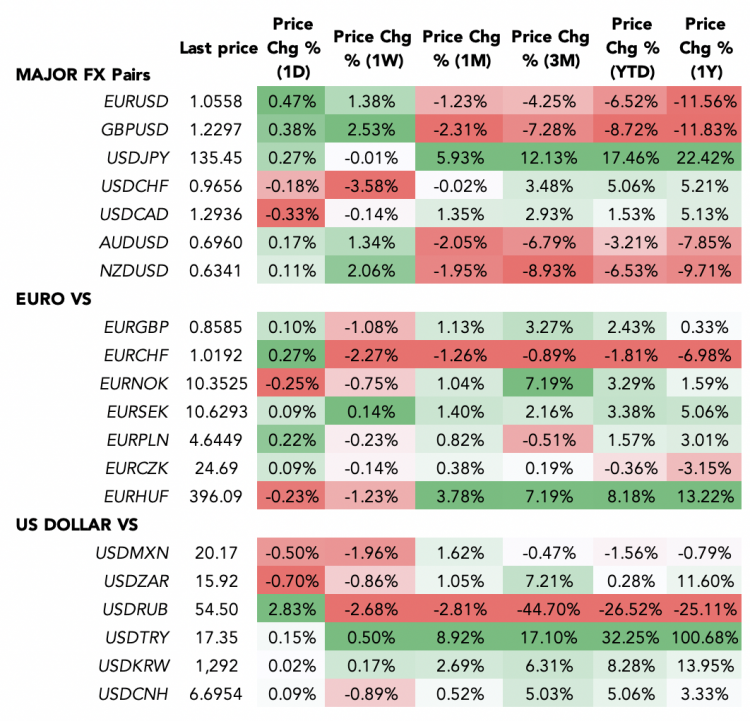 Forex market heatmap 21 June 2022, 11:45 UTC – Photo: Capital.com
Read more...