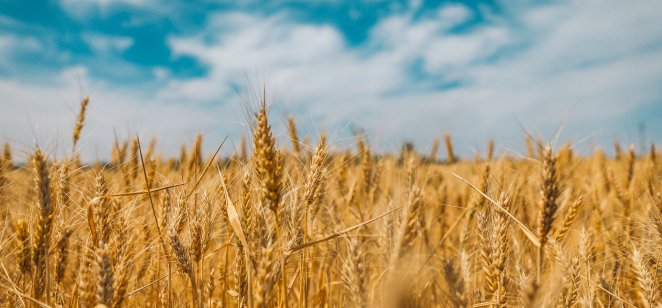 Despite not including food and agricultural items, US and Western sanctions against Russia for invading neighbouring Ukraine hasn't slowed grain prices from spiraling upward.
Traders believe a consequence of the deepening war between the world's two largest wheat exporters is higher prices. On Thursday, wheat jumped 6% to $9.34 a bushel, the highest in nearly a decade. Wheat futures are up 10% since 1 January 2022.
Soybeans futures were up 44 cents to $17.65 a bushel and corn remained unchanged.
"Not surprisingly, grain markets are all sharply higher with the Russian markets at times falling by 50% and the Russian ruble reaching an all-time low," a Thursday report by Zaner AgHedge Group reads. "The Russian president is likely to seize the entire country, Ukraine is the world's fourth-largest exporter and Black Sea ports are still in operation…"
Winter helps
Even though winter is the dormancy period for wheat and spring-planted crops won't go in the ground for at least two months, Patrick Westhoff, director of the Food and Agricultural Policy Research Institute at the University of Missouri told Capital.com that what the conflict means for trade and prices is still unclear.
"Short-run disruptions appear likely, which has contributed to recent increases in global grain prices. Longer-term, it depends on whether exports are cut off for an extended period and particularly whether production is affected," Westhoff said.
Russia and Ukraine are also major suppliers of corn and sunflower seed oil to global markets, Westhoff said. The majority of the grains are shipped from the Black Sea and land in the Middle East and North African countries, such as Egypt, Tunisia and Algeria.
Since neither the US nor NATO has targeted food for sanctions, Russia's ability to trade agricultural items on the world market most likely will be hindered by financial penalties.
Additionally, the conflict has made shippers leery of sailing their vessels in the area because of wartime dangers. Hours into the conflict, a Turkish bulker was struck by a missile off the coast of Odessa. Maersk, the Danish shipping giant, said it will not call at any ports in Ukraine and has stopped accepting orders to and from the country until further notice.
Grain-producing countries, such as the US, Canada, Argentina and the European Union, could benefit from a long conflict if Black Sea exports are hindered significantly.
Fertiliser market
Fertiliser will also be impacted by the conflict. Already battered by tariffs, transportation, supply chain issues and trade disputes, users can expect increased prices given the Russia and Ukraine are key global exporters of vital ingredients.
Belarus and Russia are key global exporters of potash, accounting for about 40% of global potash exports between them, said a senior agricultural commodities analyst who spoke to Capital.com on background.
Additionally, Russia is an important nitrogen producer and exporter, accounting for roughly 40% of global exports of ammonium nitrate, roughly 20% of ammonia exports and more than 10% of global urea exports, the analyst said.
As well, Russia is also a significant exporter of certain phosphate fertilisers like MAP, accounting for about 15% of global exports.
The fertiliser markets were at extremely elevated levels heading into the actions by Putin, primarily driven by supply issues from high natural gas prices and high coal prices, and trade impacts, such as sanctions and export limitations.
"I won't predict a price level at this point. But the supply implications are already being seen; the Black Sea ports are impacted by today's actions, physically bombed I believe, but trade had been impacted for the last week or so already. And a key pipeline taking ammonia from Russia to Yuzhny appears to have stopped pumping" the analysts said.
Yuzhny is the southern island of the Novaya Zemlya archipelago, lying north of Russia.
Read more