Soaring fertiliser prices may hit agricultural output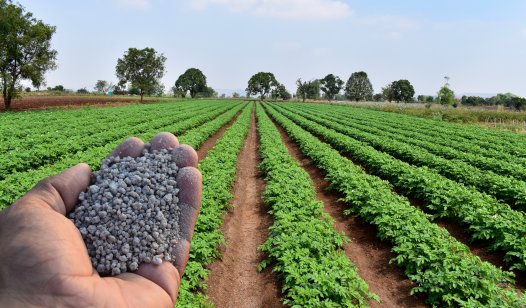 Fertliser prices will remain elevated over the next few quarters due to the surge in the price of natural gas and coal, their main inputs with a knock-on impact on crop yield as farmers cut back on fertiliser use.
High prices will pose a downside risk on fertiliser demand and weigh on both agriculture yields and production for all crops, particularly corn in the US, the research unit of Fitch Ratings wrote in a note on Monday (27 September).
"Since the beginning of 2021, farmers, including those in the US, have faced higher costs of production and we expect their costs to continue to rise in 2022, which will act as a drag on fertiliser application and thus agricultural yields," Fitch Solutions wrote.
In addition, agricultural and crop prices are estimated to soften in 2022, which would reduce the profitability of agricultural production and is likely to convince farmers to cut back on fertiliser.
Main input
Natural gas accounts for around 80% to 90% of the total cost of producing ammonia, a key ingredient to make nitrogenous fertilisers, such as urea and most widely-used phosphatic-based fertiliser, diammonium phosphate.
Prices of natural gas have risen in the past weeks due to strong demand and slowing renewable energy output, particularly wind power in Europe. Supply has also been constrained with outages in the Gulf of Mexico due to Hurricane Ida, Nigeria, and Australia.
US natural gas futures advanced to above $5 per million British thermal units (MMBtu), approaching a 7-1/2-year high of $5.5 on 15 September, according to economic data provider Trading Economics. Gas prices hover at record seasonal levels around $24/mmBtu in Europe and near $27/mmBtu in Asia.
Corn, most affected
Corn is set to be one of the most adversely affected crops planted in the US because first, corn uses almost double the amount of fertiliser compared to wheat and soybeans, Fitch Solutions said.
"So, there is a clear incentive for farmers to cut back on the amount of fertiliser that they use when planting corn," it added.
Second, some US farmers may plant less corn to ensure a greater return on their investment. And third, Fitch Solutions anticipated that the high prevailing natural gas prices will ensure that the cost of urea, its primary fertiliser, remains elevated.
Impact on 2022/2023 agricultural output
Fitch Solutions expects natural gas prices around the world to remain elevated for the rest of 2021 and throughout 2022 because of subdued supply growth at a time of strong demand.
"Consequently, fertiliser prices look set to remain elevated during this time period," it said.
Higher fertiliser costs are primarily going to impact agricultural production in 2022/2023 instead of 2021/2022, it said. This is because the procurement and application of fertiliser, at least in the population-heavy northern hemisphere, mainly takes place between September and May.
Read more: Commodity market: What comes after China's new food-sufficiency policy?