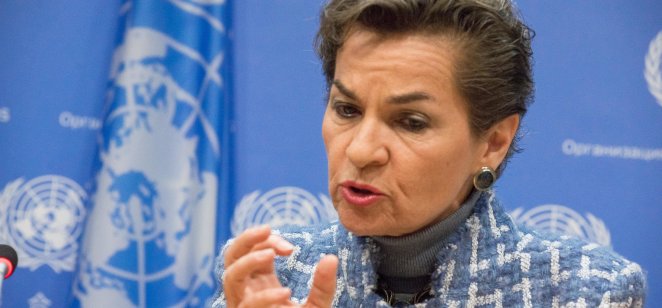 The first day of the COP26 summit in Glasgow saw passionate calls for action on climate change. There were demonstrations in the street but the commitment from India, announced today, to reach net zero emissions by 2070 was unlikely to satisfy demonstrators' demands.
The 2070 target, 20 years later than most countries' net zero commitment, was criticised in many quarters while being welcomed as progress in others, given that it was the first time India had set any kind of target.
Christiana Figueres, the former UN climate chief who presided over the historic conference in Paris in 2015, where nations first agreed to try to limit global warming to 1.5 degrees, told Channel 4 News that she was "confident" the world could still achieve the "big push" towards the 1.5-degrees climate goal.
She conceded that the announcement from India's prime minister Narendra Modi was disappointing because he knew that emissions played a factor in increasing poverty.
Paris target can be achieved
She also acknowledged the fact that China had offered no new pledges on climate action so far, but she insisted the 1.5-degrees target set out at Paris could still be achieved.
She said it was important not to focus purely on "a reference point for the longer term because that just wouldn't cut it." Instead, she insisted the focus should be on how short-term emission reductions were being achieved – with the finance sector playing a pivotal role.
Figueres stressed that individual governments were putting together processes to achieve climate targets and the private sector and financial sector, in particular, were coming in to support decarbonisation.
What is your sentiment on Natural Gas?
Vote to see Traders sentiment!
"We have $130tn, a wall of capital that is about to be deployed in clean technologies and that is going to move companies and definitely going to help to descend the emissions."
Renewables more competitive
She conceded there was a gap between what politicians say and the action they take, including the US and UK continuing to issue new permits for fossil fuel extraction, but argued that if you looked at the trend "we are actually decarbonising the economy. If you look at it project by project you will always find examples of stepping back, but the fact is that renewables are so much more competitive now. So we have to look at the trend and keep 1.5 degrees front and centre and 2030 as the deadline."